Multimedia package
Gallery
HTC's Gallery app organizes photos and videos into Albums, Location, Tags or by Time. The Timeline option has a nice calendar, which makes it super simple to find photos from a specific month. Highlights are available for certain views, they are essentially slideshows demoing the content inside an album.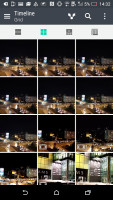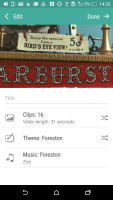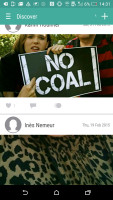 HTC Gallery • Highlights • Zoe
You can tap the Edit icon to select which photos and videos are part of the Highlight and change the music. Once you're done, you can post the resulting video to Zoe (HTC's media-oriented social network), with options to share it privately or the opposite - invite people to join in and add their own content. The video can also be shared on Facebook, Twitter, Google+ with just a tap.
You can use one of your photos as a base for a custom theme to customize your phone with. There's also an image editor that covers the basics (filters, crop & rotate, red eye removal) as well some more advanced options to overlay photos (say to simulate a double exposure) and to retouch faces). One negative is that there is no way to select multiple photos, which can get annoying when you want to pick out photos to delete or share.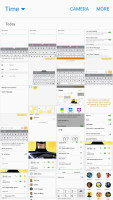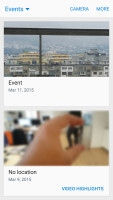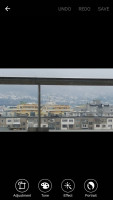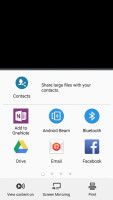 Samsung gallery with video highlights
Samsung's Gallery app has borrowed Video highlights from the HTC app. There are automatically generated slideshows (with no option to manually edit them) that can be shared as a regular video. The app groups photos by Time or by Event.
There's a simple editor on board with a one-tap Auto adjust, crop & rotate, more advanced functions in the Photo editor and a collage maker.
Music player
Samsung simplified its music app without removing too many features. The SoundAlive audio tuning screen has two dials - bass/treble and instrument/vocal - or a 7-band equalizer for more advanced users. The Adapt Sound option can do the adjustment automatically.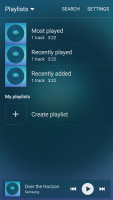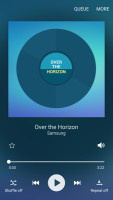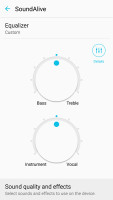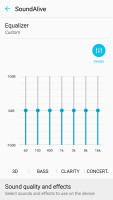 Samsung music with simple and advanced music controls
The HTC One M9 does not have an equalizer, all you get is a Dolby Audio option, which works both with the BoomSound speakers and headphones. There are pre-defined modes for HTC headphones (earbuds, in-ear and Pro Studio) and "Other" for all the rest.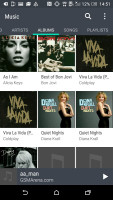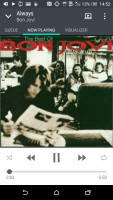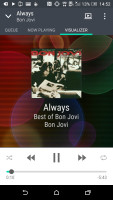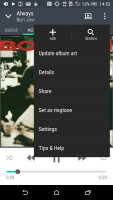 HTC music player without equalizer
Both the Samsung Galaxy S6 and the HTC can play lossless FLAC audio out of the box.
The One M9 also has an FM radio (which strangely lacks RDS support). It uses the headphones as an antenna and can play through the BoomSound speakers.
Video player
Samsung Galaxy S6's video player supports up to 4K 2160p videos with the H.265/HEVC codec. There's no support for multi-channel audio or DivX, but subtitles are supported (with options to customize their looks). The video player can also work in a small floating window to keep out of the way.
There are basic video editing features out of the box - trimming, color effects and changing the background music - but you can download a (free) more extensive editor too. Unfortunately, the helpful DLNA view of previous versions of the Samsung video player is gone.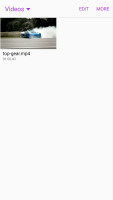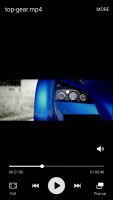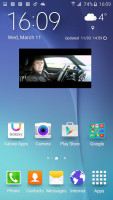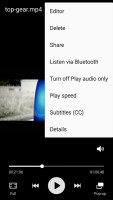 Dedicated video player with subtitle support
The HTC One M9 does not have a dedicated video player, instead you just pick a file from the Gallery or the file browser. Video files up to 4K 2160p with H.265/HEVC are supported, but again no multi-channel audio or DivX. Subtitles are not available.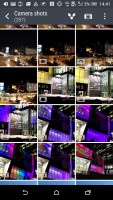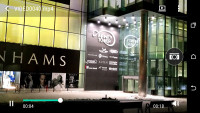 No dedicated video player, the gallery is used instead
Both phones can use their MHL3-enabled USB ports to connect to an HDTV. Both also support DLNA, which can be activated with a three-finger swipe gesture on the One M9.
Winner: Samsung Galaxy S6. While it clearly lifted the Video highlights idea from HTC (and we still like HTC's implementation better), the music makes audio tuning accessible, while the video player brings subtitle support.
The HTC One M9 was better to use, but it doesn't quite replace a proper video player. The music player was too HTC-centric - maybe that worked in the Beats days (then again, maybe it didn't). Either way, we don't want to feel like second-class customer if we don't have HTC headphones.
Audio quality
If you have kept track of our reviews you know how this one will go. The Samsung Galaxy S6 is an excellent music player - one of the best on the market with above average volume and great clarity of its output. Even with headphones plugged in, it delivers stellar scores all over the board.
That all counts for little here, though, as if faces the best audio performer of all smartphones. The HTC One M9 is not only louder than its rival here, but it's also that little bit cleaner with headphones on - in fact its output is identical to the test with an active external amplifier and that's an incredible achievement. The Samsung flagship put in a good effort, but it never stood a chance here.
| | | | | | | |
| --- | --- | --- | --- | --- | --- | --- |
| Test | Frequency response | Noise level | Dynamic range | THD | IMD + Noise | Stereo crosstalk |
| HTC One M9 | +0.02, -0.06 | -94.8 | 93.0 | 0.0049 | 0.026 | -93.7 |
| HTC One M9 (headphones attached) | +0.03, -0.05 | -93.7 | 92.7 | 0.0082 | 0.030 | -91.6 |
| Samsung Galaxy S6 | +0.01, -0.04 | -95.6 | 92.8 | 0.0024 | 0.0094 | -94.5 |
| Samsung Galaxy S6 (headphones) | +0.02, -0.05 | -92.6 | 91.9 | 0.0025 | 0.042 | -83.4 |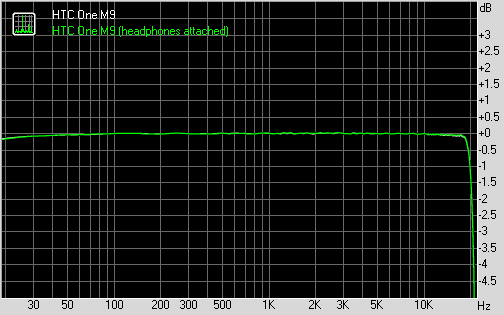 HTC One M9 response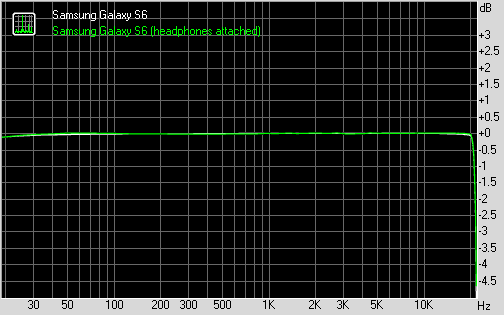 Samsung Galaxy S6 response
You can learn more about the tested parameters and the whole testing process here.
Update, April 3: we retested the audio quality of a retail Galaxy S6, but it was identical to what we saw on the pre-release unit we used initially.
Winner: HTC One M9. The Samsung Galaxy S6 is a great performer indeed, but the One M9 is perfection itself and it's better than anything else on the market.
Loudspeaker
The HTC One M9 brings the trademark stereo speakers. They are not very loud in absolute terms, but they produce high-quality sound, which is great for listening to music. HTC doesn't seem to have made any progress since the One (M8), but the One M9 still has some of the best speakers on the market.
The sole speaker on the Samsung Galaxy S6 is just a fraction louder than the One M9 speakers, but it doesn't have the nice stereo effect.
Update, April 3: we retested the loudspeaker of a retail Galaxy S6 and the numbers came out fairly close. It scored a Good rating again.
| | | | | |
| --- | --- | --- | --- | --- |
| Speakerphone test | Voice, dB | Pink noise/ Music, dB | Ringing phone, dB | Overall score |
| HTC One M9 | 65.2 | 64.6 | 76.1 | Average |
| Samsung Galaxy S6 | 68.1 | 66.3 | 73.7 | Good |
Winner: HTC One M9. Although the two fall right on the boundary of Average and Good, the difference between them is really tiny. Loudness aside, the quality of the sound produced goes in favor of the One M9.