A refinement act
Samsung Galaxy S7 review: A refinement act
Synthetic benchmarks
The Galaxy S7 comes in two different specs, one with the Snapdragon 820, the other with the Exynos 8890. Qualcomm's chipset has a quad-core CPU, two of the Kryo cores clocked at 2.15GHz, the other two - at 1.6GHz.
We have for review the Exynos flavor, and Samsung's own SoC relies on an octa-core CPU solution, in which you have four Mongoose cores, and four Cortex-A53's. The Mongoose cores behave differently depending on the task - two of them can go as high as 2.6GHz, while the other two are idling, or you can have all four of them ticking at 2.3GHz simultaneously. In theory that approach should provide heaps of power for all sorts of apps, regardless of the number of cores they can utilize, while keeping temperature in check.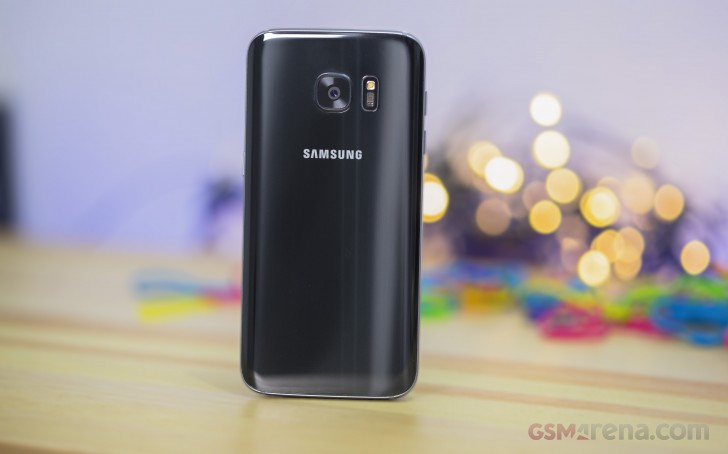 The different chips obviously come with matching GPUs, the Adreno 530 in the Snapdragon package, and the Mali-T880 MP12 in the Exynos variant. Regardless of chipset, the Galaxy S7 comes with 4GB of RAM and 32GB of storage. A 64GB version is also supposedly going to be available, we haven't seen one yet though.
The Galaxy S7 kicks off with the best single-core result we've seen, on Android that is, and by a long stretch. Remember, one Mongoose core ticks at 2.6GHz in this scenario, and it certainly makes a difference. The S7 edges ahead of the S7 edge (why, of course we're working on a review of that one concurrently), but the difference is well withing the statistical margin of error. And yes, the iPhone 6s still rules in the per-core performance, but it's only got two of them.
GeekBench 3 (single-core)
Higher is better
Apple iPhone 6s
2542
Samsung Galaxy S7
2170
Samsung Galaxy S7 edge
2151
Meizu Pro 5
1545
Samsung Galaxy S6
1502
Huawei Nexus 6P
1363
The multi-core results are even more impressive. The Galaxy S7 is hands down the fastest performer when all cores are utilized, Android or otherwise this time. The Meizu Pro 5, the highest scoring smartphone with last year's Exynos 7420 chip, sits closest followed by Samsung's own. The Nexus 6P is the highest ranking Snapdragon 810 offering, still not a match when it came out, not a match now.
GeekBench 3 (multi-core)
Higher is better
Samsung Galaxy S7
6360
Meizu Pro 5
5578
Samsung Galaxy S6
5215
Samsung Galaxy Note5
5124
Huawei Nexus 6P
4539
OnePlus 2
4429
Apple iPhone 6s
4427
Sony Xperia Z5
4017
LG Nexus 5X
3527
LG G4
3509
Huawei P8
3380
Xiaomi Mi 4c
3321
HTC One A9
3209
Samsung Galaxy A5 (2016)
3061
OnePlus X
2297
Compound benchmarks should give a better understanding of overall performance, not just raw processing power. AnTuTu 6 comes first, alphabetically if for no other reason, and it won't be unfair to say that the Galaxy S7 smokes the competition. True, it's the first 2016 flagship we get to test, and results in the 130K ballpark are also to be expected by the myriad of Snapdragon 820 releases this year, it's just that the S7 beat them to it.
AnTuTu 6
Higher is better
Samsung Galaxy S7
132084
Huawei Nexus 6P
89345
Samsung Galaxy Note5
81615
Samsung Galaxy S6
79038
Meizu Pro 5
67531
LG G4
60858
HTC One A9
60324
Samsung Galaxy A5 (2016)
35689
Basemark OS II 2.0 comes next and we're starting to wonder if smartphones are approaching the ceiling of what the benchmark can measure. The Galaxy S7's score is only slightly higher than that of the Nexus 6P, and the distance to the ruling iPhone 6s is even smaller. Exynos 7420 devices from last year are further down though, so at least Samsung has managed to improve on its own chip.
Basemark OS 2.0
Higher is better
Apple iPhone 6s
2195
Samsung Galaxy S7
2128
Huawei Nexus 6P
2040
Samsung Galaxy Note5
1880
Meizu Pro 5
1837
Samsung Galaxy S6
1674
OnePlus 2
1622
LG Nexus 5X
1591
LG G4
1584
Sony Xperia Z5
1482
Microsoft Lumia 950
1281
Xiaomi Mi 4c
1233
OnePlus X
1213
Huawei P8
1112
HTC One A9
944
Samsung Galaxy A5 (2016)
833
On to graphics, to see how those 12 cores of the Mali-T880 GPU stack up. In Basemark X we witness a new record high, comfortably ahead of last-year's Samsung flagships, which in turn posted better numbers than competing Snapdragon 810 models.
Basemark X
Higher is better
Samsung Galaxy S7
32345
Samsung Galaxy S6
27169
Samsung Galaxy Note5
26281
Sony Xperia Z5
23923
Huawei Nexus 6P
22825
OnePlus 2
21937
Meizu Pro 5
20038
LG Nexus 5X
16609
LG G4
15090
Xiaomi Mi 4c
12096
OnePlus X
10572
HTC One A9
6617
Huawei P8
6307
Samsung Galaxy A5 (2016)
4947
Basemark ES 3.1 provides a testing ground for OpenGL ES 3.1-compatible devices, and while results are not 100% immediately comparable, its iOS counterpart Basemark Metal gives a general idea where the two platforms stand relative to each other.
And where they stand is closer than with last year's Android devices, that's for sure. Exynos 8890 scores more than twice as much as 7420 and the Snapdragon 810 is left behind as well. However, it is still the iPhone 6s that remains the true king in this benchmark, and early indications we have of the Snapdragon 820's performance, the status quo is looking to remain unchanged.
Basemark ES 3.1 / Metal
Higher is better
Apple iPhone 6s
879
Samsung Galaxy S7
732
Huawei Nexus 6P
504
Meizu Pro 5
409
Samsung Galaxy Note5
316
Samsung Galaxy S6
311
LG Nexus 5X
306
Xiaomi Mi 4c
248
HTC One A9
132
GFXBench 3.1 Manhattan is another OpenGL ES 3.1 test and the S7 is doing a very good job. In the offscreen part (run at 1080p on all tested devices regardless of actual display resolution) Samsung's flagship outperforms all of last year's flagships by a mile (hardly a surprise!).
That translates into a solid number in the onscreen test - run at native resolution, where the QHD display of the S7 pulls it back. Still, the 15fps are a marked improvement over the Note5's 6.7fps, and also ahead of the 11fps of the QHD Nexuses.
GFX 3.1 Manhattan (1080p offscreen)
Higher is better
Samsung Galaxy S7
28
Sony Xperia Z5
18
Huawei Nexus 6P
17
OnePlus 2
16
Samsung Galaxy Note5
15
Meizu Pro 5
14
LG Nexus 5X
11
Xiaomi Mi 4c
10
HTC One A9
3.8
Huawei P8
3.4
GFX 3.1 Manhattan (onscreen)
Higher is better
Sony Xperia Z5
19
OnePlus 2
16
Samsung Galaxy S7
15
Meizu Pro 5
14
LG Nexus 5X
11
Huawei Nexus 6P
11
Xiaomi Mi 4c
9.7
Samsung Galaxy Note5
6.7
Huawei P8
4.3
HTC One A9
4
In the older GFXBench 3.0 test, the S7 matches the iPhone 6s in raw power, testified by the similar offscreen frame rates. These two are in a league of their own, no other phone making it past 65% of the S7's score.
Don't make a big deal out of the difference in onscreen frame rates between the iPhone 6s and the Galaxy S7 - the Samsung phone is dealing with 3.7 times as many pixels. On a level field against the Nexus 6P and Note5, the new GPU shows its strength posting a 60% and 80% higher frame rate, respectively.
GFX 3.0 Manhattan (1080p offscreen)
Higher is better
Apple iPhone 6s
39.5
Samsung Galaxy S7
38
Huawei Nexus 6P
25
Meizu Pro 5
25
Samsung Galaxy S6
24
Sony Xperia Z5
24
OnePlus 2
22
Samsung Galaxy Note5
21
LG Nexus 5X
16
Xiaomi Mi 4c
15
LG G4
14.9
OnePlus X
9.9
HTC One A9
6.4
Samsung Galaxy A5 (2016)
5.7
Huawei P8
5.4
GFX 3.0 Manhattan (onscreen)
Higher is better
Apple iPhone 6s
53.6
Samsung Galaxy S7
27
Sony Xperia Z5
25
Meizu Pro 5
25
OnePlus 2
22
LG Nexus 5X
17
Huawei Nexus 6P
17
Samsung Galaxy Note5
15
Xiaomi Mi 4c
15
Samsung Galaxy S6
14
OnePlus X
10
LG G4
9.4
HTC One A9
6.7
Huawei P8
5.7
Samsung Galaxy A5 (2016)
5.7
In summary, another trend-setting performance by the Galaxy flagship. Heaps of raw CPU power in the S7 are coupled with graphics oomph, which no longer needs to make excuses for low frame rates with high display resolution.