In a similar fashion to what happened last year with the Galaxy S6 active, the Samsung Galaxy S7 active will be exclusive to AT&T. The upcoming highly ruggedised version of Samsung's flagship smartphone has been featured in quite a few leaks so far, and today's brings us its full list of specs.
The device will be bulkier than the vanilla S7, as you may expect by simply looking at it. That obviously has to do with making it more rugged, but it's also clearly related to its battery capacity. See, while the S6 active shocked last year with a 3,500 mAh cell, its successor will take things even further with a whopping 4,000 mAh unit powering it. That's a third more than the S7, by the way.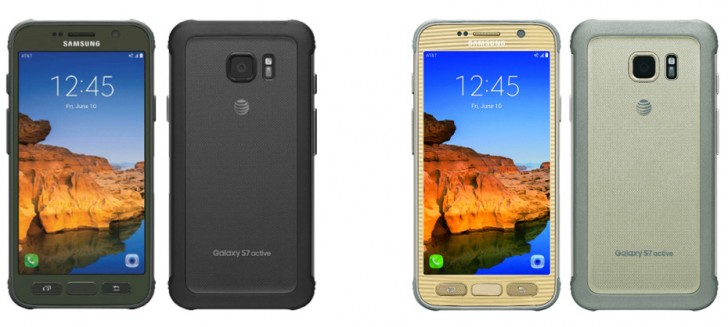 Otherwise, though, the active variation borrows everything from its non-rugged sibling. It's going to have a 5.1-inch QHD Super AMOLED display, the Snapdragon 820 chipset, 4GB of RAM, 32GB of expandable storage, and Android 6.0 Marshmallow on board. Camera-wise, you'll see the same 12 MP rear snapper as in the Galaxy S7 and S7 edge, as well as an identical 5 MP selfie shooter.
The S7 active will weigh 185g and will be 9.9mm thick. It will be out at AT&T in June, and may actually launch on June 10 - since that's the date featured in all of the official press renders that have been leaked so far. There's no telling yet whether it will be sold in markets other than the US.
?
One last thing, since I never said using punctuations was my strong point, just for kicks I showed your last comment to two different people that excel in English and they got a good laugh at all your punctuation errors counting at least 6 of them al...
?
You're the only one that is confusing anyone because you cannot say it correctly, also it you're going to write a page. Learn to use some punctuations, and once again educate yourself, you keep arguing a pointless fact. TALK ABOUT ERRORS (1) also IT ...
ADVERTISEMENTS