We've been through it a lot - the Samsung Galaxy S5, as all Galaxy S's before it, had a user-replaceable battery, and the S6 didn't, which sucks. Not only that, it actually had a smaller battery than the model it replaced.
The first part of that story doesn't seem likely to change, as design constraints have been forcing manufacturers to seal batteries inside devices, not just smartphones. Well, good thing then, that Samsung actually fitted a higher capacity power pack inside the Galaxy S7 than it did in the S6. It is, in fact, the most juice a vanilla Galaxy S-series model has had - specialty editions like the S6 active and S6 edge+ don't count.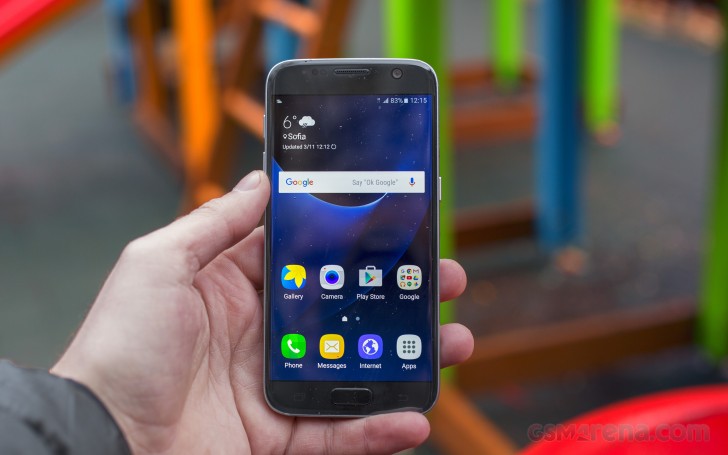 The Galaxy S7 has a 3,000mAh battery, which is the most that 5-inch (or thereabout) smartphones have these days, matched by the latest Xiaomi Mi 5. The current, and likely last of its kind, Sony Xperia Z5 packs 2,900mAh of juice, mated to a marginally larger 5.2-inch display.
The LG G5 has a 2,800mAh cell for an even larger 5.3" screen, while the outgoing G4 relies on the same 3,000mAh capacity to power a 5.5-inch display. Yes, both LG smartphones are bigger, but who's to blame if the company doesn't have a flagship offering close to the 5" mark? In their favor though, both models feature a removable battery. Now, LG does make the Nexus 5X, and that's a flagship of sorts with a 5.2-inch display and a 2,700mAh cell.
The iPhone 6s, on the other hand, has a lowly 1,715mAh battery to feed a 4.7-inch display.
It's what the Galaxy S7 does with its 3,000 milliamp hours that matters as we've seen plenty of impressive spec sheets that couldn't transfer into reasonable battery life. So, as usual, we carried out our array of battery tests, and while the summary can be found in the review, we'll get into a little bit more detail in these few paragraphs here.
The Galaxy S7 does very well, to put it simply. Starting with voice calls over a 3G network, the S7 can outlast all of the above (well, we can't be sure about the Mi 5 and G5 just yet). And even then, it's the Galaxy S6 that comes closest, not one of the competing brands. The Xperia Z5 follows, at a distance of almost 5 hours behind the S7. The iPhone 6s fares rather miserably in this respect with less than 10 hours of talk time on a charge.
Talk time
Samsung Galaxy Tab Pro 10.1 LTE
46:44h
Gionee Marathon M5
38:07h
Lenovo Vibe Z2 Pro
33:20h
Huawei Ascend Mate2 4G
33:19h
Samsung Galaxy A9 (2016)
32:54h
Xiaomi Redmi 3
32:53h
Oppo R7 Plus
30:46h
OnePlus 2
30:29h
Samsung Galaxy S6 edge+
30:29h
Motorola DROID Turbo
30:09h
Microsoft Lumia 640 XL
29:46h
Microsoft Lumia 640 XL LTE
29:46h
Microsoft Lumia 640 XL LTE Dual SIM
29:46h
Microsoft Lumia 640 XL Dual SIM
29:46h
Huawei Honor 5X
29:40h
Samsung Galaxy Note5
28:34h
HTC One (M8) for Windows
28:34h
Nokia Lumia 1520
28:34h
Samsung Galaxy Note 4
28:31h
Sony Xperia Z4 Tablet LTE
28:25h
Sony Xperia Z5 Compact
28:23h
Huawei G8
27:44h
Samsung Galaxy S5
27:37h
Sony Xperia Z1
26:53h
Huawei Mate 8
26:45h
Samsung Galaxy S6 active
26:29h
Motorola Moto X Play
26:28h
Samsung Galaxy A7 (2016)
26:01h
Samsung P6800 Galaxy Tab 7.7
25:45h
LG G3
25:38h
LG G Pro 2
25:37h
LG G Flex
25:19h
Sony Xperia T2 Ultra
25:16h
LG G2
25:15h
Samsung Galaxy A7
25:12h
BlackBerry Passport
25:12h
Huawei Ascend Mate
25:12h
Samsung Galaxy A7 Duos
25:12h
Motorola Nexus 6
25:03h
Samsung Galaxy A8
25:02h
Samsung Galaxy A8 Duos
25:02h
Alcatel Hero
25:02h
Oppo N1
25:01h
Samsung Galaxy Note 3 Neo
24:52h
Sony Xperia Z Ultra
24:23h
Oppo R7s
24:03h
Apple iPhone 6 Plus
23:49h
LG AKA
23:20h
Sony Xperia Z3
23:13h
Meizu PRO 5
23:10h
Microsoft Lumia 640 LTE Dual SIM
23:09h
Microsoft Lumia 640 LTE
23:09h
Microsoft Lumia 640 Dual SIM
23:09h
Oppo R7
22:58h
Samsung Galaxy S7
22:57h
Samsung P6200 Galaxy Tab 7.0 Plus
22:42h
Motorola Moto E (2nd gen)
22:36h
Motorola Moto X Style
22:23h
ZTE Nubia Z9
22:20h
Huawei MediaPad 7 Vogue
22:16h
Nokia Lumia 1320
22:13h
Samsung Galaxy Core LTE
22:13h
Lenovo ZUK Z1
22:13h
Sony Xperia Z2
22:13h
HTC One Max
22:13h
Nokia Lumia 1020
22:13h
Sony Xperia C3 Dual
22:11h
Yota YotaPhone 2
22:09h
Meizu MX4 Pro
22:09h
Samsung ATIV SE
22:05h
Xiaomi Redmi Note 3 (MediaTek)
22:02h
Xiaomi Redmi Note
21:41h
Samsung Galaxy Note Edge
21:39h
Motorola RAZR MAXX
21:18h
Xiaomi Mi 4i
21:02h
Meizu m2 note
20:55h
Huawei Nexus 6P
20:50h
LG Optimus G Pro E985
20:45h
HTC One M9
20:44h
Sony Xperia Z1 Compact
20:42h
Samsung Galaxy A5 (2016)
20:40h
Sony Xperia Z5 Premium
20:27h
Motorola DROID RAZR MAXX
20:24h
Asus Zenfone Selfie ZD551KL
20:22h
Motorola RAZR i XT890
20:07h
Huawei Ascend Mate7
20:06h
Samsung Galaxy A3 Duos
20:04h
Samsung Galaxy E7
20:04h
Samsung Galaxy A3
20:04h
Oppo Find 7
20:03h
Samsung Galaxy S5 Active
20:01h
BlackBerry Q10
20:00h
OnePlus One
19:56h
Samsung Galaxy Grand 2
19:55h
Samsung Galaxy Mega 6.3 I9200
19:54h
Sony Xperia SP
19:49h
Sony Xperia T3
19:48h
Samsung Galaxy S6 edge
19:48h
Samsung Galaxy S6
19:48h
HTC Butterfly 2
19:23h
Samsung's latest nearly hit the 15-hour mark in video playback, a result the rest here can't even dream of coming close to. The S6 puts up a semblance of a fight, but is dead in about 12 hours, and the iPhone 6s can't make it to 11 hours. The 8-hour endurance of the Xperia Z5 is mediocre, but Nexus 5X with 6:23h is the real disappointment here.
Video playback
Gionee Marathon M5
26:24h
LG G Flex
19:57h
Samsung Galaxy A9 (2016)
18:36h
Oppo R7 Plus
18:04h
Samsung Galaxy S6 active
18:03h
Meizu PRO 5
18:02h
Huawei Ascend Mate2 4G
18:01h
Samsung Galaxy Note 4
17:52h
Xiaomi Redmi 3
17:50h
Motorola RAZR MAXX
16:35h
Samsung Galaxy J7
16:22h
Sony Xperia Z3 Compact
15:03h
Sony Xperia Z4 Tablet LTE
14:58h
Samsung Galaxy E7
14:57h
Samsung Galaxy S7
14:50h
Motorola DROID RAZR MAXX
14:17h
Lenovo ZUK Z1
14:14h
Oppo R7s
14:05h
Huawei Ascend Mate7
14:04h
Apple iPhone 6s Plus
13:57h
Samsung Galaxy S6 edge+
13:53h
Samsung Galaxy Note5
13:51h
Motorola DROID Turbo
13:41h
Samsung Galaxy Note 3
13:32h
Samsung I9190 Galaxy S4 mini
13:12h
Nokia Lumia 1020
13:12h
Sony Xperia T2 Ultra
13:12h
HTC One Max
13:11h
Samsung Galaxy A7 (2016)
13:08h
Sony Xperia Z5 Compact
13:04h
Motorola Moto E (2nd gen)
13:04h
Sony Xperia C
12:53h
Samsung Galaxy S5 Active
12:51h
Samsung Galaxy Premier I9260
12:51h
Huawei Honor 6
12:51h
Samsung Galaxy A8
12:45h
Samsung Galaxy A8 Duos
12:45h
Meizu MX4 Pro
12:41h
Huawei Mate 8
12:34h
Nokia Lumia 1520
12:31h
Samsung I9505 Galaxy S4
12:30h
BlackBerry Q5
12:28h
Sony Xperia C3 Dual
12:22h
Samsung Galaxy A5 (2016)
12:21h
Huawei Ascend Mate
12:18h
Sony Xperia Z2
12:16h
Samsung Galaxy S6
12:12h
Samsung Galaxy S6 edge
12:12h
Samsung Galaxy Tab Pro 10.1 LTE
12:10h
Motorola Moto X Play
12:06h
LG AKA
11:54h
Sony Xperia Z3
11:47h
Samsung Galaxy Note 3 Neo
11:38h
Samsung P6800 Galaxy Tab 7.7
11:37h
Asus Zenfone Selfie ZD551KL
11:32h
Samsung I9500 Galaxy S4
11:29h
Samsung Galaxy Note II N7100
11:27h
Huawei Mate S
11:26h
OnePlus One
11:23h
HTC One (E8)
11:16h
Samsung Galaxy S5
11:15h
Apple iPhone 6 Plus
11:15h
BlackBerry Q10
11:15h
Oppo N1
11:15h
HTC One (M8) for Windows
11:15h
Meizu m1 note
11:09h
Samsung Galaxy S5 mini
11:02h
Asus PadFone X
11:01h
Xiaomi Mi 4c
10:47h
BlackBerry Passport
10:46h
Apple iPhone 6s
10:46h
vivo X5Max
10:44h
vivo X5Pro
10:41h
Samsung Galaxy Note Edge
10:41h
Microsoft Lumia 950 XL
10:38h
Microsoft Lumia 950 XL Dual SIM
10:38h
Samsung Galaxy J2
10:35h
HTC Desire Eye
10:35h
LG G Flex2
10:35h
HTC Desire 816
10:34h
Apple iPhone 5s
10:31h
HTC Butterfly 2
10:26h
LG G2 mini
10:23h
Huawei G8
10:20h
Nokia Lumia 735
10:20h
Apple iPhone 5
10:12h
HTC One (M8)
10:11h
Xiaomi Mi 4i
10:11h
Samsung Galaxy K zoom
10:08h
Samsung ATIV SE
10:07h
Sony Xperia M2
10:04h
HTC First
10:03h
HTC One
10:02h
Motorola Moto X
10:01h
Sony Xperia Z1 Compact
10:01h
Motorola Nexus 6
10:01h
Nokia Lumia 635
10:00h
Nokia Lumia 630
10:00h
Huawei P8lite ALE-L04
10:00h
Samsung Galaxy Express I8730
10:00h
Sony Xperia Z5
7:53h
LG Nexus 5X
6:52h
It's just web browsing that left us wanting, and not because the result is particularly bad, it's just not better than the S6, and better than the S6 is what it should have been. The S7 calls it quits after 9 and a half hours on the web over Wi-Fi, when its predecessor can stay online for an hour and a half longer.
We typically carry out the test with whatever proprietary browser there is pre-installed, and if the outcome is troubling, we repeat with Chrome to rule out any poor optimization from in-house software engineers. So we did on the S7 (just in case, not that we doubt Samsung's team) and the result came out at a little over 10 hours - an insignificant difference to warrant the Chome numbers making it to the score card.
All that said, the S7 still manages to outlast the LG G4 and the Nexus 5X, by an hour and an hour and a half respectively. The iPhone 6s shows impressive efficiency and despite the significantly smaller capacity manages a massive 3 hours more than the S7, and yet it's no match for the Xperia Z5's 14 and a half hours.
Web browsing
Gionee Marathon M5
30:51h
Huawei Mate 8
17:05h
Huawei Ascend Mate2 4G
16:41h
Sony Xperia E4
16:40h
Samsung Galaxy S6 active
16:25h
Xiaomi Redmi 3
15:11h
Sony Xperia Z4 Tablet LTE
15:05h
Sony Xperia Z3 Compact
14:52h
Sony Xperia Z5
14:35h
Meizu MX4
14:06h
Huawei Ascend Mate7
13:53h
Huawei P8
13:32h
Samsung Galaxy A9 (2016)
13:26h
Samsung Galaxy S5 mini
13:14h
HTC Butterfly 2
13:11h
Meizu m1 note
13:05h
Huawei Honor 6
12:59h
Meizu PRO 5
12:51h
Sony Xperia C
12:45h
Motorola Moto E (2nd gen)
12:42h
Nokia Lumia 1520
12:40h
Sony Xperia Z1 Compact
12:37h
HTC One (M8) for Windows
12:31h
HTC Desire 700 dual sim
12:30h
HTC One (M8)
12:29h
Apple iPhone 6s
12:27h
Samsung Galaxy A8
12:18h
ZTE Nubia Z9
12:18h
Samsung Galaxy A8 Duos
12:18h
Sony Xperia T2 Ultra
12:17h
Sony Xperia Z3
12:03h
Samsung Galaxy A7 (2016)
11:55h
Nokia XL
11:54h
Motorola Moto X Play
11:52h
Sony Xperia Z3+
11:51h
Apple iPhone 6s Plus
11:51h
HTC Desire 816
11:48h
Sony Xperia C3 Dual
11:47h
LG G2
11:42h
Samsung Galaxy A5
11:36h
Samsung Galaxy A5 Duos
11:36h
Meizu m1 metal
11:33h
Sony Xperia E4g
11:32h
Sony Xperia Z2
11:32h
Motorola DROID Turbo
11:31h
Sony Xperia E1
11:30h
Sony Xperia ZR
11:20h
HTC One Max
11:20h
Sony Xperia Z5 Compact
11:20h
HTC Butterfly S
11:07h
Asus PadFone X
11:07h
LG G2 mini
11:02h
Samsung Galaxy Note 4
11:01h
Nokia Lumia 1320
10:58h
Samsung Galaxy S6 edge
10:56h
Samsung Galaxy S6
10:56h
HTC Desire 510
10:53h
Microsoft Lumia 532 Dual SIM
10:52h
Motorola Moto G 4G
10:52h
Microsoft Lumia 532
10:52h
Microsoft Lumia 950 XL
10:50h
Microsoft Lumia 950 XL Dual SIM
10:50h
Lenovo ZUK Z1
10:46h
Samsung Galaxy Note5
10:43h
Oppo R7 Plus
10:39h
Huawei Honor 7
10:38h
LG AKA
10:38h
Nokia Lumia 830
10:36h
Apple iPhone 6
10:29h
Samsung Galaxy S6 edge+
10:25h
Meizu MX4 Pro
10:24h
Microsoft Lumia 640 LTE Dual SIM
10:23h
Microsoft Lumia 640 LTE
10:23h
Microsoft Lumia 640 Dual SIM
10:23h
Nokia Lumia 630
10:18h
Microsoft Lumia 640 XL
10:14h
Microsoft Lumia 640 XL Dual SIM
10:14h
Microsoft Lumia 640 XL LTE
10:14h
Microsoft Lumia 640 XL LTE Dual SIM
10:14h
BlackBerry Passport
10:12h
Xiaomi Redmi Note 3 (MediaTek)
10:12h
BlackBerry Q5
10:04h
HTC Desire Eye
10:02h
HTC One (E8)
10:02h
Nokia Lumia 635
10:00h
Huawei G8
10:00h
Huawei Honor 5X
10:00h
Apple iPhone 5s
9:58h
HTC One
9:58h
Apple iPhone 5
9:56h
Samsung Ativ Odyssey I930
9:54h
Meizu m2 note
9:54h
Samsung Galaxy A5 (2016)
9:52h
Sony Xperia E3
9:48h
Sony Xperia M2
9:48h
Samsung I9190 Galaxy S4 mini
9:47h
OnePlus One
9:46h
Huawei Mate S
9:43h
Samsung Galaxy Note 3 Neo
9:43h
Alcatel Hero
9:40h
Samsung Galaxy S5
9:39h
Samsung Galaxy S7
9:34h
LG Nexus 5X
8:32h
LG G4
7:54h
The numbers above add up to a combined endurance rating of 80 hours, still better than any of the other devices we mentioned. The Galaxy S6 and the Xperia Z5 both have a 73-hour endurance rating, for a shared second spot. No bronze will be awarded.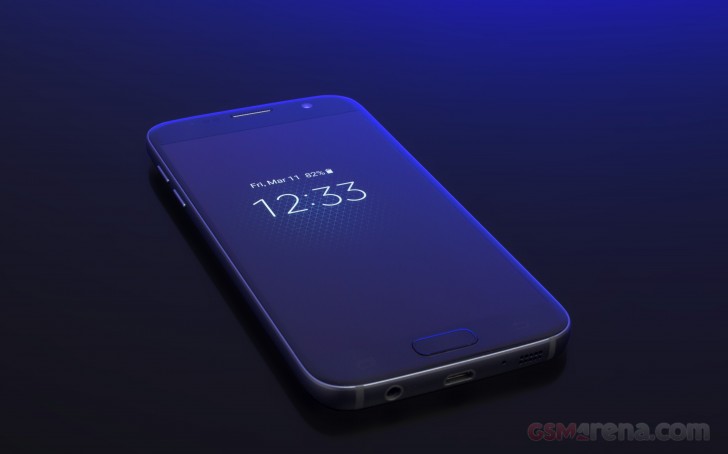 Oh, wait, Always On display. You see, our proprietary battery testing procedure includes a standby test, which is included in the formula for overall rating, but we don't post it on the scorecard. Standby is rarely the dominant contributor to power consumption, with large displays being a far heavier burden on the battery.
Well, with the Always On display enabled a part of that display is being lit up, and that inevitably has a detrimental effect on battery life. Samsung says that it runs in the ballpark of 1% battery drain per hour, and our findings seem to corroborate that.
A clock and background image was our choice (those pictured above, actually) - sort of a middle ground in terms is content volume being displayed. With AOD on, overall rating takes a huge hit and drops to 49 hours. Whether the trade-off is worth it is largely up to you.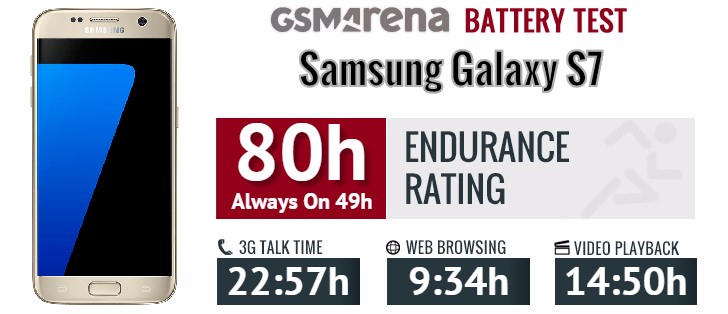 t
thinks the battery lifs sucks..cant even last 8 hours!!!
A
Charge time for me (0 to 100) 89 minutes. Of course, my phone was off.
D
I am an owner of LG G2, Samsung Galaxy S4 (both Exynos and Snapdragon), Samsung Galaxy S7 Edge (International/Exynos), Samsung Galaxy S7 (International/Exynos), and iPhone 6s (not TSMC, but Samsung chip, which is reportedly worse for battery life). ...