Grace UX-ed Nougat
Android 7.0 on the Galaxy S7 edge: Grace UX-ed Nougat
Settings
On both Marshmallow and Lollipop TouchWiz iterations, the settings were grouped into categories, and were color-coded, so you had a general idea where you are in the list, long as it may have been. Additionally, you could set up quick access to the settings you fiddle with most often.
Not any more - the settings menu has been completely overhauled. A push to a single-tiered menu, where you're always 2 taps away from a setting may sound great, but that's made for a looong list of settings. And we mean long.
On a positive note, the icons for each item in the list are different-colored and quite informative by themselves. Additionally, under the heading you have contextual info related to that particular setting, or a list of settings to be found inside. Also, the search box that's always on top of the list works great, so can easily rely on that until you learn your way around. Or never bother learning, and go with the search every time.
It's around here that you'll find that notorious Display resolution setting, that made the news as soon as beta ROMs started floating around. Yes, the interface is rendered at 1080p resolution by default, instead of the panel's native 1440p. A third option is also available - 720p.
We found that at 720p texts do lose a fair bit of sharpness and edge definition. 1080p is actually fine most of the time, unless you prefer to have your phone with the Condensed display scaling and the tiniest of font size.
There's also the matter of the Diamond Pixel arrangement and the fact that the number of blue and red subpixels is actually half that of the green ones, so it's down to subpixel rendering to visualize QHD resolution.
Also, in case you're wondering, we're also still investigating whether running your Galaxy S7 edge in 720p instead of the native 1440p brings actual practical benefits in the battery endurance department.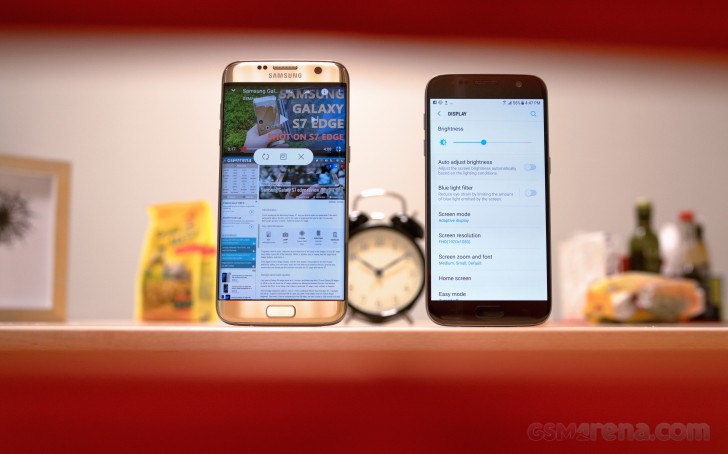 Multi-window
Samsung came up with the idea for multi-window multi-tasking back in the Galaxy Note 3 days, and has included it with its custom Android builds on every flagship since. It took Google some time to warm up to the idea, and finally the feature now comes natively on Nougat. That hasn't made it essentially any different on the S7 edge, which had it from day one.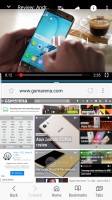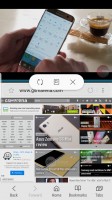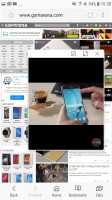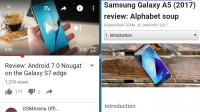 Multi-window • Controls • Pop-up view • Landscape view
You can still resize the two windows and swap them, as well as shrink the current one to a windowed view on top of the rest of the interface. A standard Nougat behavior, double-tapping the task switcher key lets you toggle between the two last used apps.
Game launcher and Game tools
Game launcher is here to stay, and no Nougat is going to change that. Samsung's app that aggregates your games and comes with Game tools to help you play more and with less interruptions has seen little change on Nougat, which is no bad thing since it usually upgrades independently of the OS version.
Always on display
Sure enough, the Always-on display feature is on board as well. It's gotten a few more clock designs plus you can now put up a full color picture from your gallery, and not just one of a handful of pre-selected images. Additionally, just like on the Note7, a double tap on a notification icon takes you to the respective app.
Edge features
Edge features have gotten a facelift too. People edge, for example, has lost the icon outlines and the icons themselves have been moved slightly towards the the middle of the screen, but that's pretty much the extent of the changes. A couple of extra panes have been added, but those may be region-specific for all we know, and you can always download more from the Galaxy Apps store.