We published our in-depth review of the Samsung Galaxy S7 edge earlier this week, and it was based on the Exynos version of the smartphone. We later got our hands on a Snapdragon version so we got a chance to compare the two in benchmarks, and now in battery endurance.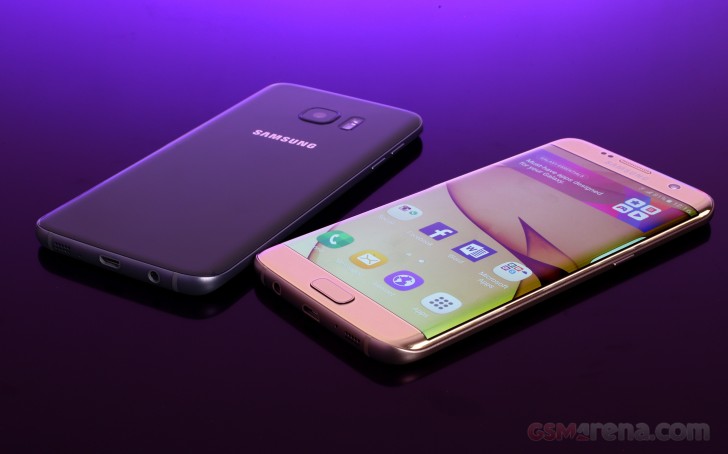 No matter the chipset, battery capacity of the Galaxy S7 edge is fixed at 3,600mAh - a generous amount. It is also a substantial increase over the S6 edge's 2,600mAh, not to mention the S6 edge+, which has a 3,000mAh power pack and a larger 5.7-inch display. In light of that, even die-hard removable battery supporters like us are willing to let it slide that the S7 edge's cell is sealed.
And that's even before we get to the fact that it charges very quickly, even if the S7 edge only supports Qualcomm's QuickCharge 2.0 standard and not the latest version 3.0. Samsung promises 0 to 100% in 100min for the S7 edge, and it's even more impressive just how rapidly those percentages climb from flat to 70% where charge speed starts to taper off.
Much like the company's last-year flagships, the Galaxy S7 edge is also capable of wireless charging with pads compliant with both Qi and PMA. Samsung will also sell you a fast wireless charging pad, which can fill up the battery nearly as fast as a cable will.
After we tested both versions, the summary goes like this. Number one - the Exynos-version is overall more efficient and outlasts the Snapdragon variant by a few hours in all three major tests and in Endurance rating. Number two - both are as good, or better than last year's S6 edge and S6 edge+.
Moving to the individual tests, the Galaxy S7 edge is good for about 24:30 hours or 22:30 hours of 3G voice calls, Exynos 8890 and Snapdragon 820 respectively. Difference aside, both perform noticeably better than the competition: Nexus 6P comes closest (20:50h), but the LG V10 (16:40h) and iPhone 6s Plus (15:51h) will have died long before either S7 edge pops up a warning.
Talk time
Samsung Galaxy Tab Pro 10.1 LTE
46:44h
Gionee Marathon M5
38:07h
Lenovo Vibe Z2 Pro
33:20h
Huawei Ascend Mate2 4G
33:19h
Samsung Galaxy A9 (2016)
32:54h
Xiaomi Redmi 3
32:53h
Oppo R7 Plus
30:46h
OnePlus 2
30:29h
Samsung Galaxy S6 edge+
30:29h
Motorola DROID Turbo
30:09h
Microsoft Lumia 640 XL Dual SIM
29:46h
Microsoft Lumia 640 XL LTE Dual SIM
29:46h
Microsoft Lumia 640 XL LTE
29:46h
Microsoft Lumia 640 XL
29:46h
Huawei Honor 5X
29:40h
Samsung Galaxy Note5
28:34h
HTC One (M8) for Windows
28:34h
Nokia Lumia 1520
28:34h
Samsung Galaxy Note 4
28:31h
Sony Xperia Z4 Tablet LTE
28:25h
Sony Xperia Z5 Compact
28:23h
Huawei G8
27:44h
Samsung Galaxy S5
27:37h
Sony Xperia Z1
26:53h
Huawei Mate 8
26:45h
Samsung Galaxy S6 active
26:29h
Motorola Moto X Play
26:28h
Samsung Galaxy A7 (2016)
26:01h
Samsung P6800 Galaxy Tab 7.7
25:45h
LG G3
25:38h
LG G Pro 2
25:37h
LG G Flex
25:19h
Sony Xperia T2 Ultra
25:16h
LG G2
25:15h
Samsung Galaxy A7 Duos
25:12h
Samsung Galaxy A7
25:12h
BlackBerry Passport
25:12h
Huawei Ascend Mate
25:12h
Motorola Nexus 6
25:03h
Samsung Galaxy A8
25:02h
Samsung Galaxy A8 Duos
25:02h
Alcatel Hero
25:02h
Oppo N1
25:01h
Samsung Galaxy Note 3 Neo
24:52h
Samsung Galaxy S7 edge (E8890)
24:29h
Sony Xperia Z Ultra
24:23h
Oppo R7s
24:03h
Apple iPhone 6 Plus
23:49h
LG AKA
23:20h
Sony Xperia Z3
23:13h
Meizu PRO 5
23:10h
Microsoft Lumia 640 LTE Dual SIM
23:09h
Microsoft Lumia 640 Dual SIM
23:09h
Microsoft Lumia 640 LTE
23:09h
Oppo R7
22:58h
Samsung Galaxy S7
22:57h
Samsung P6200 Galaxy Tab 7.0 Plus
22:42h
Motorola Moto E (2nd gen)
22:36h
Samsung Galaxy S7 edge (S820)
22:32h
Motorola Moto X Style
22:23h
ZTE Nubia Z9
22:20h
Huawei MediaPad 7 Vogue
22:16h
Samsung Galaxy Core LTE
22:13h
HTC One Max
22:13h
Lenovo ZUK Z1
22:13h
Nokia Lumia 1020
22:13h
Sony Xperia Z2
22:13h
Nokia Lumia 1320
22:13h
Sony Xperia C3 Dual
22:11h
Meizu MX4 Pro
22:09h
Yota YotaPhone 2
22:09h
Samsung ATIV SE
22:05h
Xiaomi Redmi Note 3 (MediaTek)
22:02h
Xiaomi Redmi Note
21:41h
Samsung Galaxy Note Edge
21:39h
Motorola RAZR MAXX
21:18h
Xiaomi Mi 4i
21:02h
Meizu m2 note
20:55h
Huawei Nexus 6P
20:50h
LG Optimus G Pro E985
20:45h
HTC One M9
20:44h
Sony Xperia Z1 Compact
20:42h
Samsung Galaxy A5 (2016)
20:40h
Sony Xperia Z5 Premium
20:27h
Motorola DROID RAZR MAXX
20:24h
Asus Zenfone Selfie ZD551KL
20:22h
Motorola RAZR i XT890
20:07h
Huawei Ascend Mate7
20:06h
Samsung Galaxy A3
20:04h
Samsung Galaxy A3 Duos
20:04h
Samsung Galaxy E7
20:04h
Oppo Find 7
20:03h
Samsung Galaxy S5 Active
20:01h
BlackBerry Q10
20:00h
OnePlus One
19:56h
Samsung Galaxy Grand 2
19:55h
Samsung Galaxy Mega 6.3 I9200
19:54h
Sony Xperia SP
19:49h
Samsung Galaxy S6
19:48h
Sony Xperia T3
19:48h
Samsung Galaxy S6 edge
19:48h
It would be an understatement to say that the Galaxy S7 edge excels at video playback longevity, especially the Exynos version. With its 20:08h result, it stands at the all-time second spot among devices we've tested, behind the Gioniee Marathon M5 (monstrous 6,020mAh battery, midrange hardware).
The Snapdragon S7 edge is no slouch either when it comes to watching videos and calls it a day after almost 17 hours - yes, impressive, but still 3 hours less. Then again, the iPhone 6s Plus throws in the towel another 3 hours earlier (13:57h). The Nexus 6P (9:59) will need two full charges to match the Exynos S7 edge, and you better have two spare batteries for the V10 (7:30) if you're looking to keep up with the edges.
Video playback
Gionee Marathon M5
26:24h
Samsung Galaxy S7 edge (E8890)
20:08h
LG G Flex
19:57h
Samsung Galaxy A9 (2016)
18:36h
Oppo R7 Plus
18:04h
Samsung Galaxy S6 active
18:03h
Meizu PRO 5
18:02h
Huawei Ascend Mate2 4G
18:01h
Samsung Galaxy Note 4
17:52h
Xiaomi Redmi 3
17:50h
Samsung Galaxy S7 edge (S820)
16:54h
Motorola RAZR MAXX
16:35h
Samsung Galaxy J7
16:22h
Sony Xperia Z3 Compact
15:03h
Sony Xperia Z4 Tablet LTE
14:58h
Samsung Galaxy E7
14:57h
Samsung Galaxy S7
14:50h
Motorola DROID RAZR MAXX
14:17h
Lenovo ZUK Z1
14:14h
Oppo R7s
14:05h
Huawei Ascend Mate7
14:04h
Apple iPhone 6s Plus
13:57h
Samsung Galaxy S6 edge+
13:53h
Xiaomi Mi 5
13:52h
Samsung Galaxy Note5
13:51h
Motorola DROID Turbo
13:41h
Samsung Galaxy Note 3
13:32h
Nokia Lumia 1020
13:12h
Sony Xperia T2 Ultra
13:12h
Samsung I9190 Galaxy S4 mini
13:12h
HTC One Max
13:11h
Samsung Galaxy A7 (2016)
13:08h
Sony Xperia Z5 Compact
13:04h
Motorola Moto E (2nd gen)
13:04h
Sony Xperia C
12:53h
Samsung Galaxy Premier I9260
12:51h
Huawei Honor 6
12:51h
Samsung Galaxy S5 Active
12:51h
Samsung Galaxy A8 Duos
12:45h
Samsung Galaxy A8
12:45h
Meizu MX4 Pro
12:41h
Huawei Mate 8
12:34h
Nokia Lumia 1520
12:31h
Samsung I9505 Galaxy S4
12:30h
BlackBerry Q5
12:28h
Sony Xperia C3 Dual
12:22h
Samsung Galaxy A5 (2016)
12:21h
Huawei Ascend Mate
12:18h
Sony Xperia Z2
12:16h
Samsung Galaxy S6 edge
12:12h
Samsung Galaxy S6
12:12h
Samsung Galaxy Tab Pro 10.1 LTE
12:10h
Motorola Moto X Play
12:06h
LG AKA
11:54h
Sony Xperia Z3
11:47h
Samsung Galaxy Note 3 Neo
11:38h
Samsung P6800 Galaxy Tab 7.7
11:37h
Asus Zenfone Selfie ZD551KL
11:32h
Samsung I9500 Galaxy S4
11:29h
Samsung Galaxy Note II N7100
11:27h
Huawei Mate S
11:26h
OnePlus One
11:23h
HTC One (E8)
11:16h
HTC One (M8) for Windows
11:15h
Apple iPhone 6 Plus
11:15h
Samsung Galaxy S5
11:15h
Oppo N1
11:15h
BlackBerry Q10
11:15h
Meizu m1 note
11:09h
Samsung Galaxy S5 mini
11:02h
Asus PadFone X
11:01h
Xiaomi Mi 4c
10:47h
Apple iPhone 6s
10:46h
BlackBerry Passport
10:46h
vivo X5Max
10:44h
vivo X5Pro
10:41h
Samsung Galaxy Note Edge
10:41h
Microsoft Lumia 950 XL
10:38h
Microsoft Lumia 950 XL Dual SIM
10:38h
Samsung Galaxy J2
10:35h
HTC Desire Eye
10:35h
LG G Flex2
10:35h
HTC Desire 816
10:34h
Apple iPhone 5s
10:31h
HTC Butterfly 2
10:26h
LG G2 mini
10:23h
Nokia Lumia 735
10:20h
Huawei G8
10:20h
Apple iPhone 5
10:12h
Xiaomi Mi 4i
10:11h
HTC One (M8)
10:11h
Samsung Galaxy K zoom
10:08h
Samsung ATIV SE
10:07h
Sony Xperia M2
10:04h
HTC First
10:03h
HTC One
10:02h
Motorola Moto X
10:01h
Sony Xperia Z1 Compact
10:01h
Motorola Nexus 6
10:01h
Nokia Lumia 635
10:00h
Samsung I9105 Galaxy S II Plus
10:00h
In web browsing we have the Exynos Galaxy S7 edge leading this improvised pack with its 13:32h result, but here the Snapdragon version (10:09h) doesn't have what it takes to claim silver - it's the iPhone6s Plus for a change (11:51h). The Nexus 6P and LG V10 are in their usual unimpressive form and in this test hover around the 8:30 mark.
Web browsing
Gionee Marathon M5
30:51h
Huawei Mate 8
17:05h
Huawei Ascend Mate2 4G
16:41h
Sony Xperia E4
16:40h
Samsung Galaxy S6 active
16:25h
Xiaomi Redmi 3
15:11h
Sony Xperia Z4 Tablet LTE
15:05h
Sony Xperia Z3 Compact
14:52h
Sony Xperia Z5
14:35h
Meizu MX4
14:06h
Huawei Ascend Mate7
13:53h
Samsung Galaxy S7 edge (E8890)
13:32h
Huawei P8
13:32h
Samsung Galaxy A9 (2016)
13:26h
Samsung Galaxy S5 mini
13:14h
HTC Butterfly 2
13:11h
Meizu m1 note
13:05h
Huawei Honor 6
12:59h
Meizu PRO 5
12:51h
Xiaomi Mi 5
12:50h
Sony Xperia C
12:45h
Motorola Moto E (2nd gen)
12:42h
Nokia Lumia 1520
12:40h
Sony Xperia Z1 Compact
12:37h
HTC One (M8) for Windows
12:31h
HTC Desire 700 dual sim
12:30h
HTC One (M8)
12:29h
Apple iPhone 6s
12:27h
Samsung Galaxy A8 Duos
12:18h
ZTE Nubia Z9
12:18h
Samsung Galaxy A8
12:18h
Sony Xperia T2 Ultra
12:17h
Sony Xperia Z3
12:03h
Samsung Galaxy A7 (2016)
11:55h
Nokia XL
11:54h
Motorola Moto X Play
11:52h
Apple iPhone 6s Plus
11:51h
Sony Xperia Z3+
11:51h
HTC Desire 816
11:48h
Sony Xperia C3 Dual
11:47h
LG G2
11:42h
Samsung Galaxy A5 Duos
11:36h
Samsung Galaxy A5
11:36h
Meizu m1 metal
11:33h
Sony Xperia E4g
11:32h
Sony Xperia Z2
11:32h
Motorola DROID Turbo
11:31h
Sony Xperia E1
11:30h
HTC One Max
11:20h
Sony Xperia Z5 Compact
11:20h
Sony Xperia ZR
11:20h
HTC Butterfly S
11:07h
Asus PadFone X
11:07h
LG G2 mini
11:02h
Samsung Galaxy Note 4
11:01h
Nokia Lumia 1320
10:58h
Samsung Galaxy S6 edge
10:56h
Samsung Galaxy S6
10:56h
HTC Desire 510
10:53h
Microsoft Lumia 532 Dual SIM
10:52h
Microsoft Lumia 532
10:52h
Motorola Moto G 4G
10:52h
Microsoft Lumia 950 XL Dual SIM
10:50h
Microsoft Lumia 950 XL
10:50h
Lenovo ZUK Z1
10:46h
Samsung Galaxy Note5
10:43h
Oppo R7 Plus
10:39h
LG AKA
10:38h
Huawei Honor 7
10:38h
Nokia Lumia 830
10:36h
Apple iPhone 6
10:29h
Samsung Galaxy S6 edge+
10:25h
Meizu MX4 Pro
10:24h
Microsoft Lumia 640 LTE
10:23h
Microsoft Lumia 640 LTE Dual SIM
10:23h
Microsoft Lumia 640 Dual SIM
10:23h
Nokia Lumia 630
10:18h
Microsoft Lumia 640 XL LTE
10:14h
Microsoft Lumia 640 XL
10:14h
Microsoft Lumia 640 XL Dual SIM
10:14h
Microsoft Lumia 640 XL LTE Dual SIM
10:14h
BlackBerry Passport
10:12h
Xiaomi Redmi Note 3 (MediaTek)
10:12h
Samsung Galaxy S7 edge (S820)
10:09h
BlackBerry Q5
10:04h
HTC Desire Eye
10:02h
HTC One (E8)
10:02h
Huawei G8
10:00h
Huawei Honor 5X
10:00h
Nokia Lumia 635
10:00h
Apple iPhone 5s
9:58h
HTC One
9:58h
Apple iPhone 5
9:56h
Meizu m2 note
9:54h
Samsung Ativ Odyssey I930
9:54h
Samsung Galaxy A5 (2016)
9:52h
Sony Xperia M2
9:48h
Sony Xperia E3
9:48h
Samsung I9190 Galaxy S4 mini
9:47h
OnePlus One
9:46h
Huawei Mate S
9:43h
The Always On display feature was always going to be a battery drainer, no two ways about it. Samsung's claim that it would cost you 1% per hour seems about right and it does leave a huge impact on the overall endurance rating. That's because our proprietary score also includes a standby battery draw test, which we carried out with the AOD off and then once again with AOD on. These results are not featured in our test scorecard but are calculated in the total rating.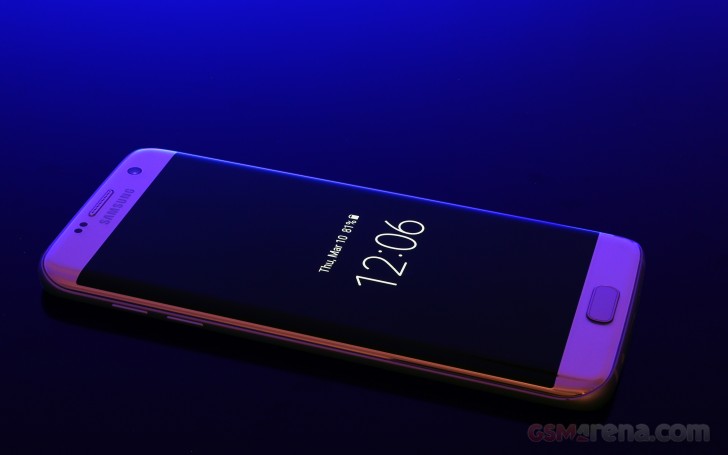 The Galaxy S7 edge (E8890) did splendidly with an Endurance rating of 98 hours - that's the amount of time the S7 edge would last on a single charge if you use it for an hour of 3G calls, an hour of web browsing, and an hour of video playback each day. Under the same use scenario, the Galaxy S7 edge (S820) gets an 87h Endurance rating.
A drop by about 30% in the rating follows if you turn on the Always on display Finally, if you want to use the Edge feeds, which require the screen to keep the capacitive sensors on, you will lose in the whereabouts of additional 7 hours.
However, and that's really important, the detrimental effect of all these additional features will be of much less significance the more you actively use your phone. Playing games, watching videos, surfing the web - any actual use that has the display on and the processor ticking at anything but idle will deplete the battery much faster than any always on clock or calendar ever can.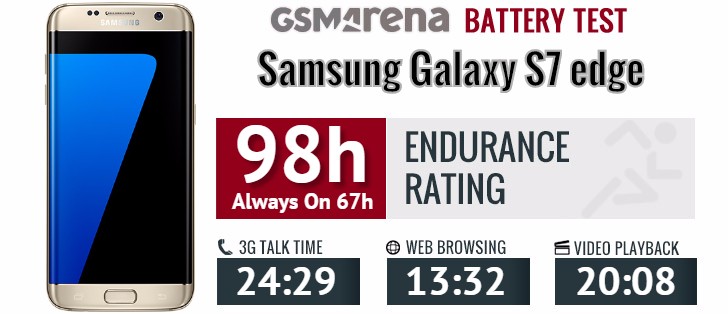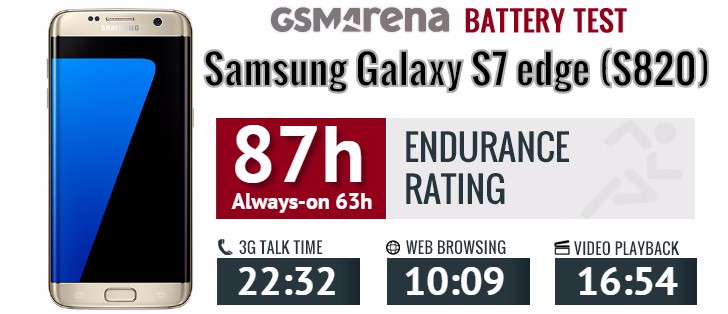 The battery testing procedure is described in detail in case you're interested in the nitty-gritties. You can also check out our complete battery test table, where you can see how all of the smartphones we've tested will compare under your own typical use.
g
my model is SM-G9350 and the battery life gets poorer by the day it now swells, it's even creating a bulge on the screen then it took about 2 hours to get fully charged now it takes over 3 hours pls I need help
?
Benxhmarks are just benchmarks though. The exynos even opens and runs most apps better with better ram management. As well as means better battery life but a decent margine. And as always a much better quality audio chip. Its almost alway...
?
your battery drains at 5% per hour doing nothing. my phone drains 2.7% per hour doing nothing. top that, Mr "ITSavvy".
ADVERTISEMENTS