Essence distilled
Samsung Galaxy S8 review: Essence distilled
Dual Pixel got even smarter
Samsung's tried and tested 12MP Dual Pixel shooter is present and accounted for on the Galaxy S8 and S8+, ready to power another generation of flagships. The Korean giant deemed it worthy and held off on any fancy dual-sensor setup for yet another year. Perhaps, the Note8 will be the first Galaxy to see double in a few months.
That is still solely in the realm of speculation. As for the S8 and S8+, honestly, after spending some time shooting around, we can safely say that Samsung has no reason to regret its decision to build upon the already excellent camera experience of the Galaxy S7 generation. That's the thing, on paper, it does look like practically nothing has changed. This is likely true from a pure hardware standpoint. You get the same f/1.7 aperture, 26mm equivalent lens, phase detection autofocus, OIS and a single LED flash.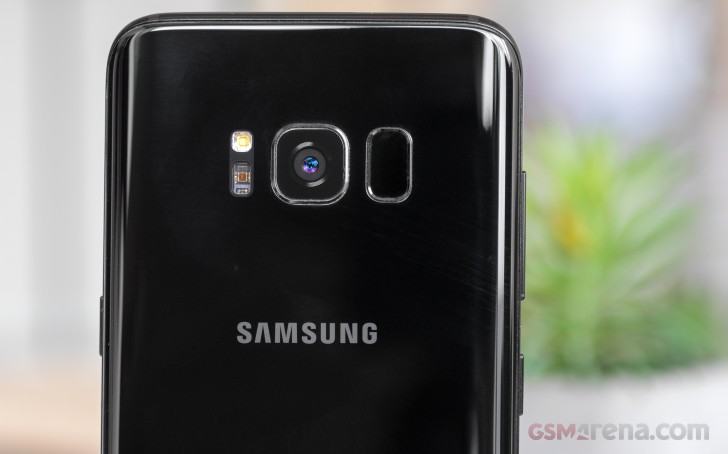 What has changed, however, is the brains behind it all - the processing. Samsung has been downplaying its camera improvements quite a bit, only mentioning things like "enhanced image processing" and "improved low-light performance". These come in the shape of an image stacking algorithm, which Samsung officially calls "Multi-Frame Image Processing". It was only mentioned briefly by Samsung on a couple of occasions, during presentations, and as far as we managed to gather, it's similar to the HDR+ on Google's Pixel XL - a phone widely praised for its camera prowess.
Unlike the latter, however, it does not require a toggle on the S8 and simply works seamlessly in the background. The idea is that instead of a single shot, the phone captures several and blends them together, trying to pick up as much detail and produce an image as clear as possible. Typically, this involves pixel by pixel comparisons to isolate noise and other undesired artifacts and to gauge sharpness and all this is done in the background as you shoot. We can't really be sure how the exact process runs under the hood.
To be fair, if you start hitting the shutter button quickly, you will notice a few delays between shots, from time to time. Still, the user experience is perfectly tolerable.
While on the topic of shutter buttons, the camera interface is worth briefly looking into. It is a pretty familiar sight, but a few extra controls are added to the mix, here and there. Everything is conveniently laid out, for the most part, but we do have a couple of complaints.
First of all, there is no dedicated video recording UI. This shouldn't really be an issue for most real-world scenarios, but precisely framing is immensely more difficult without seeing the proper viewfinder before you start recording. The other thing we aren't quite so happy about is that Samsung felt the need to place a dedicated shortcut to its new effects permanently on the viewfinder.
There are a total of four categories here. The first two hold filters, apparently divided according to their appropriate use for selfies or lack thereof. Of course, you can go nuts and apply them as you see fit and there are even extras available for download.
Then there are stamps. They are all black and white and use some impressive typography. They also come with convenient controls for move, resize and even rotate. Actually, we have to admit, these are quite cool. The only problem is, you can't have more than one enabled. You can't really mix and match any of the effects, for that matter. Perhaps in a future update.
Last, but not least, you have the dynamic overlay effects. They employ face detection and tracking and typically do a pretty good job of positioning and scaling themselves. Obviously, these make a lot more sense with the selfie camera, but you can use them with either shooter, just like the rest of the effects in the other three categories.
You might have also noticed that there is another small icon in the camera UI (just below the bear hat icon). It opens a few more traditional effects, targeted at portraits and selfies. The main shooter only gets skin tone correction. However, a quick swipe gesture up or down to get to the 8MP front-facing camera and the menu suddenly gets a few extra options. These include Large Eyes and Slim Face - pretty self-explanatory. There is also a spotlight effect, which lets you simulate a shining spotlight from either left or right. All of these have sliders to adjust intensity. There is also an Automatic Shape correction toggle, for smoothing out some odd lines in faces.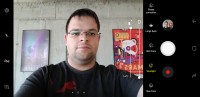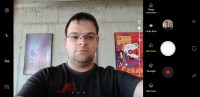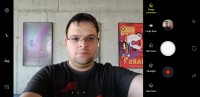 Effects for portrait photography
The S8 comes with a few extra camera modes. All of them are pretty self-explanatory. Selective focus captures a pair of shots and lets you readjust the effect afterwards. And we did also give the virtual shot a spin (yeah, we'll show ourselves out), but it wasn't all that impressive. The end result is more of a video than a photo and requires a special viewer on the phone to work. Plus, it doesn't really make an effort to compensate for any difference in framing while you spin around.
On the other hand, Pro mode is really impressive. It is full-featured and offers varied granular controls at your disposal - ISO, white balance, shutter speed, exposure compensation and even options for metering and manual focus with focus peaking. You name it, it's there.
The S8 can capture stills at up to 4032x3024 pixels with the 12MP snapper. This does mean a native aspect ratio of 4:3 for the sensor. Of course, you could shoot in 16:9 instead, but why waste them pixels. 18.5:9 stills are your option to create content in the display's native ratio, but... 2.06:1 photos? Really?
JPG is a natural default, but there is also a convenient option to save a RAW photo, along with every shot you take in Pro mode. There are also toggles for focus tracking and automatic shape correction in the settings menu.
There are a few quick launch and voice control options to explore as well. The Floating Camera button is a new addition to the mix. It is pretty straight-forward, just a second shutter button you can drag around and place freely on the camera interface. It can be a lifesaver when trying to shoot one-handed at tricky angles.
Image quality
In most scenarios, the Galaxy S8 camera is equally as good as that on the last generation. In broad daylight, we honestly had trouble differentiating between the two generations of Samsung flagships. All the shots came out with plenty of detail and great dynamic range. Colors look good as well, although we will admit, this is a subjective point. Furthermore, in typical Samsung fashion, there is plenty of sharpening - also a perceivably pleasant effect for many users.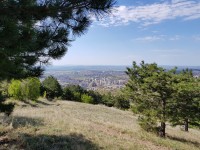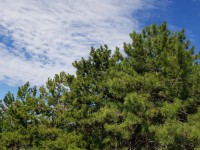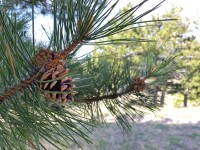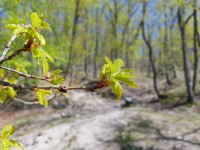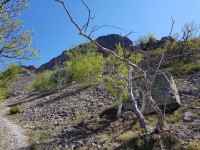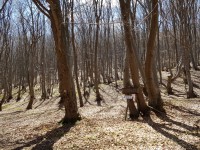 Casual snaps from a hike in the mountain
Of course, we couldn't skip on our usual set of samples as well. The S8 managed to capture plenty of fine detail.
HDR on the S8 is rather subdued. Then again, this has been a pretty typical Samsung trait in recent years. HDR can be set to HDR Off, Auto or On. The Auto setting seems to do a pretty good job at detecting where the effect could come in handy, so no complaints there. However, we will note that most scenes we tried with and without HDR came out looking pretty identical.
Our Photo compare is the go-to place for comparing resolution, fine detail rendering and color reproduction in a standardized environment. We've pre-selected the Google Pixel XL (for lack of small Pixel samples) and the iPhone 7, but you can choose your own set of phones .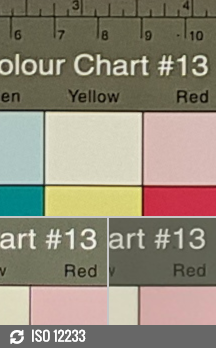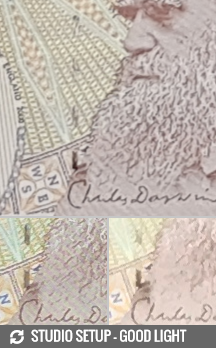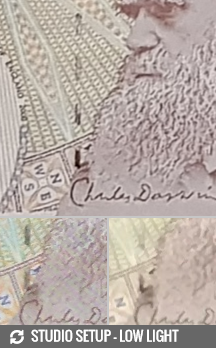 Samsung Galaxy S8 against the Google Pixel XL and the iPhone 7 in our Photo compare tool
We have to note that shooting at a shutter speed of 1/10s in our low-light scenario is a bit of a gamble. However, it paid off big time and we're willing to attribute that to cunning awareness of the presence of a tripod.
The S8 captures detail-rich panoramas. Sharpness is also great. However, there is some visible banding in the samples. It appears the S8 is trying to dynamically adjust exposure, which comes off as a rookie mistake. The high-contrast scene in the first shots makes the issue quite apparent, but in less demanding conditions it's not observed. We imagine that will get fixed with a software update.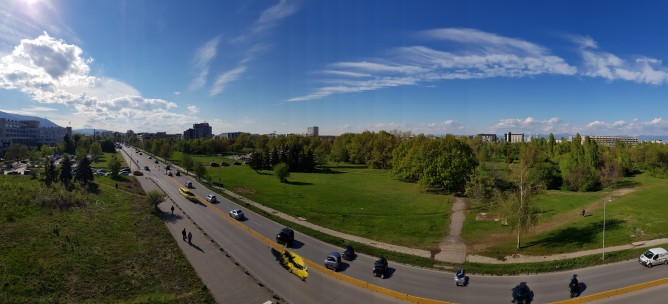 Panorama sample to illustrate the exposure issue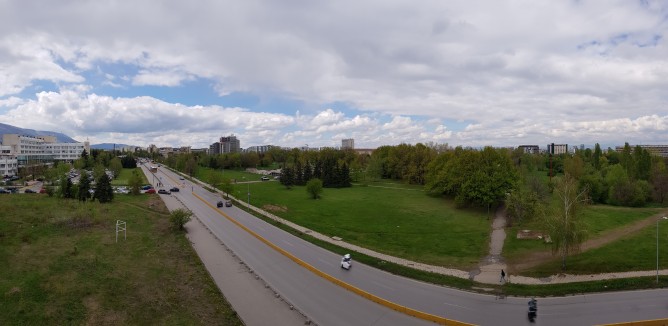 Panorama sample in less contrasty conditions is just fine
There is also a motion panorama feature that captures video as you pan. It's a cool concept and works great when viewed directly on the phone. However, all the video data gets saved within the panorama JPG itself. That makes it quite beefy in size and also leads to compatibility problems with many desktop image viewers.
8MP selfie shooter
The main camera might be borrowed from the S7 generation, but the selfie cam isn't. It's a totally new setup - it's now upgraded to 8MP with f/1.7 aperture, variable focus and Auto HDR. The front camera gets a mode selector of its own. We did notice that video collage and the Download button for more modes that were on the Galaxy S7 generation are currently missing from the S8.
As far as resolution goes, the selfie also captures stills in 4:3 natively, while video resolution can go as high as 1440p.
Our samples turned out pretty great both outdoors and around the office. There is no shortage of detail and no apparent softness, even near the corners. Quality is probably comparable to something along the lines of the Galaxy S4's main camera, so we've really come a long way. Be advised, however, that the selfie does come with a modest level of skin tone correction enabled out of the box. That might need some adjustment to match your personal taste.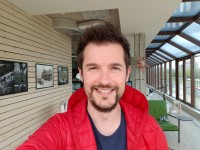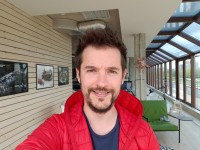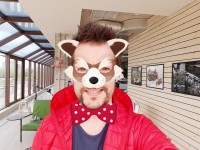 Selfie samples: Default tone correction (2/10) • Correction turned off • Never go full retard
If you want to read more about the selfie camera and its features, be sure to check the camera section of the Galaxy S8+ review from earlier this week, where we went into a lot more detail on the various special effects.
Video
The Galaxy S8 is capable of capturing footage at up to 4k@30fps, so no real change there, compared to its predecessor. Video gets saved in MPEG-4 AVC, with a bit rate of a little over 48 Mbps and 48 KHz stereo audio. Not bad. A more advanced codec like HEVC would have shrunk clip file size, but it is still a hassle uploading it to YouTube. The S8 has no such issue.
There is also support for 1080p capture at 60fps. That one ends up with a bit rate of around 28 Mbps. That's all great on paper. However, before we get to the samples themselves, it is worth noting that both of these recording modes are limited to 10 minute clips at a time. That's on all the review units we've had at the office - two S8+ ones and an S8. This is particularly strange, since the S7 and S7 edge have no such cap. We really hope this won't remain a permanent thing.
Since the Multi-Frame Image Processing we kept raving about in the photo section can't really do much when it comes to video capture, there is naturally hardly any real improvement here over the S7 generation to speak of.
To be fair, the S8 now offers EIS in all resolutions, all the way up to 4K. The S7 only had it at 1080p. OIS is still available across both generations, but it's not really meant for video capture to begin with. Good to have around, though.
In any case, the S8 seems to do better at "de-shaking" footage at 4K than its predecessor - it's OIS+EIS vs. just OIS, after all.
The wobbly effect we observed in stabilized 4K footage was absent in 1080p, so FullHD is even better in this regard.
2160p videos are packed with detail, you can extract frames and almost have them pass as an 8MP photo. Interestingly enough, despite the S8's tendency to oversharpen stills and exaggerate colors a bit, processing in video seems to be a lot more natural and laid back. Again, it all comes down to personal taste, but there is a notable difference in our opinion.
1080p retains what we consider flagship-grade quality, although there is a noticeable increase in noise over 4K footage. We are happy to report that there is no more focus-hunting in 60fps mode, which used to be a problem on the S7 edge.
You can, of course, download untouched video samples, the way they came out of the Galaxy S8. We've uploaded on our server a 4K video (10s, 61MB), a 1080p/60fps video (10s, 36MB), and a plain 1080p/30fps video (10s, 25MB) for you to examine in detail.
Once you're done with that, we'd advise a trip to our Video compare tool. We've picked the Pixel XL and the iPhone 7 to go against the S8 just to get you started, but you can change those as you please.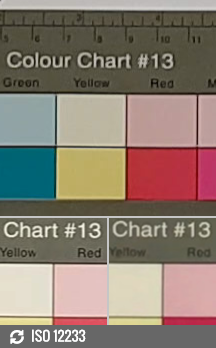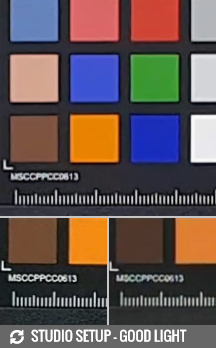 2160p: Samsung Galaxy S8 against the Google Pixel XL and the iPhone 7 in our Video compare tool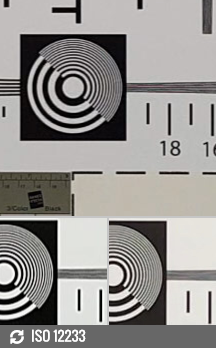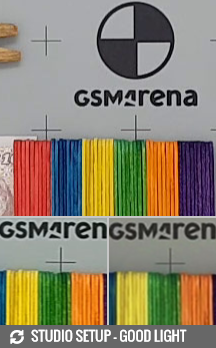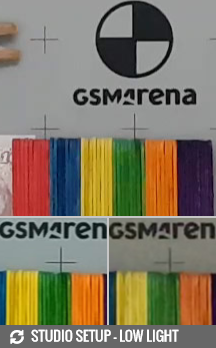 1080p: Samsung Galaxy S8 against the Google Pixel XL and the iPhone 7 in our Video compare tool