Just a day after complete spec sheet for the Samsung Galaxy S8+ leaked, a similar leak has emerged for the Galaxy S8, revealing almost identical specs.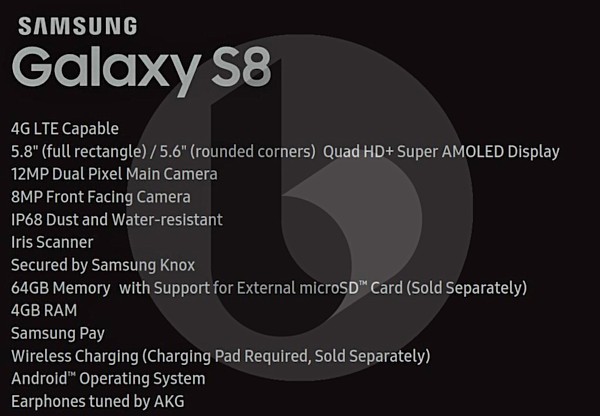 The only difference is display - the Galaxy S8, according to the leaked image above, will sport a 5.8-inch (full rectangle)/5.6-inch (rounded corners) QHD+ Super AMOLED display. Here are the two leaks side-by-side:

The only key specs that these sheets don't reveal is the chipset and the battery capacity. Both the S8 and S8+ will be unveiled at a dedicated event next month, and will go on sale worldwide on April 21.
?
I want 5 inch version or similar, like s7 or s6 I don't like big phones, I know it has small bezels but still I dont like it.
?
How do you know the other components are more upgraded? And if it's truly for yield production amounts almost any company would have done the same thing
?
Except that's a scenario you just made up