Samsung Galaxy S8 down to $476 - ex-display units and excess inventory
Buying a Samsung Galaxy S8 so close to the S9 unveiling may not be smart, but a great deal is a great deal. The G950U model – US, unlocked – is available for $476 on eBay. This is the Snapdragon 835 model and should work on all carriers (the software will change based on what SIM you put in the phone).
These are former display units or excess inventory getting cleared out before the new one comes out. Only Midnight Black units are available and they come with a wall charger, but the other accessories may be missing (you don't get the retail box).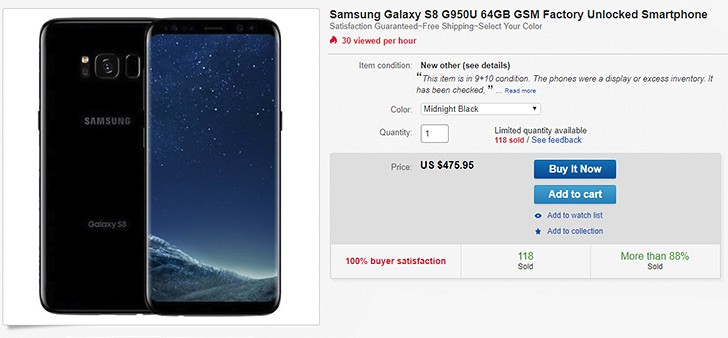 The same seller also has manufacturer refurbished units of Galaxy S8+ (G955U) for $490 and Galaxy Note8 (N950U) for $610.
?
So clearly you cant read, are purposefully not reading, or you are not that bright. Either way its been clearly laid out. You can accept reality or continue making up your own. Have fun with that
Man i dont need to be. If xiaomi with newest SD845 can sell Mi7 for 350 eur why Samsung S9 cant sell for example for 500? You know what i am thinking? Samsung robbs people. For example xiaomi dont need to do anything to sell their devices. ...