Samsung Galaxy S8 Oreo update may not arrive until February end in some markets
With Samsung recently detailing its Experience 9 software suite, it's reasonable to assume the Galaxy S8/S8+ Oreo update roll out is imminent. However, some markets, it appears, will have to wait longer for the update.
A user from the Maghreb region of North Africa (which consists of Algeria, Morocco Tunisia, Libya and Mauritania) got in touch with Samsung support to enquire about the update, and was told the roll out is scheduled for February end.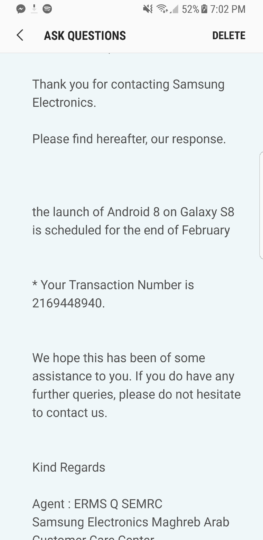 There's currently no official information on which markets will get the update first and exactly when, but what now looks apparent is that the roll out won't complete anytime before Q1 this year.
s
Update will be Rolling out tomorrow for UK and Germany, maybe another European countries but I cannot confirm.
g
In november last year from years using HTC i flip to S8 ,the phone is ok but i am behind with the updates and i am sorry for that.
N
I not excited about oreo update, most of android function samsung already have it before 6.0, as long as can get it, never mind for me if samsung delay