Google has announced that Daydream support for the Samsung Galaxy S8 and S8+ flagship smartphones "is rolling out now." The announcement came in the form of a Google+ post from the official Google VR account.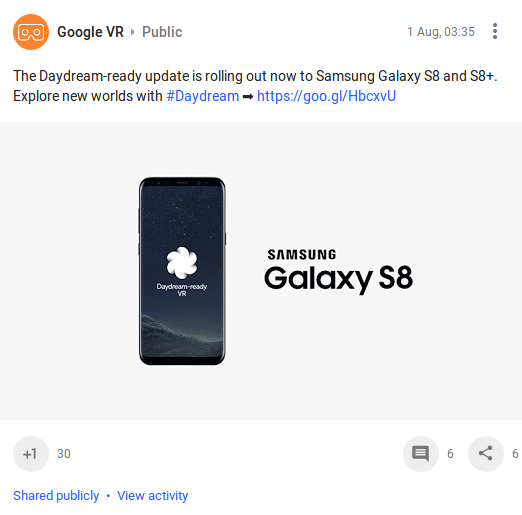 It's worth noting that at-least a couple of major US carriers - T-Mobile and Verizon - have already rolled out updates that claimed to bring Daydream support, but users weren't able to use the feature. However now, it seems like a server-side switch has been made, so you should be able to enjoy the functionality on your S8/S8+ unit.
Some of those who are now able to use Daydream say clearing Google VR Services data and re-opening the Daydream app did the trick for them (see Reddit link below).
?
can samsung make s8 lag free ?? in search (app drawer) it takes 2/3 sec for keyboard to appear .. this is just 1 example . Why they try so hard to make android slow? Will they stop making duplicate apps ? If they really want to make something b...
D
A little lag when swiping apps to close them. Thats the only problem with it tbh
D
Yes, and some new features make it more attractive. See https://airmore.com/latest-news-samsung-galaxy-note-8.html