Synthetic benchmarks
The Galaxy S9+ comes in two versions as far as the chipset is concerned, but it's not like you're going to be able to pick and choose - the US and China get the Snapdragon 845 variant, while the rest of the world will have its S9s running on an Exynos chip.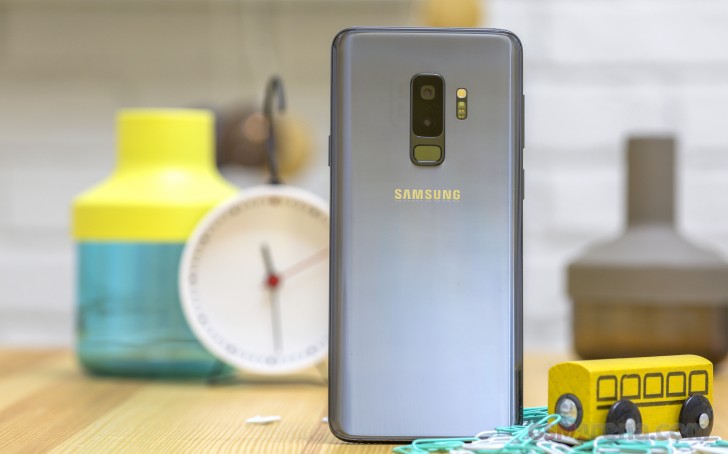 The Exynos 9810 chipset (10nm FinFET) has a new octa-core processor packing four custom third-generation Mongoose cores clocked at 2.7GHz and four Cortex-A55 ones at 1.8GHz. The GPU is an 18-core Mali-G72.
The Exynos chip comes with a new LTE modem with support for 6CA (carrier aggregation) for download and maximum downlink of 1.2Gbps (Cat.18). The uplink supports 2CA and a speed of 200Mbps (Cat.18).
Finally, Samsung's new silicon (much like last year's, actually) has the oomph to process 4K video capture and playback at 120fps, but those won't be premiering on the S9 because the Snapdragon 845 can't handle them. Not that we've heard of production-grade smartphone sensors that could.
The Snapdragon 845 chip (10nm LPP) introduces a new octa-core processor with new Kryo 385 cores. The high-performance array of Kryo 385 Gold cores is clocked at 2.7GHz and the architecture derives from Cortex-A75. The power-efficient array of Kryo 385 Silver cores works at 1.7GHz and its architecture is based on Cortex-A55.
There is also a new Adreno 630 GPU, 30% more powerful than the Adreno 540 inside the Snapdragon 835. Qualcomm also has a new modem - the X20 with 5CA and LTE Cat.18 downlink of 1.2Gbps. The uplink is inferior to Samsung's model with 2CA but LTE Cat.13 support for 150Mbps speeds. The ISP of the Snapdragon is also inferior to the Samsung's with a support for 4K at 60fps video encoding and decoding (again, hardly relevant).
We were curious to see how the third generation custom Mongoose core stacks against other processors, so we start with some Geekbenching. Well, Samsung's new core is definitely trying to catch up with the latest Monsoon by Apple and is the first one to come close. It doubles the performance of the second-gen Mongoose inside the Galaxy S8 and has a 50% advantage over the top of the line Kryo inside the new Snapdragon 845 (Xperia XZ2). So, as far as Android devices are concerned, the Galaxy S9 and S9+ in Exynos trim have the best CPUs for single-core operations.
GeekBench 4.1 (single-core)
Higher is better
Apple iPhone X
4256
Apple iPhone 8 Plus
4232
Samsung Galaxy S9+
3771
Samsung Galaxy S9
3759
Sony Xperia XZ2
2454
Samsung Galaxy Note8
1987
Samsung Galaxy S8+
1986
OnePlus 5T (Oreo)
1974
HTC U11+ (EU)
1952
Xiaomi Mi Mix 2
1924
Google Pixel 2 XL
1915
Huawei Mate 10 Pro
1902
Samsung Galaxy Note8 (SD 835)
1862
Samsung Galaxy S8+ (SD 835)
1832
Running multi-core benchmarks, Apple is still the king, but this doesn't really matter in the Android world. Obviously, Samsung's new processor is a mighty beast and the best among the whole flagship gang. It outperforms the old Exynos chip by 30% and even beats Qualcomm's current best - the Snapdragon 845, represented here by the Xperia XZ2.
GeekBench 4.1 (multi-core)
Higher is better
Apple iPhone X
10215
Apple iPhone 8 Plus
10037
Samsung Galaxy S9+
8883
Samsung Galaxy S9
8830
Sony Xperia XZ2
8466
Samsung Galaxy Note8
6784
Huawei Mate 10 Pro
6783
OnePlus 5T (Oreo)
6759
Samsung Galaxy S8+
6754
HTC U11+ (EU)
6740
Samsung Galaxy Note8 (SD 835)
6590
Google Pixel 2 XL
6428
Samsung Galaxy S8+ (SD 835)
6301
Xiaomi Mi Mix 2
6234
The 18-core Mali-G72 is in charge of the graphics department for most of the Galaxy S9 and S9+ units sold around the world. We don't have the Snapdragon 845 unit of Samsung's flagship, but we did have the Xperia XZ2 in our office with Qualcomm chip, so we can draw some conclusions from there.
The offscreen tests in GFXBench show the raw power of the GPUs, and at least in the 3.1 Manhattan test the Galaxy S9+ edges ahead of the iPhone X. The Xpera xZ2 is the winner in this test, and its score is possibly indicative of what users can expect from their Galaxy S9s in North America and China.
GFX 3.1 Manhattan (1080p offscreen)
Higher is better
Sony Xperia XZ2
55
Samsung Galaxy S9+
47
Samsung Galaxy S9
46
Apple iPhone X
44
Samsung Galaxy Note8 (SD 835)
43
Samsung Galaxy Note8
42
Samsung Galaxy S8+
42
Google Pixel 2 XL
42
OnePlus 5T (Oreo)
40
Samsung Galaxy S8+ (SD 835)
39
HTC U11+ (EU)
39
Huawei Mate 10 Pro
38
Xiaomi Mi Mix 2
37
The phones with lower screen resolution would have an edge over the Quad HD Galaxy S9+ in terms of framerates and that's obvious from the onscreen test. The Huawei Mate 10 Pro, OnePlus 5T, Xperia XZ2 and even the iPhone X - they all have 1080p or similar resolution compared to the 1440p screen on the Galaxy S9.
GFX 3.1 Manhattan (onscreen)
Higher is better
Apple iPhone X
51
Sony Xperia XZ2
51
OnePlus 5T (Oreo)
37
Huawei Mate 10 Pro
35
Xiaomi Mi Mix 2
32
Samsung Galaxy S9+
24
Samsung Galaxy S9
24
Samsung Galaxy Note8
23
Samsung Galaxy S8+
23
Google Pixel 2 XL
21
Samsung Galaxy Note8 (SD 835)
20
HTC U11+ (EU)
20
Samsung Galaxy S8+ (SD 835)
18
Basemark ES 3.1/Metal is another stress test we like to run, and here it's the Galaxy S9+ that's ahead of the Xperia XZ2. The iPhones still remain out of reach at the top.
Basemark ES 3.1 / Metal
Higher is better
Apple iPhone X
1854
Apple iPhone 8 Plus
1644
Samsung Galaxy S9+
1481
Samsung Galaxy S9
1456
Samsung Galaxy Note8
1268
Huawei Mate 10 Pro
1183
Sony Xperia XZ2
1176
Samsung Galaxy S8+
1111
Samsung Galaxy Note8 (SD 835)
875
Google Pixel 2 XL
874
HTC U11+ (EU)
851
OnePlus 5T (Oreo)
829
Samsung Galaxy S8+ (SD 835)
817
Xiaomi Mi Mix 2
739
A crowd favorite, Antutu tries to summarize overall performance in a single number. We're still catching up with retesting all the phones we have available with the benchmark's 7th version, but we'll get there. In the meantime, the S9 and S9+ are a few percent behind the Xperia XZ2, but substantially ahead of last year's flagships.
AnTuTu 7
Higher is better
Sony Xperia XZ2
259244
Samsung Galaxy S9
250156
Samsung Galaxy S9+
246660
OnePlus 5T (Oreo)
207072
Google Pixel 2 XL
203119
Samsung Galaxy Note8
201065
One of the most predictable updates was the new Exynos chip, which delivers the 30% promised boost. The new custom processor is really powerful and shows a promising future for the in-house CPU development. Meanwhile the Galaxy S9 and S9+'s GPU isn't the most powerful one on the market, bested by Qualcomm's latest, but it is the next best thing and still a beast.
As far as real-life experience is concerned - the Galaxy S9 is among the fastest phones on the planet today. But did anyone expect otherwise? No matter if it's the Exynos or the Snapdragon model, nobody would feel any difference in the years to come.
Much like its little brother, the Galaxy S9+ keeps its body cool most of the time, and it can apply some minor throttling if needed - but we could notice this only in the scores of the most intensive benchmarks and after a few consecutive runs. So, as far as temperature goes - you won't experience heated spots over the Galaxy S9+.