More fluid than expected
At this point, TouchWiz is just a distant memory. Like a bad dream you had once, a long time ago. With the latest version of Samsung Experience, the design is much tighter and less cartoony, and the whole thing is more fluid than any Samsung UI overlay has ever been.
Whether that's thanks to software optimizations or the hardware, we can't tell. But what we will say is that Samsung Experience 9.0, as seen on the Galaxy S9+, is the best ever iteration of the company's software. That, however, doesn't mean it comes without quirks - some more annoying than others.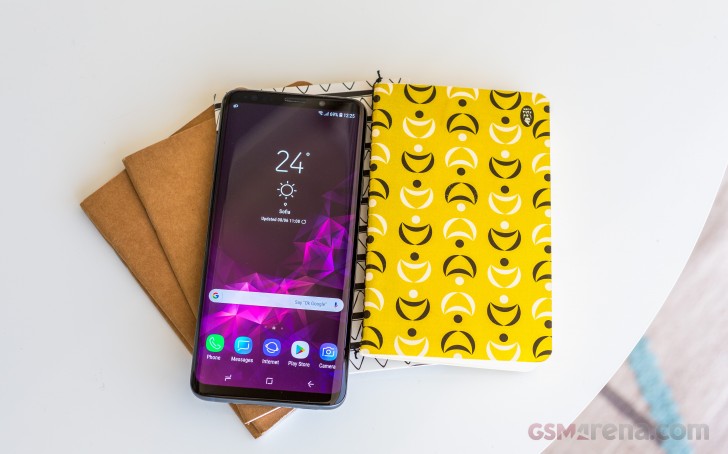 For the first time in history, Samsung's launcher is silky smooth. Seriously, there's absolutely no jankiness or choppiness when you move between home screens, or swipe up to bring the app drawer into view, or swipe down to see your notifications (these are optional settings, by the way).
Bixby
It couldn't have been all great, though, so the one area of the launcher that lags like crazy is the Bixby Home panel. Specifically, it's the worst when you access it, by swiping right on the leftmost home screen page. Do that motion and then find yourself waiting anywhere between 1-4 seconds for it to load. This is frustrating in itself, but much more so given how fluid things are elsewhere in the launcher.
When it does eventually appear, you're treated to a bunch of cards that don't really show you information that's very personalized to your tastes, or many useful things either. Google Feed on Pixels (and some other handsets such as Sony's) is far from perfect, but it presents much more tailored info for you. Compared to that, Bixby Home is just a sad attempt at coming up with something similar, but not nearly as good. Thankfully, it's possible to disable Bixby Home entirely, and thus fully enjoy the lag-free life.
Bixby is definitely something Samsung isn't ready to give up on. Hence, you need to be mentally prepared to either live with it or ignore it if you buy a Galaxy S9+. Bixby Voice, the virtual assistant, is the most obvious case of duplication for duplication's sake in the Korean company's software, but obviously not the only one. Google Assistant exists, is present on the S9+, and is incomparably better at most things. On the other hand, Bixby Voice does have deeper ties into the user interface, and will let you do a lot of specific things inside the Settings and built-in apps, if you're into that kind of thing.
Bixby Vision is just awkward. It's a very 'big' idea - point the camera at something, and it will tell you what that is, perhaps with an added shopping link so you can buy it. So big, in fact, that companies much more focused on AI that Samsung (Google comes to mind) haven't cracked this one entirely at the moment.
This might be a case of 'the technology just isn't there yet', but, as always, Samsung wanted to be among the first to try. Let's say that Bixby Vision is okay on the very rare occasions when it works, but don't expect it to work all the time. It likes to identify generic object categories (like a TV stand in the screenshot below) and then suggest you buy random things that fit that description. It's a nice gimmick you can show off to friends once or twice, but it's definitely not reliable enough to depend on every day.
The Bixby button is just... there. We've read a lot of reports about people constantly pressing it by mistake, but that's only happened in our use a couple of times during the first two days of having the S9+. The mistaken presses occured when we were hunting for the volume down rocker with our finger and confused it with the Bixby key. We feel that this issue has been blown out of proportion, especially for the plus-size model - in the S9 the button is further down and thus easier to mispress. On the S9+, you can in fact easily ignore the Bixby button after a few days, if that's what you want.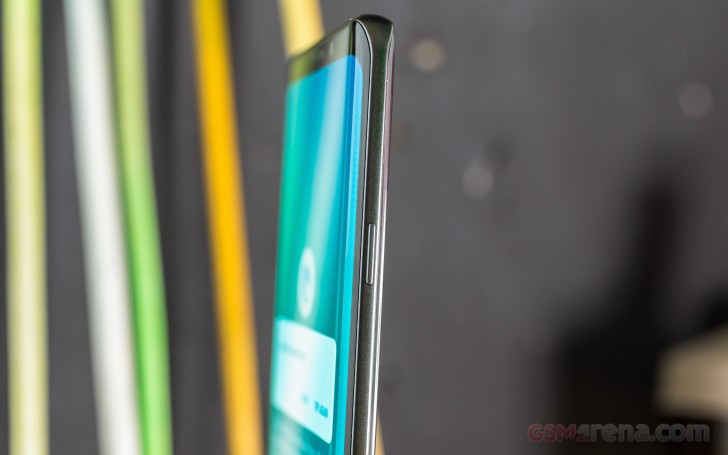 Sure, there's a philosophical discussion to be had about whether Samsung should have included it in the first place, since it brings up a service that's in no way amazingly exciting in what it can accomplish. But think about it this way - if the point of the Bixby button was to make people aware that Bixby exists, Samsung has obviously achieved its purpose, and all of the controversy around the key has only aided in that.
Duplicate apps and bloatware
Samsung Experience 9.0 still duplicates certain Google services, but the situation has improved a lot in this regard recently. The biggest offender from this point of view, aside from Bixby of course, is the Galaxy Apps store, which seems to exist only as an insurance policy against a possible time in the future when Google and Samsung wouldn't get along anymore.
Samsung's Gallery does the same thing as Google's Photos but without the amazing unlimited cloud backup, while the Korean company's Phone, Messages, Camera, Clock, Contacts, and Calendar do the basics you'd expect from a new smartphone - and Google's versions aren't baked in anyway (though you can use some of those if you download them from the Play Store). You also get reasonably useful preinstalls such as the My Files app and Secure Folder.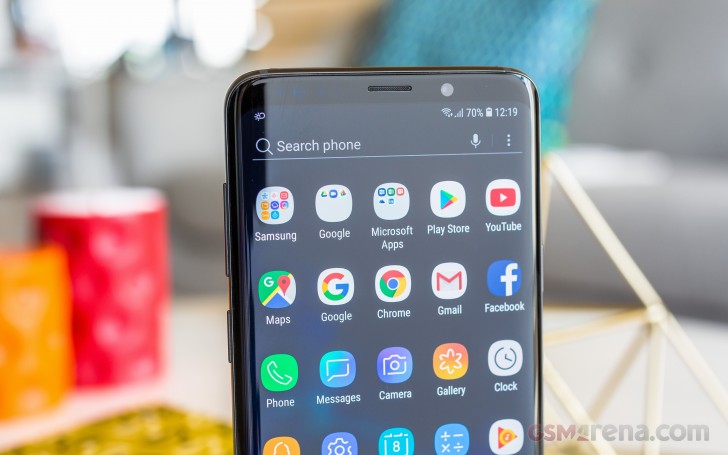 Upon the initial setup, Samsung lets you choose whether or not to add its Calculator, Email, Gear, Health, Internet Browser, Members, Voice Recorder, SmartThings, and Notes apps on top of all that. Speaking of the time you first turn on the phone, you're presented with an option to restore your apps and data from a previous Google backup. Yet once the setup is over and the UI has booted, you get a notification from Samsung's Smart Switch inviting you to transfer data over from your old phone or a backup in the Korean company's cloud.
The technicality here is that Google's option, as implemented on the S9+, isn't capable of grabbing data straight from your old device on the spot, whereas Smart Switch can. But isn't the sight of two different data restoration options going to be confusing to normal users?
It's worth noting that Samsung definitely isn't alone in doing this, we've also seen similarly confusing stuff from other companies during the initial setup of their phones. At this point it's just an Android-specific quirk, which you can only get around if you buy a Pixel. That's because in Google's devices there's just one option, that can grab data both from the company's cloud and an old phone.
The latter part of the system is apparently Pixel-exclusive, so we could blame Google for the state of affairs on other devices. Then again, we're doubtful that Samsung would be willing to give up on Smart Switch even if Google did let it use its service to the fullest extent. The continued existence of the Galaxy Apps store is proof enough.
As for third-party bloatware, that's limited to Facebook and Microsoft's app suite: Word, Excel, PowerPoint, OneDrive, and LinkedIn. In some markets you may also get Amazon Assistant and Prime Photos.
Multitasking weirdness
The multitasking rolodex looks reasonably similar to the one employed by Google, and getting to it is no longer a laggy affair thankfully. However, Samsung is employing some pretty weird and unnatural-feeling scrolling speed settings in it, and you may find that going back to a specific app is harder than it ought to be.
That's because you need to be careful to only swipe a little in one direction, as going past that small amount will make the rolodex spin very fast. The physics of the movement, along with its inertia, just feel wrong, so hopefully this is something that is going to be fixed in Samsung Experience 9.1 or similar.
Updates
When it comes to updates, you'll have to be patient. So far Samsung's kept the S9+ current in terms of security patches, except for unlocked devices in the US which for some reason have been left behind on the update schedule. While today it's the company's latest flagship, we're assuming it will get less love a year from now. And judging by past events, big updates such as Android P will take many, many months to finally land on the S9+.
It's how it's always been, and this wasted time probably has a lot to do with the sheer amount of things Samsung bundles on top of 'vanilla' Android. That's what makes its flagships come with a myriad of options and settings, so late updates are part of the price you pay for this interpretation of the OS.
For many people out there, that's just fine. There are those who buy a top of the line Samsung because of the marketing and perception that the smartphone space is a duopoly (with Apple being the other player, of course). But there are also people who buy the latest Samsung Galaxy S for all of its options and the choices those enable, not in spite of them.