A dragon's heir
Samsung Galaxy S II T-Mobile review: A dragon's heir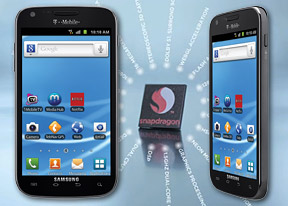 The web browser is great
While the interface of the Android web browser has hardly changed, the hardware specs of the Samsung Galaxy S II for T-Mobile propel it to great heights of user experience. The large, sharp display with great colors makes using it a joy.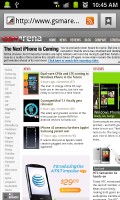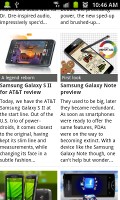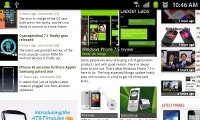 Browsing GSMArena.com on the T-Mobile Samsung Galaxy S II
The browser supports both double tap and pinch zooming along with the new two-finger tilt zoom. There are niceties such as multiple tabs, text reflow, and find on page and so on. A neat trick is to pinch zoom out beyond the minimum – that opens up the tabs view.
The powerful dual-core CPU enables the Galaxy S II browser to play 1080p Flash video embedded on webpages. That was truly impressive stuff – a lot of netbooks would choke on something like that. You can play touch-optimized Flash games without a hitch too. We did however a slight hint of choppiness during the video playback. This will be an area where the Exynos chipset will be missed.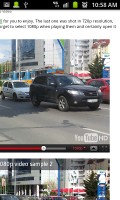 1080p YouTube video playing in the browser
There are a couple of Samsung Hubs preinstalled
The Social hub we've seen before – it combines you email accounts with social networking (Facebook, Twitter, MySpace, LinkedIn) and IM accounts (Gtalk, MSN and Yahoo! Messenger) and shows all incoming messages as one list with handy shortcuts to reply, mark as favorite and so on. There's filtering by message source too, to help manage the inflow of incoming updates.
The Media Hub lets you buy or rent movies or TV shows. Its interface is neat and intuitive, while its setup will take you no time.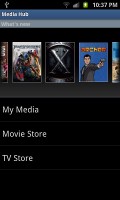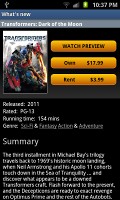 You are fully covered in the office department
The Samsung Galaxy S II for T-Mobile comes with the Polaris Office preinstalled, which seems to be getting rather popular with hardware manufacturers lately. And for good reason, we guess – it's one of the most feature rich mobile editors we've seen. You can view and edit Word, Excel and PowerPoint documents and there's a PDF viewer as well. The app allows you to search for your office files just like with a file explorer.
The organizer is flawless
The calendar has four different types of view: list, daily, weekly and monthly. Adding a new event is quick and easy, and you can also set an alarm to act as a reminder.
The list view shows a list of all the calendar entries from the recent past to the near future. It's a very handy tool when you need to check your appointments for the next few days.
There is also a calculator aboard. It is nicely touch optimized - the buttons are big enough and easy to hit.
The Samsung Galaxy S II features a decent alarm clock application which allows a huge number of alarms to be set, each with its own start time and repeat pattern.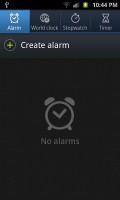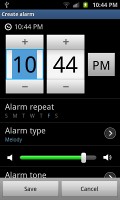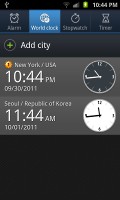 The Clock app and the alarm options
The Memo and Mini Diary are self-explanatory. The first app works with text only, while the Diary lets you also attach pictures.