First look
Samsung Galaxy S Duos S7562 preview : First look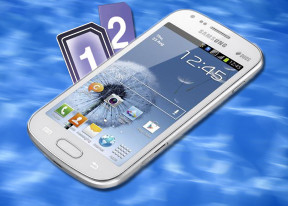 Nature UX in smaller form factor
The Samsung Galaxy S Duos comes with Android Ice Cream Sandwich and the latest TouchWiz UI, dubbed Nature UX - a premium combination that we saw on the Galaxy S III. We found the phone to at times choke badly on the heavy software but this could be just our pre-market sample.
The lockscreen is a standard "tap and drag in any direction to unlock" deal and there're ripples accompanied by water-drop sound as you drag your finger. Four customizable shortcuts are available at the bottom of the screen - drag one up to activate the specific app.
The dock at the bottom of the homescreen now fits five custom shortcuts or folders. The rightmost one opens the app drawer as usual, but you can change the other four to any shortcut you like or even a folder full of shortcuts.
As usual, you can pinch to zoom out and easily manage homescreen panes - add, delete (but you can't have more than seven) or just reorder them. You can have 7 panes at most, which are enough to fit plenty of content even if you use widgets that cover an entire pane.
The notification area offers quick toggles for Wi-Fi, GPS, Silent mode, Screen rotation and Power saving (which replaced the Bluetooth toggle). There are five more toggles just off screen. You can scroll them sideways to reveal more functions - Notifications (toggles icons in the top row of the screen), Mobile data, Bluetooth, Driving mode and Sync.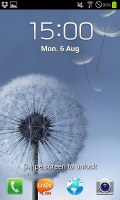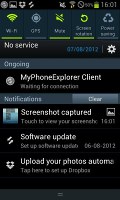 The lockscreen • Notification area
The app drawer has a tab that lets you pull out widgets to the homescreen easily. Unlike stock ICS you cannot move between tabs by swiping through the pages - you have to explicitly hit the widgets tab. Some will find this more logical (scrolling past the available apps to find yourself in the widgets takes some getting used to).
The app drawer has a zoomed-out overview too that lets you rearrange pages, but you can't create new ones. Hitting the menu key reveals some more options, including hiding apps or enabling tap to uninstall mode.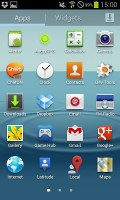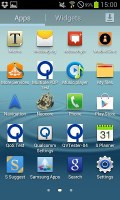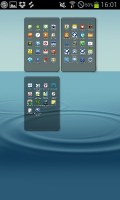 The app drawer
The app drawer has three view modes - Customizable grid (where you can rearrange icons freely), Alphabetical grid (if you think you can find apps quicker if they're alphabetized) and Alphabetical list (this one makes shortcuts easy to hit, but isn't very space efficient). You can also view just the downloaded apps.
Ice Cream Sandwich comes with various widgets and Samsung have added more still. Some widgets are resizable too - a feature we've seen in some custom UIs is now available natively in ICS.
Once you get several apps running, you can use the task switcher to go back and forth between them. It's an ICS-style vertical list with a screenshot and a name for each app. Swiping an app sideways removes it from the list.
There's a button at the bottom of the list to bring out Samsung's home-brewed task manager with a Remove all button. This is the quickest way to clear up both the list and some RAM.
The Nature UX dressing on top of Android 4.0.4 looks great but it doesn't hold a candle to the one on the Galaxy S III. Though identical in look and operation, the Nature UX on Samsung's top dog relies on a quad-core Exynos processor to do the math. The single-core S1 chipset on the Galaxy S Duos didn't quite handle the Nature UX hassle-free.
But this could all change when the phone becomes market-ready. We'll be first in line to check it out and report back.
Synthetic benchmarks
The Samsung Galaxy S Duos features the Qualcomm S1 SoC, which relies on a single-core Cortex-A5 processor, clocked at 1 GHz. Graphics are handled by the outdated Adreno 200 GPU and there's a total of 768 MB of RAM to handle the heavy load.
Keep in mind that the benchmark scores could improve come release time. BenchmarkPi stresses the CPU's math skills - here the Galaxy S Duos did the worst.
Benchmark Pi
Lower is better
Samsung Galaxy S Advance
530
HTC One S
306
Samsung Galaxy S II
452
HTC Sensation XE
536
Sony Xperia S
536
Sony Xperia go
543
Samsung Galaxy S Duos
855
Sony Xperia sola
551
Linpack is yet another benchmark, which the S Duos failed. Still its competition is much more processor potent so it's as bad as it looks.
Linpack
Higher is better
Samsung Galaxy S Advance
64.74
HTC One S
210
Samsung Galaxy S II
77.6
HTC One V
34.4
Sony Xperia S
86.4
Sony Xperia go
69.95
Samsung Galaxy S Duos
24.83
Sony Xperia sola
68.1
SunSpider is a JavaScript benchmark - here the up to date software might give the Galaxy S Duos an edge. It's still the worst contender just in front of the Sensation XE.
SunSpider
Lower is better
Samsung Galaxy S Advance
2663
HTC One S
1708
Samsung Galaxy S II
1849
HTC One V
3299
HTC Sensation XE
4404
Sony Xperia S
2587
Samsung Galaxy S Duos
4214
Sony Xperia go
3228
Sony Xperia sola
2837
Apple iPhone 4S
2217
The next benchmark is BrowserMark. Here the Galaxy S Duos was able to finally beat an opponent in the face of the HTC One V.
BrowserMark
Higher is better
Samsung Galaxy S Advance
81557
HTC One S
98435
Samsung Galaxy S II
111853
HTC One V
42342
Sony Xperia S
74990
Samsung Galaxy S Duos
64321
Sony Xperia go
76820
Sony Xperia sola
73840
Apple iPhone 4S
88725
The Galaxy S Duos was atrocious in the frames per second benchmark NenaMark 2. Sure the Adreno 200 GPU is far behind the Mali-dominated competition but we expect better results when the market-ready Galaxy S Duos comes.
NenaMark 2
Higher is better
HTC One S
60.5
Samsung Galaxy S Duos
19.7
Sony Xperia go
42.8
Sony Xperia sola
27.7
Samsung Galaxy S II
51.6
Samsung Galaxy Note 10.1
43.6
Sony Xperia S
37.5
Samsung Galaxy Nexus
24
HTC Sensation XE
23
So the Galaxy S Duos is no race horse when it comes to synthetic benchmarks. Even if it were a final unit and not in beta stages it still would have been beaten in most tests as it utilizes the most underpowered of all chipsets. It's designed to be power efficient and battery friendly so if you're in it for the most potent smartphone out there, this isn't it.