The Samsung Galaxy S Duos S7562 first surfaced in a not-quite-official manner, but now it was announced through proper channels. Even though it's hot off the presses, we managed to get our hands on the phone and handle it briefly.
First off, here are some official images of the Galaxy S Duos.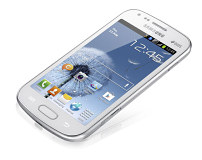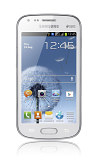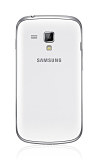 Samsung Galaxy S Duos S7562 official images
The phone may look like a more compact Galaxy S III, but as its name suggests its specs are close to that of the original Galaxy S (even a bit inferior). The S Duos S7562 is an ICS droid with a 4" WVGA TFT screen, a single-core Cortex-A5 CPU (1GHz) with 512MB RAM and Adreno 200 graphics.
The camera does 5MP stills and VGA videos (A5 can't pull off HD video capture). The Samsung Galaxy S Duos measures 121.5 x 63.1 x 10.5 mm and weighs 120g, making it almost the same size as the original Galaxy S.
Of course, the Galaxy S Duos is a dual-SIM device and it keeps both of its SIM cards active. Samsung calls this 'Dual SIM Always on'. For example, if you're in the middle of a call on one card and someone calls the other card, you have the option to forward that call to the active card (the one that was called first). You can also configure how incoming calls are handled while you're using data on one of the SIM cards.
We have a preview of the phone coming soon, for now check out these live shots of the S Duos S7562 from our studio.
The Samsung Galaxy S Duos should hit the shelves next month starting in Europe, but it's pricing is yet to be confirmed.
K
Really samsung is playing with end users, as you can check with all other vendors are arranging updates for their mobiles. Samsung is releasing new model instead of releasing update so that mean samsung is always looking for money not for customer ...
m
Iam happy to see this mobile when i didn't purchase after purchase i feel so bad because of very fast processer,browsing,and nice hang over lovely to see this mobile the worst mobile in samsung say thanks to samsung for giving the worst mobile
F
Good news, download an update for the device, just because you are doing a renovation will see for yourself the speed difference.
ADVERTISEMENTS