S goes Dual
Samsung Galaxy S Duos review: S goes Dual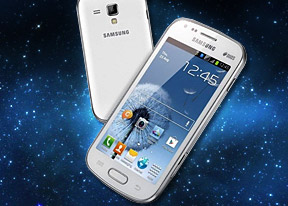 Phonebook ticks all the right boxes
The phonebook of the Galaxy S Duos shares a lot of premium features with the Galaxy S III and that's on top of the dual-SIM capabilities. In addition to the wide range of features, the phonebook has practically unlimited storage capacity as well.
There are options to filter contacts that have phone numbers, show/hide some of the groups you've created (including groups from social networks) and change the sorting (by first or last name).
As usual, the phonebook has the Quick contacts feature Androids have been having since Eclair came around. It lets you tap the contact photo for a popup menu with shortcuts to call, text, or email. The TouchWiz-specific swiping gesture is here too - swipe a contact right to make a call and left to compose a message.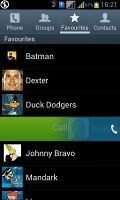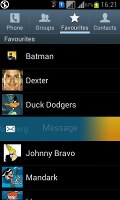 TouchWiz-specific swiping gesutres
There are many info fields that you can assign to each contact, but it still remains perfectly organized. You have all types listed (numbers, email addresses, etc) and there's a plus sign on the right to add another item of that type. Pressing the minus sign under it deletes the unneeded field.
Of course, the real flexibility of the phonebook becomes apparent when you sign in to your Facebook, LinkedIn or other Social network account. The phonebook will offer to automatically merge your contacts (you can do it manually too).
The Galaxy S Duos also comes with a built-in rejection list, allowing you to easily blacklist contacts without the need of third-party applications.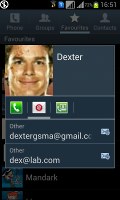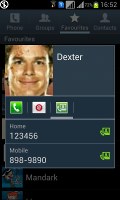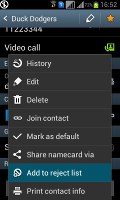 Viewing a contact's details • Built-in rejection list
Dual-SIM calling and dialing
The Samsung Galaxy S Duos has a dedicated SIM Manager to configure how calls and data are handled on both cards. As we said, SIM cards on the S Duos are not hot-swappable, so a reboot is always required when changing cards.
Whenever you add a new SIM card and power the device on, an interface pops up allowing you to rename and even change the icon to easily identify different SIMs. This interface can be accessed at any time from the settings menu.
The Samsung Galaxy S Duos remembers the settings for any SIM you customize, which is great if you've got more than two SIM cards.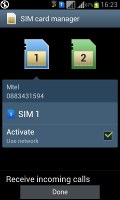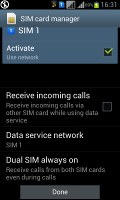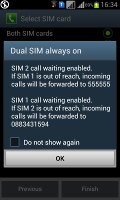 SIM cards can customized for easy identification
The Galaxy S Duos allows for both SIM cards to be active simultaneously, meaning that you can receive a call on one SIM even while you are on a call with the other. What happens is that calls from your other SIM are forwarded to your currently active SIM's network, which you can put on hold to answer (this might incur additional network charges). You can put the two calls on and off hold as you please.
You can toggle the Dual SIM Always On option on or off for either SIM card. Effectively, this enables call waiting and call forwarding so you can switch each SIM card on and off individually (which can help save battery).
You can also pick which SIM is to be used for mobile data - only one can be used at a time. Another option is whether or not the phone should be able to receive calls on the other SIM while using mobile data on one SIM.
The notification area is involved in SIM management too. Underneath the quick system toggles, there are big buttons labeled SIM 1 and SIM 2, for quick switching between cards before dialing a number. During a call, the active SIM gets displayed at the top of the call interface.
The Samsung Galaxy S Duos had no issues with reception even in areas with poor coverage. Sound in the earpiece was crisp and reasonably loud.
Smart Dialing is available and whenever you tap a digit and both contact numbers and names containing it are displayed. The catch is that name searching works with only the initial letter. On the other hand, number searching looks up recent calls too. If more than one contact is found, a button with a number and an arrow will display the rest of the matches.
With the proximity sensor onboard, the S Duos turns its screen off once you lift it up and turns it back on when you finish a call. The available options during a call include using the keypad, muting the call, or adding another call to the conversation.
The Call log is the tab next to the dial pad. It displays all the dialed, received and missed calls in one list. A tiny icon identifies the SIM that made or received the call.
The Samsung Galaxy S Duos has one of the quietest loudspeakers we've tested, scoring Below Average in our traditional loudspeaker test. Here's how it stacks up against the competition.
| | | | | |
| --- | --- | --- | --- | --- |
| Speakerphone test | Voice, dB | Pink noise/ Music, dB | Ringing phone, dB | Overal score |
| Nokia Lumia 800 | 60.9 | 59.0 | 61.7 | Below Average |
| Samsung S6802 Galaxy Ace Duos | 62.7 | 61.1 | 66.1 | Below Average |
| Apple iPhone 4 | 65.9 | 66.5 | 67.3 | Below Average |
| Samsung Galaxy S Duos S S7562 | 65.1 | 60.7 | 65.7 | Below Average |
| Samsung I9000 Galaxy S | 66.6 | 65.9 | 66.6 | Below Average |
| Samsung S8600 Wave 3 | 68.0 | 65.8 | 69.7 | Average |
| Samsung Galaxy W I8150 | 69.6 | 66.6 | 67.0 | Average |
| Samsung S5570 Galaxy Mini | 68.0 | 65.9 | 70.6 | Average |
| HTC Titan | 75.8 | 66.2 | 82.7 | Very Good |
| HTC Desire | 76.6 | 75.7 | 84.6 | Excellent |
Messaging and email
The messaging interface is quite straightforward: there are no folders here, just a new message button. Under that button is a list of all your messages organized into threads.
Swiping on a message header will do exactly the same as in the phonebook - a left swipe starts a new message, while swiping to the right will start a call.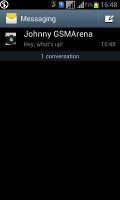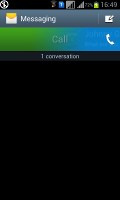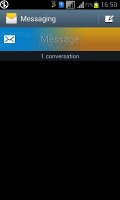 The Galaxy S Duos messaging mode and swipe functions
There's application-specific search that lets you quickly locate a message among all your stored SMS and MMS.
When you add multimedia content to the message, it automatically turns into an MMS. You can either quickly add a photo or an audio file to go with the text, or compose an MMS using all the available features (like multiple slides, slide timing, layout, etc.). The multiple slides are all shown inside the compose box.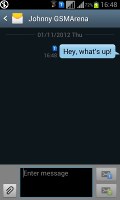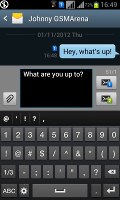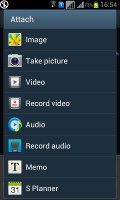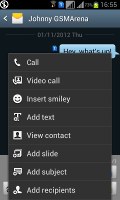 Adding any multimedia content automatically turns an SMS into an MMS
Moving on to email, the Gmail app supports batch operations, which allows multiple emails to be archived, labeled or deleted. Multiple Gmail accounts are also supported.
There is also a generic email app for all your other email accounts and it can support multiple POP or IMAP inboxes. You have access to the original folders that are created online, side by side with the standard local ones such as inbox, drafts and sent items.
It offers a combined inbox option, which color-codes emails from different accounts for easier sorting and viewing. Conversation layout is also available - it groups related emails into single entries with a number in parenthesis showing the number of emails grouped. A tap on that entry expands it to show a list of the individual messages.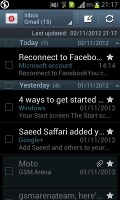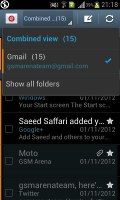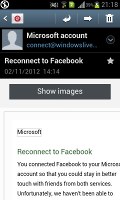 The standard email app is easy to set up
Google Talk handles Instant Messaging. The G-Talk network is compatible with a variety of popular clients like Pidgin, Kopete, iChat and Ovi Contacts.
As far as text entry goes, you have the standard Samsung keyboard at your disposal, as well as XT9. Both are fairly comfortable, although the keys might feel a little cramped in portrait. The landscape keyboard should be good enough. There's handwriting recognition and Swype support as well.