Sugar coated
Samsung Galaxy S II ICS review: Sugar coated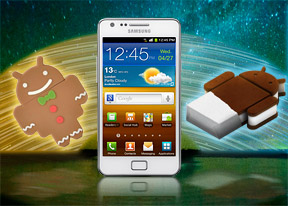 Performance improvements
You'd think that getting better performance out of a phone would require a hardware update (and unlike PCs, smartphones just can't do that), but Ice Cream Sandwich brings some tangible improvements.
Our CPU benchmarks don't report a massive change. Actually, Linpack's result went down after the update. We've seen that before and think it's a problem with Linpack rather than the CPU performance going down.
It sill shows that apps are not quite ready for the relatively rare 4.0 ICS version, but that's bound to change as millions of Galaxy S II phones along with others get the update.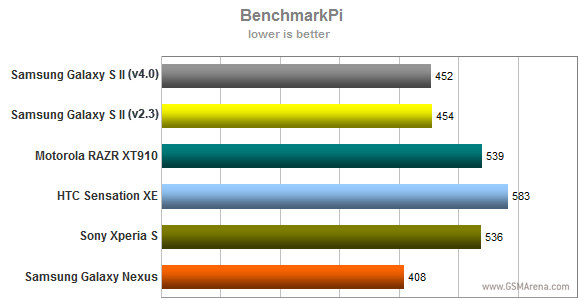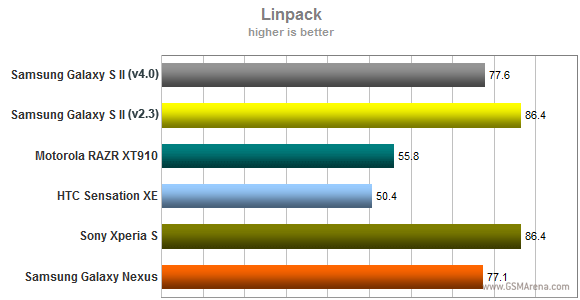 NenaMark 2, a 3D benchmark, shows definite improvement however. This means you can expect slightly better performance after the update. Like Linpack, there might be some compatibility issues, but we haven't encountered any yet.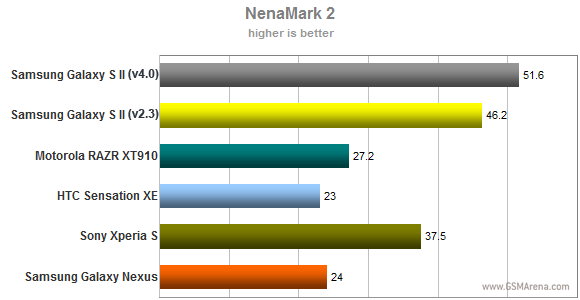 And now we get to the good stuff - the browser. We already mentioned it's faster than it used to be, time to put concrete numbers to that claim.
SunSpider puts the Samsung Galaxy S II on par with the Galaxy Nexus and since both have two Cortex-A9 cores at 1.2GHz, we're not surprised. Either way, the two phones are the fastest handsets on this benchmark.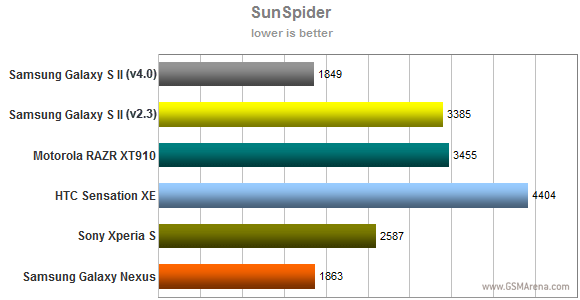 Finally, there's BrowserMark, which adds some HTML5 tests to JavaScript, where the Galaxy S II beats everything we've tested so far by a healthy margin.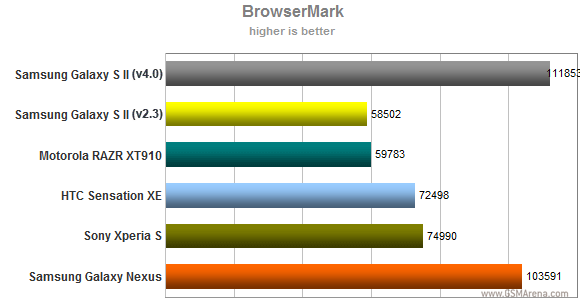 To sum up, updating to Ice Cream Sandwich will boost the performance a bit in some use scenarios. You might not notice it in games (46fps vs. 51fps isn't that much of a difference), but you'll definitely notice it when browsing - the S II renders pages faster and there's less lag on JavaScript-intensive benchmarks.
Slightly longer battery life
We've used early releases of Ice Cream Sandwich on the Galaxy S II and they showed promise for improved battery life, so we reran the tests after the update.
Call time remained unaffected (there's no reason it should change), the Samsung Galaxy S II will last you just over 8 and a half hours of talking over a 3G network.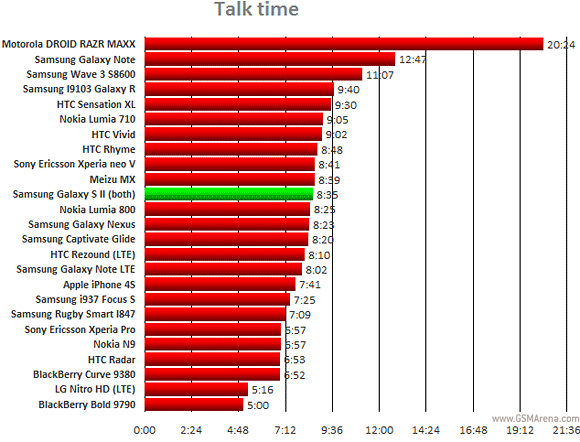 Web browsing wasn't exactly a strong suite for the Galaxy S II, with predominantly white web pages that don't play well with the SuperAMOLED Plus screen. After the update, the browser is much faster, but uses less battery too - the S II running Ice Cream Sandwich lasted 40 minutes longer than it did on Gingerbread.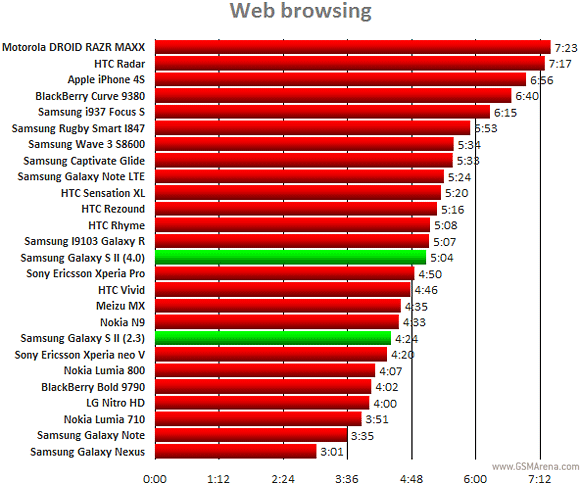 Video playback was the Samsung Galaxy S II's forte - it used to do 8 hours straight until its battery fell to 10%. After the update, it lasted a little less - 11 minutes less to be precise. We're not sure why, we expected to see no difference here.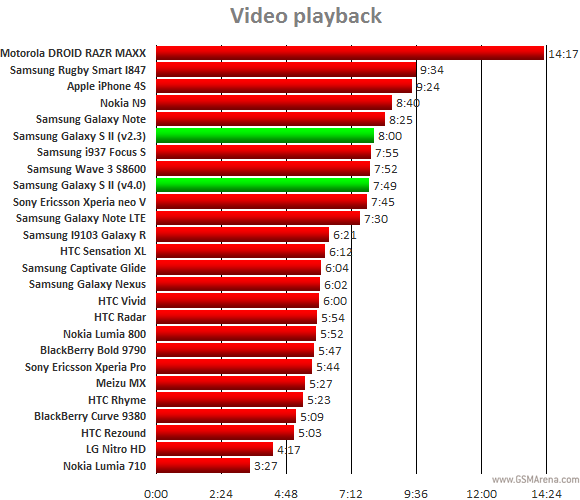 What you can expect in terms of autonomy is about 42 hours between charges, if you do an hour of calls over a 3G network, browse the web over Wi-Fi for an hour and watch an hour of video each day. That's slightly better than the 40 hours a Gingerbread-running Galaxy S II scores.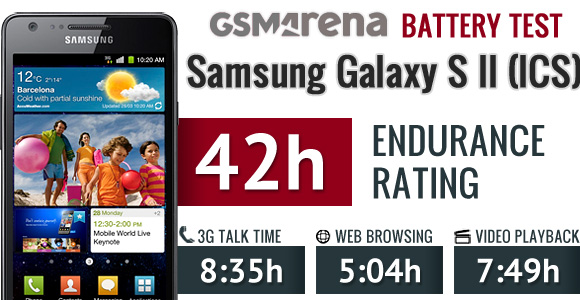 In the end, it's not a major improvement in battery life, but considering this is just a software update it's more than we could have asked for. It improved the Galaxy S II in an area that needed work, so it gets the thumbs up from us.
Conclusion
If you're asking whether it's worth updating your Samsung Galaxy S II from Android 2.3 Gingerbread to 4.0 Ice Cream Sandwich, the answer is an unequivocal yes. The user experience improves in multiple areas and there's nothing lost after the update.
Ice Cream Sandwich will extend the Galaxy S II's life and it will continue to be a highly popular device. We certainly saw plenty of competitors at the MWC compare their devices to the S II.
Looking further ahead, an upgrade to Android 5.0 Jelly Bean is less certain. We hope the S II will have more luck than the original Galaxy S, which Samsung couldn't update to ICS, but we'll just have to wait and see.
Anyway, the Samsung Galaxy S II is one of the first phones out there with Ice Cream Sandwich and will continue to enjoy near premium status (though not flagship status after the S III finally arrives).