With the first member of the Galaxy S II U.S. trio already on sale at Sprint Wireless, we have the second one right around the corner for you. Today AT&T announced in Twitter that its own Samsung Galaxy S II will become available on October 2.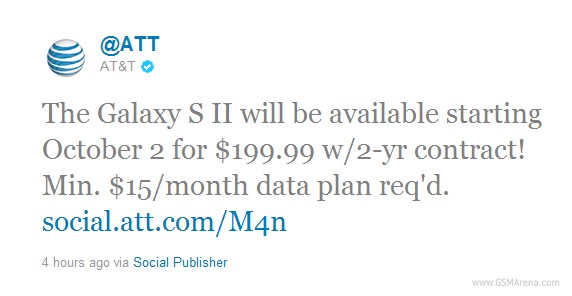 As you can see from the picture above, the mighty droid will set you back $199.99 with a two year contract. Should you decide to skip the commitment, prepare to shell out $549.99 of your precious dollars.
Both prices seem acceptable given the fact that you will become a proud owner of one of the best smartphones released so far into 2011. The AT&T version of the Galaxy S II comes closest from the U.S. trio, to the original I9100, which we know too well. It has the same screen size and identical measures, with the only major difference being the arrangement of the buttons at the front of the device. There you will find four touch sensitive buttons instead of the three button configuration of the original. You can see our initial impressions of the AT&T bound Samsung Galaxy S II here.
j
wish it made the choice of enlarging the screen like sprint did ! I wanted a bigger screen and i'm on AT&T
ADVERTISEMENTS