This article is outdated. We have already published a full review.
Samsung Galaxy S III features and extras
We're about to take a quick look at some of the more important new features debuting on the Galaxy S III.
S Voice
The Galaxy S III is the second smartphone in the Galaxy series to do voice commands. While the Vlingo-powered service on the S II only worked if you kept to a strict syntax, here Samsung have implemented a more direct competitor to the iPhone's Siri. You can tell the S Voice to accept/reject calls, take pictures, set alarms and search the internet among others.
In our experience this worked pretty well, recognizing most of the commands we threw at it. When you're not going too far with your demands, the S Voice tends to understands what you're trying to do quite well, even if the response time is, at times, a bit long.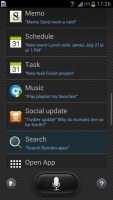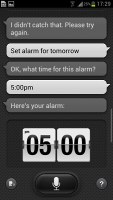 Some of the available voice commands • Setting an alarm
Direct call
This allows you to place calls by lifting the phone up to your ear when you're browsing your contacts, or are in the middle of reading/writing a message to someone and decide you need to call them. This is a nifty little feature that can save time (not to mention how cool it actually is), and works without a hitch.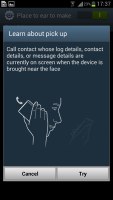 The Direct call/pickup gesture
Smart stay
Ever been reading something for a while when the screen annoyingly dims or even shuts off right in the middle of your sentence? Samsung have implemented a sensor which detects whether you're looking at the screen, so you no longer have to worry about keeping it awake. Works just as advertised, too.
Smart alert
If you've been away from your phone for a while, the Galaxy S III will vibrate on pickup, if you have any missed calls or messages. Also fairly straightforward in terms of how well it works, with the vibration being subtle, but long enough to make sure you don't miss it.
S Beam
The Galaxy S III allows you to share all sorts of media via NFC by simply touching the devices back-to-back. Sadly, you'd need two Samsung I9300 units to make this work as there are no other S Beam-enabled smartphones on the market just yet.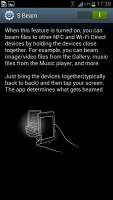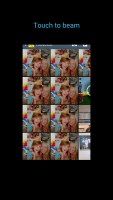 The S Beam function • "Beaming" images using NFC
You can share with other NFC devices as well, but functionality is limited to what is provided by the stock Android Beam. We tested this with the Galaxy Nexus and we had no trouble transferring webpages and contacts from our S III to the Galaxy Nexus.
Buddy photo share
The Buddy photo feature enables the Samsung I9300 Galaxy S III to automatically tag your pictures with all the people it recognizes from your contact profiles.
Pop up play
Pop up play is the Galaxy's version of a windowed media player. It lets you play a video in a separate window, which you can drag around and resize while performing other tasks on the phone, such as texting or web surfing.
We were quite pleasantly surprised at how well this worked. Not a single moment of lag or stutter while the video played in its own window, and the interaction between video and background was quite seamless. Granted, this isn't going to be used that often, but it's a nifty feature to have.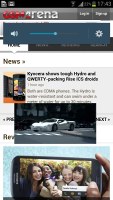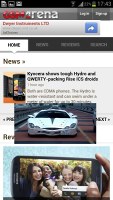 Watching a video clip while visiting the GSMArena mobile site!