The Samsung Galaxy S3 Swarovski Edition by Amosu Couture has some 500 Swarovski crystals in laid along the edge and the home key is adorned by no less than 16 Swarovski crystals.
Other than the tricked out exterior, on the inside, the smartphone is the same as before, meaning it's one of the best Android smartphones this season.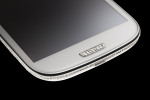 Samsung Galaxy S3 Swarovski Edition
The Samsung Galaxy S3 Swarovski Edition handset comes with a free Amosu Couture Calf leather case (reportedly, worth £200 on its own) in a color of your choice.
The Samsung Galaxy S3 Swarovski Edition is priced at £2099. You can also opt for an optional printout of your name or logo on the back for some extra money.
If you already own a Samsung Galaxy S3 you won't have to miss on "the deal", as Amosu is willing to trick out your existing smartphone too.
You'll never see us mind adding extra personality to your handset, but a smartphone is too transient possession to spend all those Swarovski crystals on. Hopefully, as with previous Amosu devices, once you are bored with the phone, you would be able to send it back for stripping all the precious gemstones so you can use them for say, your Galaxy S4.
Source
D
Everywhere I go in the Android phone forum section, I see all these comments from Iphone fanatics bashing on everything, calling the s3 ugly...etc...why don't you all go to your Iphone 4, 4s, 5 sections and hail praises there instead of trolling arou...
c
Yeah Yeah... But will it blend?
?
Galaxy S3 doesn't give me an elegant look. So, I don't think putting these crystals on it help.
ADVERTISEMENTS