Bread and butter
Samsung Galaxy S III Jelly Bean review: Bread and butter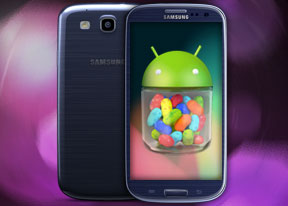 Apps and services
Offline voice typing premieres with the Jelly Bean update. You can now download language packs (about 20MB per piece) and use voice recognition without an internet connection. This way you are not only saving on your data connection, but the input also operates faster as it's not dependent on network speeds. We were pleased to find out that the transition hasn't cost it anything in terms of accuracy either.
Another updated feature is to the pop-up video playback feature. It's the awesome trick introduced on the Galaxy S III that brings the video you are currently playing to a small floating window that lies on top of whatever else you currently have open. The new firmware allows you to resize this pop-up window for even further customization.
The phone app got two new cool features - extra volume and turn on/off noise cancellation - both of which are available only from the in-call screen. You can now boost the volume of the phone earpiece or the loudspeaker even further than the previous maximum.
You can also select to turn off your noise cancellation if it's affecting your call quality.
The previously leaked Jelly Bean test ROMs revealed a replacement for the S Memo app called S Note lite. In the final release, however, we were surprised to find Samsung dropped the idea of the S Note lite and returned the S Memo app. As far as we can tell, the features seem to be the same despite some slight differences in the UI.
The new Easy home screen isn't the only thing Samsung did to help first-time Android or smartphone users feel at home on the Jelly Bean-powered Galaxy S III. The smartphone now also offers a nicely designed help app, which teaches you how to operate its basic features and customize it to your liking. We wish it had a search options, but it still provides a good amount of information for new users.
Unfortunately, the apps department also brought us some bad news. The Polaris Office app turned out to be incompatible with Jelly Bean and refused to launch after the upgrade. There is no upgrade for it yet, which means that you are left without a document editor or even viewer preinstalled. If handle a lot of documents on your Galaxy S III, then it might be a good idea to seek out another document viewer in the Play Store, and only apply the update if you are sure it works for you. Alternatively, you can just postpone the update until the Polaris Office app get an update, which expands its compatibility.
Update: The Polaris Office update is already available in some countries and it should be seeded to all Galaxy S III units in the upcoming days. It seems there's nothing left preventing you from applying the update, then.