The Halfling
Samsung I8190 Galaxy S III mini review: The Halfling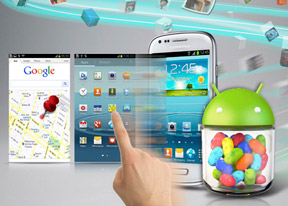 Display
The Samsung Galaxy S III mini uses a 4" Super AMOLED screen of WVGA resolution (800 x 480 pixels). It's identical to the screens used in the original Samsung I9000 Galaxy S and the Galaxy S Advance and the image quality is about the same.
The pixel density clocks in at 233 ppi, but since the AMOLEDs of that generation use a PenTile matrix, you can spot the familiar dottiness. It's not a big deal, but it's one of those things that once you spot, you can't get out of your head.
All things considered, the Galaxy S III display offers more than decent image quality for a mid-range device. Colors a punchy, blacks are as deep as on other AMOLEDs and the viewing angles are extremely wide. There's some color shift when looking from an extreme angle, but the screen remains perfectly legible.
Display test
50% brightness
100% brightness
Black, cd/m2
White, cd/m2
Contrast ratio
Black, cd/m2
White, cd/m2
Contrast ratio
Samsung Galaxy S III mini
0
221
∞
0
385
∞
Samsung I9300 Galaxy S III
0
174
∞
0
330
∞
Samsung I9070 Galaxy S Advance
0
185
∞
0
326
∞
Samsung I9103 Galaxy R
0.51
407
806
0.92
785
858
Samsung I9001 Galaxy S Plus
0
251
∞
0
408
∞
Sunlight legibility is also quite good, as testified by the Galaxy S III mini performance in our dedicated test.
Contrast ratio
Nokia 808 PureView
4.698
Samsung I9300 Galaxy S III
3.419
Samsung Omnia W
3.301
Samsung Galaxy S
3.155
Nokia N9
3.069
Samsung Galaxy Note
2.970
HTC One S
2.901
Samsung Galaxy S II
2.832
Huawei Ascend P1
2.655
Nokia Lumia 900
2.562
Samsung Galaxy S III mini
2.422
Motorola RAZR i
2.366
Apple iPhone 4S
2.269
HTC One X
2.158
Nokia N8
2.144
Apple iPhone 4
2.016
Sony Ericsson Xperia ray
1.955
Sony Xperia U
1.758
LG Optimus 4X HD
1.691
HTC One V
1.685
LG Optimus Vu
1.680
HTC Desire V
1.646
LG Optimus 3D
1.542
Nokia Asha 302
1.537
Nokia Lumia 610
1.432
Gigabyte GSmart G1355
1.361
HTC Desire C
1.300
LG Optimus L7
1.269
Meizu MX
1.221
Samsung Galaxy Pocket
1.180
Sony Xperia tipo
1.166
Samsung Galaxy mini 2
1.114
You can find more information on our display test here.
We also put the Samsung Galaxy S III mini screen under our microscope to show you its display matrix.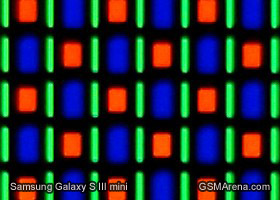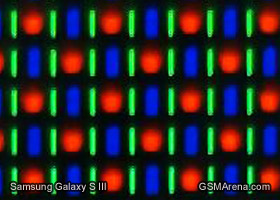 Handling
The Samsung Galaxy S III mini is really easy to handle with its curved back fitting nicely in the palm of your hand. Single-handed operation is also always an option - one of the few areas, where the Galaxy S III mini beats the original Galaxy S III.