The Halfling
Samsung I8190 Galaxy S III mini review: The Halfling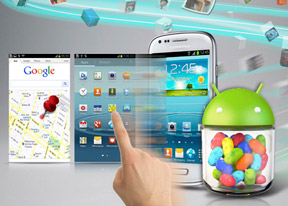 S Voice and Google Now
Samsung released S Voice as an answer to Siri before Google came out with its own solution in Google Now. S Voice is the culmination of Samsung's ongoing effort at integrating voice commands into the Android experience, an effort which goes back to the days of Vlingo. You may remember the voice activation (saying "Hi Galaxy" to trigger S Voice).
S Voice can do the usual - search the web, make calls, send texts (which Android natively supports and so does Vlingo), but you can also use it instead of the notification area toggles, answer or reject incoming calls, start the camera and take a photo, control the music player and FM radio and stop or snooze alarms all with voice commands.
It's also a tool for quickly looking up facts - it's powered by Wolfram Alpha (which handles some of Siri's answers too). It has an enormous database covering topics ranging from Culture and Media to Physics. S Voice can also be used as a calculator.
Samsung has decided to keep S Voice alongside Google's solution as the two do differ in functionality. Jelly Bean has the unspoken Google Now info cards, but it also brought Google's Knowledge Graph, which can answer factual questions.
Google Voice Actions can handle stuff like sending messages (SMS or email), initiating a voice call, asking for directions, taking a note or opening a site. Since the latest update came, Google Now can also launch apps, check and manage your calendar and look for nearby places of interest and stuff like movie openings in theaters.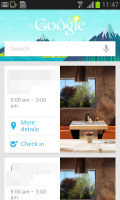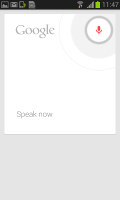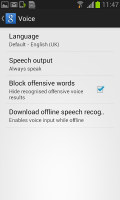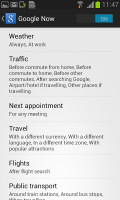 Asking Google's Knowledge Graph a question
One big advantage of Google's Jelly Bean is that the voice typing functionality doesn't require an internet connection to work. You can enter text by speaking anywhere you can use the on-screen keyboard - be it the Messaging app or a note taking app - without the need for a data connection as long as you have pre-downloaded the needed language packs (and those only take about 20-25MB of your storage per pack).
Making voice typing available offline also made it faster as it's not dependent on your connection. What's even more impressive is that the transition hasn't cost it anything in terms of accuracy.
Synthetic benchmarks
The Samsung Galaxy S III mini doesn't use an Exynos chipset or a Snapdragon S4 like the big S III. Instead it has a NovaThor U8500 chipset with two Cortex-A9 cores at 1GHz, 1GB of RAM and a Mali-400 GPU.
The older CPU design and relatively low clock speed keep the S III mini from advancing too much when it comes to single-threaded performance (indicated by Benchmark Pi).
Quadrant scales better and while the Galaxy S III mini is no match for the quad-core flagships, it does well for itself.
Benchmark Pi
Lower is better
HTC One S
306
Samsung Galaxy Premier
372
Samsung Galaxy Nexus
447
Samsung Galaxy S II
452
Samsung Galaxy S III mini
499
Samsung Galaxy S Advance
530
HTC Sensation XE
536
Sony Xperia S
536
Sony Xperia sola
551
HTC Desire X
639
Quadrant
Higher is better
HTC One X+
7632
LG Optimus G
7439
HTC One X
5952
Samsung Galaxy Note II
5916
Samsung Galaxy S III
5450
Meizu MX 4-core
5170
LG Optimus 4X HD
4814
Samsung Galaxy S III mini
2644
The NovaThor uses a lower-end configuration of Mali-400 compared to Exynos, so the S III mini lags behind the S II in NenaMark 2 even though they are competing at equal resolution.
It doesn't really have the oomph to render 720p either. Not that it has the display for it, but high-end 3D games might not run all that smoothly.
NenaMark 2
Higher is better
HTC One S
60.5
Samsung Galaxy Premier
55.3
Samsung Galaxy S II
51.6
Samsung Galaxy Note 10.1
43.6
Samsung Galaxy S III mini
38.9
Sony Xperia S
37.5
HTC Desire X
35.4
Samsung Galaxy Nexus
28.7
Sony Xperia sola
27.7
GLBenchmark 2.1 Egypt (720p offscreen)
Higher is better
LG Optimus G
113
Samsung Galaxy Note II
105
Samsung Galaxy S III
99
HTC One X
64
Samsung Galaxy S III mini
16
When it comes to JavaScript performance, Jelly Bean has plenty of optimizations and the Galaxy S III mini keeps up with higher-end dual-cores in SunSpider. The mini isn't too far behind the quad-core Galaxy S III in BrowserMark 2, which scored pretty low on this test. Some optimizations to the software might improve things.
SunSpider
Lower is better
Samsung Galaxy Premier
1171
Samsung Galaxy Nexus
1626
HTC One S
1708
Samsung Galaxy S II
1849
Samsung Galaxy S III mini
1888
Apple iPhone 4S
2217
HTC Desire X
2259
Sony Xperia S
2587
Samsung Galaxy S Advance
2663
Sony Xperia sola
2837
BrowserMark 2
Higher is better
LG Optimus G
2555
Acer CloudMobile S500
1877
Nokia Lumia 820
1760
Samsung Omnia W
1632
Samsung Galaxy S III (JB)
1247
Samsung Galaxy S III mini
714
Sony Xperia J
587