Invites are being sent for a Samsung Mobile press event in Germany where a smaller-sized Samsung phone will reportedly be released.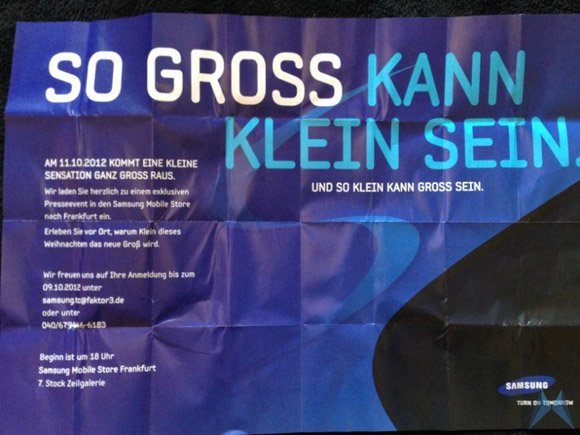 The invites sent out today contain the line "So big can be small. And so small can be big." You might also have noticed the characteristic S series logo in the background, which narrows down the potential release candidates to a small Galaxy S device.
This is exciting news, especially for those that find the the Galaxy S III too large to handle. Be sure to check back with us on October 11, when we'll know what will come from this event.
a
please tell the date of launching in india
J
29 k - s3 itself is 24k bro -- s3mini will be around 19k to 23 k in india
s
oops.. sorry to say dear but don't be fool.. this s3 mini is in real sense mini..lolzzz.. Primary Camera : 5mp with vga secondary camera battery..omg.. it will going to vanish this brand very soon..its Li-Ion 1500 mAh..means talk time will be alm...
ADVERTISEMENTS