The Samsung Galaxy S III mini tries to follow in the footsteps of its big brother and now its in the "getting new color versions" phase that the S III went through a while back.
The Galaxy S III mini launched with the standard White and Blue color options but a brochure shows that three new color options will be added next month in Taiwan.
The new colors are Red, Black and Grey, almost matching the color choices for the big Galaxy S III (which also has a Brown version and a special La Fleur paint job).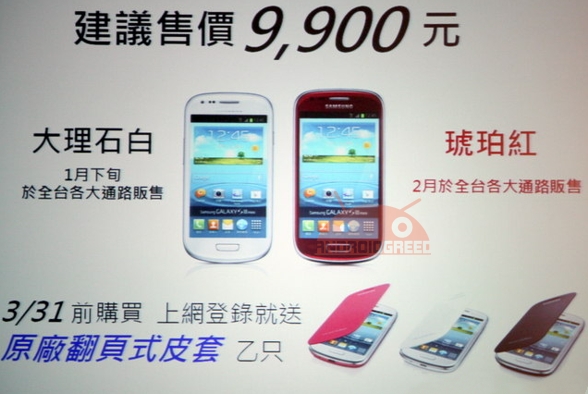 The Galaxy S III mini is priced at 9,900 Taiwanese dollars ($340) and will become available in Taiwan starting in February. There's a promotion too - people who buy an S III mini before the end of March will get a matching leather Flip Cover.
There's no info on when the new colors for the S III mini will become available outside of Taiwan, but it probably won't be long.
Thanks to Lex for the tip!
D
No matter however rainbow-ish they make this phone its still so overpriced. Cos in my country if you pay some 100$ more you could get the galaxy s3 itself .. So who goes for a even less than half of s3 by saying just a 100bucks lesser ! Wake up samsu...
?
Serious lack of innovation from Samsung, compared to the rest of the competitors with amazing products. Getting complacent Samsung?
V
Not a bad mid range phone but just overpriced.
ADVERTISEMENTS