According to leaked information from Samsung R&D in India, Samsung is simultaneously developing Jelly Bean 4.2.2 and 4.3.0 updates, and the former could be dropped altogether if Jelly Bean 4.3 is officially announced this week by Google.
These rumors from last week garnered a whole lot more credibility thanks to the provided leaked image which allegedly shows a Galaxy S III running on a 4.3.0 Jelly Bean test build.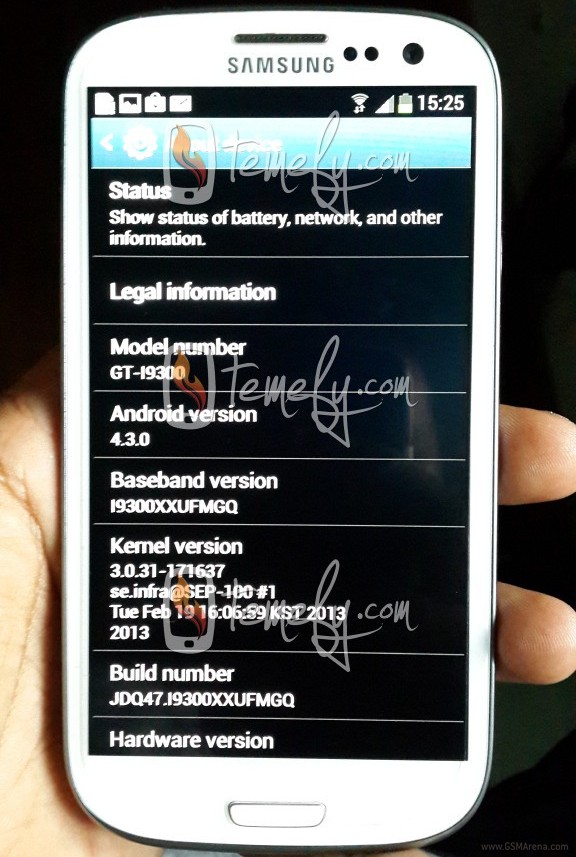 Word is that development of the 4.3.0 update is also underway for the Galaxy S4 flagship, as well as another yet unannounced device, possibly the Galaxy Note 3.
It's still unknown what kind of features the 4.3 Jelly Bean update will to bring - or when, for that matter - but if the above leak is any indication, the announcement is imminent!
Update: Seeing as how the kernel version and build date in the image are the same as those found on Android 4.1, then either the software is not finalized, or the build.prop has been tweaked to show a different Android version.
T
Update 4.3 coming in October .... but where are promised goodies from S4 mentioned in April ?!!!!
D
Hahaha OK. So anyone who likes Samsung and have decent phones are Samsung agents while Nokia users are the most honest people in the world... Wow... Please grow up. Don't be a hypocrite.
?
Like I said. All you can do is troll and bash. Just hateful comments and lies. Then anyone who points out your lies gets bashed by you too. A true troll. Thank you for so much useless input instead of productive though.
ADVERTISEMENTS