Blockbuster
Samsung Galaxy S III US edition review: Blockbuster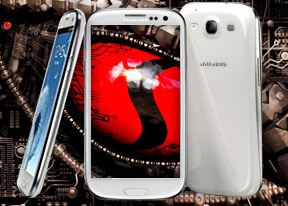 S Voice challenges Siri, isn't quite there yet
You've probably seen our S Voice vs. Siri vs. Speaktoit Assitant post, but we'll recap our impressions of Samsung's S Voice here.
S Voice understands English, French, Spanish and Korean, Italian and German (take that Siri!). It can be activated by voice too - the default prompts are "Hi Galaxy" (as before) and "Hi Buddy", and you can add custom ones too. That makes for completely hands-free, voice-only control of the phone. Note that this puts a strain on the battery, but there's an option to activate this feature only when the phone is plugged into a charger.
S Voice can do the usual - search the web, make calls, send texts (which Android natively supports and so does Vlingo), but you can also use it instead of the notification area toggles, to control the music player, look up weather and traffic info for a city, set timers and alarms (and snooze them too) or launch an app.
Some apps get special treatment - for example, you can say "I want to take a picture" to activate the camera and say "Cheese!" to snap the photo. Facebook is another example - you can update your status using S Voice. Same goes for Twitter.
It's also a tool for quickly looking up facts - it's powered by Wolfram Alpha (which handles some of Siri's answers too). It has an enormous database covering topics ranging from Culture and Media to Physics. Unlike Siri, S Voice extracts only the relevant bit of info that Alpha provides and showing you more details only if you want them.
S Voice can also be used as a calculator. Once again, it only gives the relevant answer (Siri shows the whole output from Wolfram Alpha, which tends to get carried away with the amount of detail - e.g. you don't really need a visual representation of 2 + 2).
One of the things that made a negative impression was that the speech to text transcription was somewhat worse than Siri (which isn't perfect either). S Voice understood the commands most of the time, though there were cases when it didn't quite catch our words correctly.
This was most prominent when we tried to send a text message with voice dictation only - sometimes it would get as much as half of the sentence wrong.
S Voice also needs some polishing when it comes to removing unnecessary prompts - it asked for GPS to be active when checking the traffic in a city (even though we weren't in that city and it shouldn't matter where we are anyway), it stumbled when there were multiple numbers that an SMS can be sent to (it reverted to regular touchscreen interaction, forgetting we're trying to talk to it) and then it crashed when we tried a question just for fun.
Still, if you look past its quirks, S Voice can be a handy tool in situations where your hands are occupied (especially while driving, when you can't take your eyes off the road either). In all other scenarios you will be much better off using your fingers than your voice. Things might improve in the future but we are still a few years away before such technology becomes an essential part of the smartphone user experience.
Synthetic benchmarks
The US version of the Samsung Galaxy S III is powered by a Qualcomm Snapdragon S4 chipset with two Krait CPU cores, clocked at 1.5GHz. Due to its newer architecture, Qualcomm's latest creation performs on par with quad-core chipsets from the previous generation.
Benchmark Pi is a simple single-threaded benchmark, and a Qualcomm chips' favorite, so we knew what we can expect from it. The Galaxy S III achieved the highest score we've seen to date - not a bad start then, we say.
Benchmark Pi
Lower is better
Sony Xperia S
536
Samsung Galaxy S II
452
Samsung Galaxy Nexus
408
Samsung Galaxy S III
344
HTC One X (Tegra 3)
338
HTC One S
306
Samsung Galaxy S III (US)
273
HTC One X (Snapdragon S4)
279
Linpack offers multithreaded benchmarking, making it essential for testing multi-core beasts. Curiously enough, the US Galaxy III beat the quad-core sporting I9300, but fell behind HTC's offerings.
Linpack
Higher is better
HTC One S
210
HTC One X (Snapdragon S4)
196
Samsung Galaxy S III (US)
182.9
Samsung Galaxy S III
177.1
HTC One X (Tegra 3)
126.1
Sony Xperia S
86.4
Samsung Galaxy S II
77.6
Samsung Galaxy Nexus
77.1
Quadrant is a composite benchmark (it tests CPU, GPU and I/O). The US Galaxy S III scored below the I9300, and right in line with the US version of the HTC One X - hardly a surprise as it shares internals with the latter.
Quadrant
Higher is better
Samsung Galaxy S III
5365
HTC One X (Snapdragon S4)
5146
Samsung Galaxy S III (US)
5111
HTC One S
5047
HTC One X (Tegra 3)
4842
Sony Xperia S
3173
Samsung Galaxy S II
3053
Samsung Galaxy Nexus
2316
The Samsung Galaxy S III relies on an Adreno 225 GPU. It has a 720p screen to fill with pixels (up from WVGA on the S II), so we were curious to find out how it fares.
In NenaMark 2, the Qualcomm equipped US Galaxy achieved a better score than the I9300. The handset lost only to the HTC One S, but keep in mind that the latter has a significantly lower screen resolution.
Note that older Samsung models used to have a 60fps framerate ceiling set in the software and we're not sure yet if the Galaxy S III is running into such a limit, artificially lowering its score (NenaMark reports the results in FPS).
NenaMark 2
Higher is better
HTC One S
60.5
Samsung Galaxy S III (US)
59.9
Samsung Galaxy S III
58.8
Samsung Galaxy S II
51.6
HTC One X (Snapdragon S4)
49.1
HTC One X (Tegra 3)
47.5
Sony Xperia S
37.5
Samsung Galaxy Nexus
24
GLBenchmark is available on iOS devices too, so it can give us some idea of how the Galaxy S III compares to the PowerVR SGX 543 GPUs. We're using the Egypt test in offscreen 720p mode so that results are directly comparable even though each device has a different physical screen resolution.
The Adreno 225 inside the US Galaxy S III achieved the lowest score here. This is hardly a surprise however, as all devices with this GPU we've tested this far, have fared poorly in this test.
GLBenchmark Egypt (offscreen 720p)
Higher is better
New Apple iPad
140
Samsung Galaxy S III
103
Apple iPad 2
90
Apple iPhone 4S
73
HTC One X (Tegra 3)
63
Samsung Galaxy S II
62
HTC One S
56
HTC One X (Snapdragon S4)
55.7
Samsung Galaxy S III (US)
54
SunSpider is a JavaScript benchmark and as such isn't strongly affected by the number of CPU cores - it mostly reflects the raw performance of a single core and how optimized the JavaScript engine itself is.
SunSpider
Lower is better
Samsung Galaxy S III
1447
Samsung Galaxy S III
1743
HTC One S
1708
New Apple iPad
1722
HTC One X (Tegra 3)
1757
HTC One X (Snapdragon S4)
1834
Samsung Galaxy S II
1849
Samsung Galaxy Nexus
1863
Samsung Galaxy Note 10.1
1891
Apple iPhone 4S
2217
Sony Xperia S
2587
BrowserMark adds HTML to the equation - behind the scenes JavaScript computation won't do much if the web page can't update fast and smooth.
BrowserMark
Higher is better
Samsung Galaxy S III
169811
Samsung Galaxy Note 10.1
113256
Samsung Galaxy S II
111853
Samsung Galaxy S III (US)
110382
Samsung Galaxy Nexus
103591
New Apple iPad
103264
HTC One S
98435
HTC One X (Tegra 3)
96803
HTC One X (Snapdragon S4)
92232
Apple iPhone 4S
88725
Sony Xperia S
74990
HTC Sensation XE
72498
In real life, the US Galaxy S III is lag free. The handset handled every task we threw at it without breaking a sweat.