Sizing up
Samsung Galaxy S III vs. Note II: Sizing up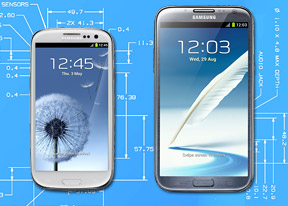 General hardware comparison
The Samsung Galaxy S III and the Galaxy Note II use virtually the same design and same hyperglazed plastic exterior.
They do differ in size as we've already mentioned - the Galaxy S III measures 136.6 x 70.6 x 8.6 mm, while the Note II is bigger in every direction at 151.1 x 80.5 x 9.4 mm. Thickness is a non-issue (unless it's bragging rights you're after, in which case you lose to plenty of other phones), though the height does raise questions about the pocketability of the Note II.





Galaxy S III vs. Note II size comparison (with iPhone 5 for scale)
However, the biggest issue is width - at 80.5mm, the Note II is the widest phone (well, okay, phablet), save for the LG Optimus Vu. This limits the comfort of one hand operation, compared to the S III. Still, it's 2.5mm narrower than the original Note, despite the bigger screen (that's thanks to the switch from a 16:10 to a 16:9 aspect ratio).





Samsung Galaxy Note II and Galaxy S III in the hand
The weight is also a consideration. The Galaxy S III weighs the norm for its generation of flagships at 133g (the HTC One X is 130g and the LG Optimus 4X HD is 133g). The Galaxy Note II weighs 183g, which sounds like a lot (and it is) but it's well distributed (it's not top heavy or anything) and you have to remember that the Nokia Lumia 920 phone weighs 185g.
Another difference, is the Galaxy S III has a wider selection of colors, though we fully expect the Note II to catch up in time.
Moving on, both devices have a removable back cover and a user-replaceable battery. The Galaxy S III has a respectable 2100mAh Li-Ion battery, while the bigger Note II has a 3100mAh unit. After we examine the screen, we'll talk about battery life in a separate chapter.





Bigger battery on the Note II but otherwise both use microSIMs and have microSD card slots
Despite their size, both devices use microSIMs only though on the upside they both have microSD card slots to expand the built-in memory (both are available in 16GB, 32GB and 64GB versions).
There are minor differences, like the hardware Home button on the front and the loudspeaker on the back, though we don't think any of the devices is at a disadvantage.





Minor differences between the Note II and S III
Everything else - button and port positioning - is the same with the exception of the added S Pen slot on the Galaxy Note II.
Battle of the large 720p Super AMOLEDs
We have two Super AMOLED screens of 720p resolution facing off, one 4.8" big and the other 5.5". In terms of surface area, the Samsung Galaxy Note II has a 30% bigger screen than the Galaxy S III.
They both use Gorilla Glass 2 for protection, but the matrices below are different for the two devices.




Both Galaxys have 720p Super AMOLED screens, but they differ in size and matrix
The one on the Galaxy S III is PenTile with two sub-pixels per pixel, while the one of the Galaxy Note II has a full set of sub-pixels in every pixel in an unusual arrangement.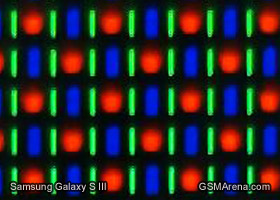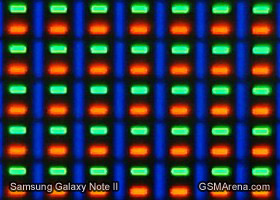 So, while the pixel density of the S III is 306ppi over the 267ppi density of the Note II, the less dense screen actually appears sharper. Not that the S III display isn't sharp - the high pixel density does a good job of hiding the cross-hatch look typical of PenTile screens.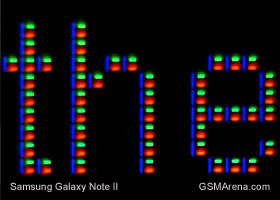 The Note II's screen has a further advantage - it's brighter. At maximum it puts out 402 nits, a significant increase over the 330 nits of the Galaxy S III. Both screens have perfectly deep blacks and theoretically infinite contrast.
Display test
50% brightness
100% brightness
Black, cd/m2
White, cd/m2
Contrast ratio
Black, cd/m2
White, cd/m2
Contrast ratio
Samsung Galaxy Note II
0
215
∞
0
402
∞
Samsung I9300 Galaxy S III
0
174
∞
0
330
∞
HTC One X
0.15
200
1375
0.39
550
1410
Samsung Galaxy Note
0
287
∞
0
429
∞
Samsung Galaxy Nexus
0
112
∞
0
247
∞
Apple iPhone 5
0.13
200
1490
0.48
640
1320
In real life conditions, however, the Samsung Galaxy S III holds its own - its sunlight legibility is among the best we've seen, while that of the Note II is average. We guess that extra layer for the Wacom digitizer is to blame here.
Contrast ratio
Nokia 808 PureView
4.698
Samsung I9300 Galaxy S III
3.419
Samsung Omnia W
3.301
Samsung Galaxy S
3.155
Nokia N9
3.069
Samsung Galaxy Note
2.970
HTC One S
2.901
Samsung Galaxy S II
2.832
Huawei Ascend P1
2.655
Nokia Lumia 900
2.562
Samsung Galaxy S III mini
2.422
Motorola RAZR i
2.366
Samsung Galaxy Note II
2.307
Apple iPhone 4S
2.269
HTC One X
2.158
Nokia N8
2.144
Apple iPhone 4
2.016
Sony Ericsson Xperia ray
1.955
Sony Xperia U
1.758
LG Optimus 4X HD
1.691
HTC One V
1.685
LG Optimus Vu
1.680
HTC Desire V
1.646
LG Optimus 3D
1.542
Nokia Asha 302
1.537
Nokia Lumia 610
1.432
Gigabyte GSmart G1355
1.361
HTC Desire C
1.300
LG Optimus L7
1.269
Meizu MX
1.221
Samsung Galaxy Pocket
1.180
Sony Xperia tipo
1.166
Samsung Galaxy mini 2
1.114
Viewing angles on AMOLED displays are typically excellent and both Galaxy phones are no exception. Still, there's a slight color shift visible on the S III (a blue/green tint) while the effect is less prominent on the Note II.