Alien vs. Predator
Samsung I9300 Galaxy S III vs. HTC One X: Alien vs. Predator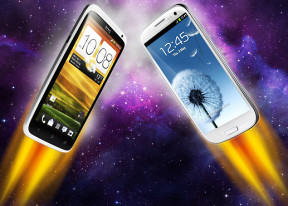 Introduction
There's no battle to end all battles in this industry but there's no point either trying to reason with two deadly droids, armed with the latest technology. We have two of the season's hottest smartphones in combat mode and Android supremacy is the prize. The HTC One X and the Samsung Galaxy S III are cast in the same mold and stand at the pinnacle of Android revolution. Two big, scary droids and room for only one.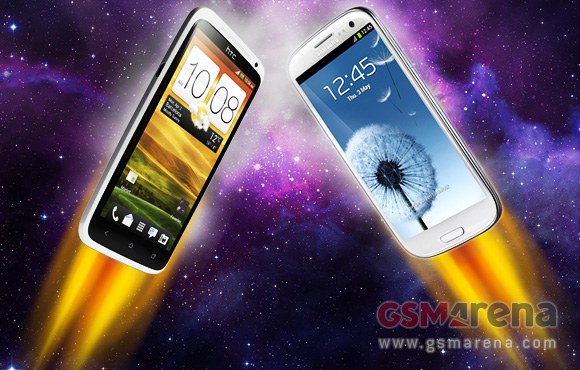 The two flagships have a lot in common - both run heavily customized ICS on quad-core CPUs and pack huge 720p displays. There's more to these droids though - each tries to squeeze every drop of known technology for a feature set that goes way beyond what vanilla Android has to offer. The HTC One X has the advantage of a market headstart, impressing users with its build and finish, latest Sense UI and the ImageSense technology of its camera.
The delayed launch of the Galaxy S III seems to have let Samsung make sure their flagship can match the functionality of the One X down to the last spec - and even raise the ante.
Here's a quick glance at what each phone has in its favor:
HTC One X over Samsung Galaxy S III
Impressive polycarbonate unibody
Brighter IPS LCD2 screen with a full set of subpixels
Beats Audio
Already on the market
Likely a bit cheaper
Samsung Galaxy S III over HTC One X
Bigger screen - 4.8" over 4.7"
Higher display contrast and better sunlight legibility
More storage options - 16/32/64GB + microSD over non-expandable 32GB
S Voice natural language commands and dictation
S Beam for easy and fast file transfers
User-accessible 2100mAh battery over non-removable 1800mAh battery
1.9MP front-facing camera with Smart Stay
Videos shot with 30fps framerate over 24fps
We've reviewed the HTC One X and did a couple of previews of the Samsung Galaxy S III, so we know both phones fairly well. But it's still hard to pick a definite winner. Both are excellent phones, but there are tradeoffs to be made. For one, the polycarbonate body of the One X looks and feels cooler, but it locks away the battery and precludes memory expansion.





Samsung Galaxy S III • HTC One X
Many of the Galaxy S III advantages are software-related (S Voice, Smart stay, etc.) or narrow wins in terms of hardware (screen size, thickness). And it even gets more complicated with things like battery life. Sure, the S III has a bigger battery (2100mAh), but the Exynos chipset lacks the extra power-saving core of Tegra 3.
We have a feeling it's going to be a close call at the end and the subtle differences between these two flagships will endear them to slightly different target audiences. Let's dig into the details and see which one's for you.
D
Htc one x the king of all phones
w
Samsung s3 is better than one x in cpu, camera, touchwiz, The sounds but htc one x had slow cpu and very bad, the camera is bad and no touch wiz
D
HTC one x is Simply Best