Alien vs. Predator
Samsung I9300 Galaxy S III vs. HTC One X: Alien vs. Predator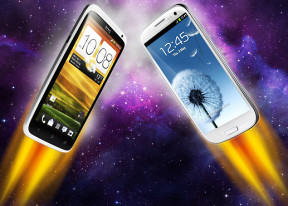 Hardware overview
The HTC One X and Samsung Galaxy S III are nearly identical as far as physical dimensions go. They're not that hard to tell apart but share the same design philosophy. In short, bigger is better.
The One X stands at 134.4 x 69.9, while the Galaxy S III is just a bit bigger at 136.6 x 70.6mm. Of course, the S III's slightly larger screen accounts for the difference.
As far as thickness goes, the Galaxy S III is a little thinner than the One X. That kind of difference has more to do with bragging rights than anything else, it's statistical rather than practical. The phones weigh 130g (One X) and 133g (S III) respectively, but again, it's nothing you can actually feel.





Samsung Galaxy S III • HTC One X
The feel in hand however is different enough, never mind the similar size and weight.
The HTC One X is encased in a polycarbonate unibody (Gray or Black), which is matte in appearance and pleasant to the touch. The Samsung Galaxy S III is covered in glossy plastic (with Blue brushed metal look or pure white), which is durable, but not quite as nice to hold. We're not impressed by its looks either.




Samsung Galaxy S III in Pebble Blue • HTC One X in Black and White
On the other hand, Samsung's design allows you to change the battery allowing you to use a spare one to extend battery life or replace an old burnt-out battery with a fresh new one. Oh, and there's a microSD card slot too. Not that HTC couldn't have put a card slot into the One X, they just decided that 32GB should be enough for everyone (and it probably is).





Removing the battery and accessing the microSIM and microSD card slots on the S III • Changing the SIM on the One X
Samsung does have a bigger battery, but we'll get back to battery backup later. As we already noted, the HTC does have a power-saving fifth core up its sleeve.
The One X has a set of pogo pins which enable dock connectivity without having to plug in a USB cable. The Galaxy S III on the other hand supports an optional wireless charging kit (which won't be available before September).


The pins on the back of the HTC One X
The rest of the hardware choices made by the two makers aren't very different - both phones use microSIM cards, they both have slightly bulging cameras at the back with an LED flash and both rely on a MHL-enabled microUSB port for charging, data, TV-Out and USB OTG.





The MHL-enabled ports on the Galaxy S III and the One X
Where they do differ is the hardware controls - Samsung equipped the Galaxy S III with a hardware Home key and capacitive Menu and Back keys. HTC on the other hand went all capacitive and emulated the Android ICS keys instead - Home, Back and Task switcher.



Different physical key arrangements on the Galaxy S III and the One X
This means that the S III offers a more familiar experience, while the One X can be used the way Ice Cream Sandwich was meant to be used. But both phones feature extensive modifications to the interface, so the experience is unlike that of any other maker.
Display comparison
The Samsung Galaxy S III and the HTC One X both blow through what was until recently, the commonly accepted definition of a big smartphone screen. The bezel around the screen is minimal, so the phones are about as compact as they can be given the screen size.
But we digress. It's time to talk about quality - and just the screens. The Samsung Galaxy S III packs a 4.8" Super AMOLED screen of 720p resolution, while the HTC One X uses a 4.7" IPS LCD2 screen of 720p resolution.
The pixel density is virtually identical - 306ppi vs. 312ppi - but if you consider the subpixel density - 612 vs. 936 - the difference seems bigger. The reason for that is Super AMOLED technology uses a PenTile matrix with two - not three - subpixels per pixel.





Samsung Galaxy S III and HTC One X have beautiful screens
Still, both densities are high enough that you won't notice in regular usage. You can see slight jaggines on finer detail displayed on the S III screen but you have to look from extremely close range and quite carefully at that.
The difference in display types goes beyond the subpixel arrangement. Super AMOLED has very deep blacks, vibrant colors and excellent viewing angles. There's some color shift when you reach the extremes, but the icons and text remain almost perfectly clear. Samsung's software also allows you to adjust the saturation - you get to choose from four levels of saturation raging from super punchy to slightly toned down.
The One X's IPS LCD2 screen is about 66% brighter than the opposition. It has excellent color rendering and viewing angles. The blacks aren't quite as deep as what the AMOLED has to offer, but the contrast ratio is high enough to make this almost a non-issue.
Display test
50% brightness
100% brightness
Black, cd/m2
White, cd/m2
Contrast ratio
Black, cd/m2
White, cd/m2
Contrast ratio
Samsung Galaxy Nexus
0
112
∞
0
247
∞
Samsung I9300 Galaxy S III
0
174
∞
0
330
∞
HTC One X
0.15
200
1375
0.39
550
1410
Sony Xperia S
-
-
-
0.48
495
1038
Motorola RAZR XT910
0
215
∞
0
361
∞
Samsung I9100 Galaxy S II
0
231
∞
0
362
∞
HTC One S
0
177
∞
0
386
∞
Samsung Galaxy Note
0
287
∞
0
429
∞
HTC Sensation XE
0.23
172
761
0.64
484
752
Another area where the screens differ is sunlight legibility - the HTC One X is very good for an LCD and the excellent brightness contributes to that, but the non-reflectivity of the AMOLED screen gives the Samsung Galaxy S III the edge. In fact, the Galaxy S III emerges from our tests as the best outdoor performer we have seen to date.
Contrast ratio
Samsung I9300 Galaxy S III
3.419
HTC One X
2.158
Nokia Asha 302
1.537
Apple iPhone 4
2.016
Apple iPhone 4S
2.269
Gigabyte GSmart G1355
1.361
HTC One S
2.901
HTC One V
1.685
LG Optimus 3D
1.542
Meizu MX
1.221
Nokia N8
2.144
Nokia N9
3.069
Samsung Galaxy Note
2.970
Samsung Galaxy S
3.155
Samsung Galaxy S II
2.832
Samsung Omnia W
3.301
Sony Ericsson Xperia ray
1.955
Both Samsung and HTC have turned to Corning to keep their lustrous screens safe, using the second-gen Gorilla Glass. According to Corning, Glass 2 offers the same level of protection, though it's slimmer, which is probably part of the explanation how the two behemoths managed to keep their waistlines so marvelously slim.