Alien vs. Predator
Samsung I9300 Galaxy S III vs. HTC One X: Alien vs. Predator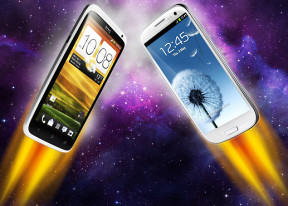 Synthetic benchmarks
Benchmark Pi is a simple single-threaded benchmark, so we thought we knew what we can expect from it. Yet, the Galaxy S III got pretty much the same result as the HTC One X and even though its 4 Cortex-A9 cores are clocked 100MHz lower than those of the HTC top dog. The Krait cores powering the HTC One S take the top spot though.
Benchmark Pi
Lower is better
HTC One S
306
HTC One X
330
Samsung Galaxy S III
344
Samsung Galaxy Note 10.1
351
Samsung Galaxy Nexus
408
Samsung Galaxy S II
452
Sony Xperia S
536
HTC Sensation XE
583
Linpack offers multithreaded benchmarking, making it essential for testing quad-core beasts. The Samsung Galaxy S III managed to beat the One X by a pretty comfortable margin. The One S once again comes out on top, with a 19% lead on the S III.
Linpack
Higher is better
HTC One S
210
Samsung Galaxy S III
177.1
HTC One X
160.9
Samsung Galaxy Note 10.1
90
Sony Xperia S
86.4
Samsung Galaxy S II
77.6
Samsung Galaxy Nexus
77.1
HTC Sensation XE
50.4
Quadrant is a composite benchmark (it tests CPU, GPU and I/O). The HTC One X takes the top spot here with both the Galaxy S III and HTC One S trailing it.
Quadrant
Higher is better
HTC One X
5952
Samsung Galaxy S III
5365
HTC One S
5047
Samsung Galaxy Note
3531
Sony Xperia S
3173
Samsung Galaxy S II
3053
Samsung Galaxy Nexus
2316
The Samsung Galaxy S III relies on a Mali-400MP GPU, though the exact details (number of cores, clock speed, etc.) are still to be revealed. The One X has an NVIDIA GPU and both have to push the exact same number of pixels.
The Galaxy S III shows the best 3D performance of a droid phone yet, with a small advantage over the One X. Both phones showed lower frame rates than the One S, but they have 720p screens versus the qHD screen of the One S (which has about 33% fewer pixels), so their GPUs are quite close in performance and better than the Adreno 225.
Note that older Samsung models used to have a 60fps framerate maximum set in software and we're not sure yet if the Galaxy S III is running into such a limit, artificially lowering its score (NenaMark reports the results in FPS). Let's see what GLBenchmark has to say.
NenaMark 2
Higher is better
HTC One S
60.5
Samsung Galaxy S III
58.8
HTC One X
56.6
Samsung Galaxy S II
51.6
Samsung Galaxy Note 10.1
43.6
Sony Xperia S
37.5
Samsung Galaxy Nexus
24
HTC Sensation XE
23
We're using the Egypt test in offscreen 720p mode so that results are directly comparable even though some devices have physical screen resolutions different from 720p.
The Samsung Galaxy S III cements its lead, with a whopping 40fps more than the HTC One X. The One X offers the very playable 63fps, but heavier games will push it below the 30fps mark sooner than they do the S III.
GLBenchmark Egypt (offscreen 720p)
Higher is better
New Apple iPad
140
Samsung Galaxy S III
103
Apple iPad 2
90
Apple iPhone 4S
73
HTC One X
63
Samsung Galaxy S II
62
HTC One S
56
SunSpider is a JavaScript benchmark that doesn't care much about the number of CPU cores, but is strongly affected by how optimized the JavaScript engine is and the raw performance of a core.
The Samsung Galaxy S III and the HTC One X are pretty evenly matched in the SunSpider test and even outpace the One S.
SunSpider
Lower is better
Samsung Galaxy S III
1447
HTC One X
1468
HTC One S
1708
New Apple iPad
1722
Samsung Galaxy S II
1849
Samsung Galaxy Nexus
1863
Samsung Galaxy Note 10.1
1891
Apple iPhone 4S
2217
Sony Xperia S
2587
HTC Sensation XE
4404
BrowserMark adds HTML to the equation - behind the scenes JavaScript computation won't do much if the web page can't update fast and smooth. The Galaxy S III tops this chart as well, and quite comfortably at that, with decent lead over the One X.
BrowserMark
Higher is better
Samsung Galaxy S III
169811
HTC One X
140270
Samsung Galaxy Note 10.1
113256
Samsung Galaxy S II
111853
Samsung Galaxy Nexus
103591
New Apple iPad
103264
HTC One S
98435
Apple iPhone 4S
88725
Sony Xperia S
74990
HTC Sensation XE
72498