Alien vs. Predator
Samsung I9300 Galaxy S III vs. HTC One X: Alien vs. Predator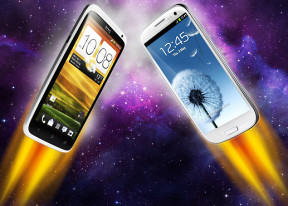 Battery life
A quad-core chipset and a 4-something-inch HD display doesn't exactly sound like a recipe for great battery life, but our contenders have prepared pretty well. The HTC One X comes with a pretty large 1800 mAh battery, while the Galaxy S III comes with an even more impressive 2100 mAh power pack.
We were curious to find out whether the extra 300 mAh inside the Galaxy S III can compensate for its slightly larger screen and the lack of a low-power CPU core in its chipset.
As usual, we started with the 3G talk time and we saw both participants put up a great performance. With the large power-hungry screens out of the equation, the beasts kept going for quite a while. The One X lasted 9 hours and 57 minutes of telephony on a single charge, while the Galaxy S III managed the hard to believe 10 hours and 20 minutes.
Talk time
Samsung I9300 Galaxy S III
10:20
HTC One X
9:57
The two flagships were less convincing in the browser endurance test. The HTC One X shut down just 4 hours and 18 minutes into the test and the Galaxy S III went on for 5 hours and 17 minutes. We were actually rather surprised that the S III came out on top here, knowing how taxing the predominantly white web pages are on AMOLEDs.
Web browsing
Samsung I9300 Galaxy S III
5:17
HTC One X
4:18
The HTC One X suffered a humiliation in the video playback part of our test. The Galaxy S III put the superior power efficiency of its screen to great use here and took a minute over 10 hours to deplete 90% of its battery. The HTC One X, on the other hand, gave up after less than 6 hours of SD playback.
Video playback
Samsung I9300 Galaxy S III
10:01
HTC One X
5:45
Unsurprisingly, the final results favored the Samsung smartphone. The Galaxy S III got an endurance rating of 43h, suggesting that it will last for 6 hours per charge longer than its rival if you use it for an hour of talk time, web browsing and video playback per day.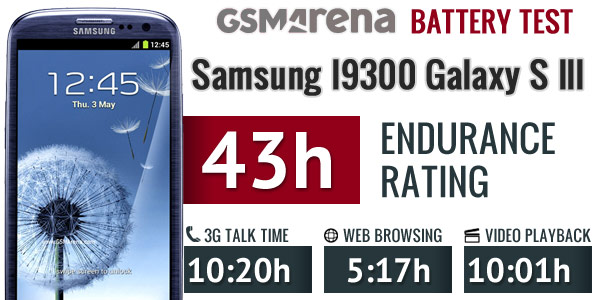 Samsung I9300 Galaxy S III battery life test results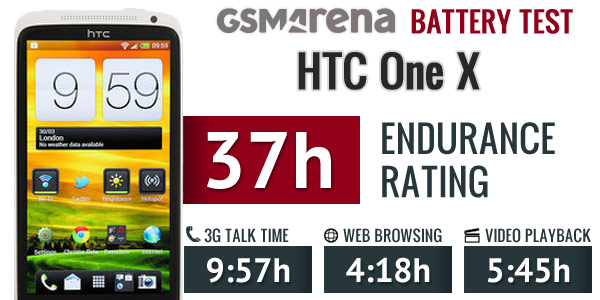 HTC One X battery life test results
You can learn more about our testing procedure over here.