Alien vs. Predator
Samsung I9300 Galaxy S III vs. HTC One X: Alien vs. Predator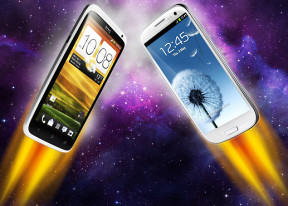 Final words
There's no good story without a villain. No villains here though because this isn't just another story. It rather is Android history being made. And we don't fool ourselves - both these superphones will be history next year, in the less dignified sense.
What we are trying to say is, there's no better smartphone here - just one that's more suited to your needs and taste. There's always an element of compromise - be it size against screen estate, power against battery life or looks against durability. What monster smartphones like the Samsung Galaxy S III and the HTC One X try to do is rule out compromises. That's why manufacturers don't cut any corners making them.
The Samsung Galaxy S III has a slight edge in processing, the Mali-400MP GPU nosing out the HTC One X ULP GeForce. It's also the one with the better screen: the 4.8" Super AMOLED has superior contrast, viewing angles, sunlight legibility and, thanks to the screen saturation modes, greater flexibility. It does use a PenTile matrix, but it hardly makes any difference at those ppi levels.
The still camera and video recording (in good lighting) and audio quality tests win a few more points for the Samsung I9300 Galaxy S III, and so do the better battery life and expandable storage.
Finally, Samsung have managed to teach their top dog plenty of neat software tricks and while some of them are rather useless (technology still hasn't reached the point where voice assistants are actually good for more than a few laughs), others are pretty cool (we really loved the Direct Call and Smart Stay features).
Yet the HTC One X is not without its weapons in this fight. For one, it's the better looking smartphone - we don't agree with those that call the Galaxy S III ugly, but its hyperglazed plastic body is humbled to near depressing levels of ordinary by the One X's matte polycarbonate unibody. It also comes with more built-in storage without raising the price (in fact the One X is a bit cheaper than the S III pre-orders).
The HTC One X camera actually comes out as the better performer in low-light conditions thanks to its bright F/2.0 aperture. We mustn't forget either that the HTC flagship is already available in plenty of countries, while the Samsung Galaxy S III units will only start leaving the factory in Gumi in a couple of weeks' time.
And then there's the choice between TouchWiz and Sense UI, which is a matter of aesthetics than anything else.
Anyway, back to where we started. Two superphones, one Android crown. The HTC One X managed to come to the market first, while the Galaxy S III is a little late, but has plenty to show for it. We're tempted to play it safe and split it equal. The HTC One X: this is what a droid flagship should look like. The Samsung Galaxy S III: that's what a droid flagship should perform like. But that won't be fair to either of them. They didn't get where they are by playing it safe.
It seems obvious that the Samsung Galaxy S III wouldn't have raised as the new standard-setter without a powerful challenger like the One X. There's no consolation prize here, no second-best. A fair fight and a win-win for Android.