Thumbs wanted
Samsung Galaxy S Relay 4G review: Thumbs wanted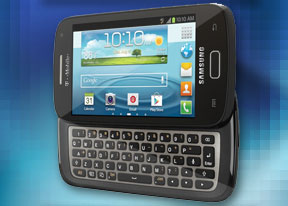 Fully loaded messaging
The messaging department is quite straightforward: there are no folders here, just a new message button. Under that button is a list of all your messages organized into threads.
Swiping on a message header will do exactly the same as in the phonebook - a left swipe starts a new message, while swiping to the right will start a call.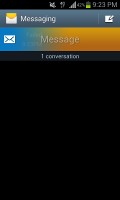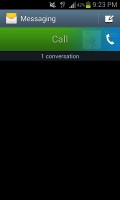 The messaging center and swipe functions
There's application-specific search that lets you quickly find a given message among all your stored SMS and MMS.
One thing we really appreciate is that the tap to compose box is much bigger - as big as can fit on the screen, no more viewing only 2-3 lines of text from your message.
To add message recipients, just start typing the corresponding name or number and choose from the contacts offered.
Adding any multimedia content to the message automatically turns into an MMS. You can either quickly add a photo or an audio file to go with the text or compose an MMS using all the available features (like multiple slides, slide timing, layout, etc.). The multiple slides are all shown inside the compose box.
You can use S Voice to dictate your message or use Google's built-in voice recognition software if you don't feel like typing. If the latter is often the case, Samsung provides the option to change the input methods.
When you're composing a new message you can use the Translate option to translate it into another language. The same goes for messages you've received. This feature probably won't see much use but it's there should you ever need it.
What will come in good use, however, is the new Direct call feature. When you are reading a message from someone, their number will be automatically dialed by just lifting the phone up to your ear.
Moving on to email, the Gmail app has grown handy shortcuts at the bottom of the screen but is mostly unchanged. It supports batch operations, which allow multiple emails to be archived, labeled or deleted. The default app supports multiple Gmail accounts, but there's no unified inbox.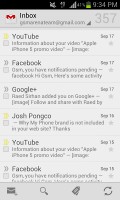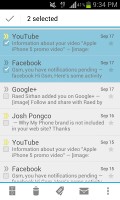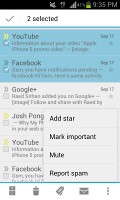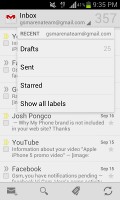 The Gmail should be pretty familiar to everyone by now
A cool feature in Gmail is that you can swipe left or right to move between messages in your inbox.
The shortcuts on the bottom of the screen are new email, search, labels, refresh and settings.
There is also a generic email app for all your other email accounts and it can handle multiple POP or IMAP inboxes. You have access to the messages in the original folders that are created online, side by side with the standard local ones such as inbox, drafts and sent items.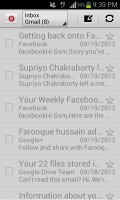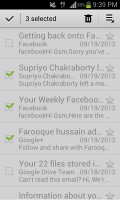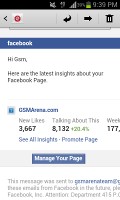 The standard email app also does a good job • the combined inbox
The Galaxy S Relay 4G also features a combined inbox, which brings together all your mail in a single folder. This can be quite handy if you have lots of accounts and you just want to check if there is a new message needing your attention.
Google Talk handles the Instant Messaging department. The G-Talk network is compatible with a variety of popular clients like Pidgin, Kopete, iChat and Ovi Contacts.
Text entry is handled by the standard Samsung QWERTY keyboard, which offers big and comfortable keys. Of course, you have that hardware QWERTY at your service.
Gallery and file browser
The Samsung Galaxy S Relay 4G comes with the default ICS Gallery. It opens up in Albums view, which is what we're used to seeing - it lists all folders with photos in the phone. Rather than the familiar stacks, the app uses a grid of photos, two on a line.
Besides, Album view, photos are sorted by Location, Time, Person (photos with tagged faces) and Group.
Getting inside an album displays all the photos in a rectangular grid, which is horizontally scrollable. When you try to scroll past the end, the photo thumbnails will tilt to remind you you're at the end.
When viewing a single photo, you'll find several sharing shortcuts and a delete button above the photo, while below is a line of small thumbnails of all other photos in the album. You can tap those small thumbnails to move to other images or you can just swipe to the side.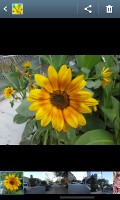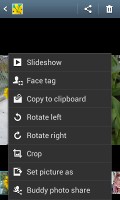 Viewing a single photo • Simple editing options
The Gallery also supports highly customizable slideshows with several effects to choose from, customizable music and speed. You can also highlight specific images to be included in the slideshow.
When viewing a photo with people's faces visible in it, the Galaxy S Relay 4G will try to detect them automatically (and you can manually highlight faces where it fails). Buddy photo share will use your contacts' profiles to try and recognize who is who automatically.
Social tag makes sure that whenever a face is recognized in the photo, their status message appears and you can easily call or message that contact.
The My Files app hasn't changed really - it is an efficient and simple to use file manager. It can move, copy, lock and rename files in bulk, even send multiple files to another phone. My files will only browse the memory card and the large internal storage (it can't access the system drive).
TouchWiz music player
The Samsung Galaxy S Relay 4G uses an updated version of the TouchWiz music player. Samsung has enabled equalizer presets (including a custom one) along with the sound-enhancing SoundAlive technology, which features 7.1 channel virtualization. Samsung uses SoundAlive in some of their MP3 and Android-powered media players.
Music is sorted into various categories, but the most interesting one is called Music square - it's quite similar to the SensMe feature of Sony Ericsson phones. It automatically rates a song as exciting or calm, passionate or joyful and plots those songs on a square (hence the name).
From here, you can highlight an area of the square and the phone will automatically build a playlist of songs that matches your selection. For example, if you highlight the upper part of the square the selected songs will be exciting and if your selection is centered around the lower right corner, the selected songs will be calm and joyful.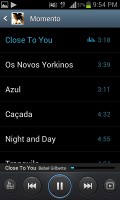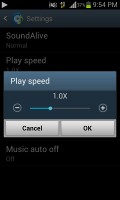 Some of the music player settings
You can swipe the album art left and right to move between songs. You can also put the phone face down to mute the sound or place your palm over the screen to pause playback.
The Galaxy S Relay 4G player is DLNA-enabled, so you're not limited to tracks on your handset - songs on devices connected to your Wi-Fi network are as easy to get to as locally stored songs.
Impressive video player
Samsung have put what is easily the best default video player on the Samsung Galaxy S Relay 4G. It offers several view modes - grid, list, folders and nearby devices (which accesses DLNA devices).
The grid view is our favorite - the visible video thumbnails (all eight of them) are actually playing the videos instead of being static images. They play at a reduced framerate, but it's an awesome preview and it shows what can be done when you have processing power to spare.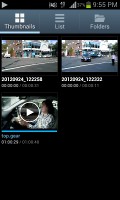 Two of the view modes available for browsing your videos
The video player lets you choose between three crop modes for how the video fits the screen. The same SoundAlive audio-enhancing technology is available here too.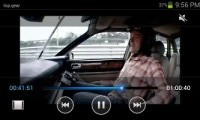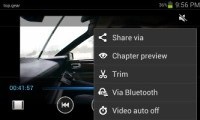 The video player has a simple interface but is quite capable
Another cool feature that showcases the power of the chipset is the chapter preview - it detects chapters in the video and shows a rectangular grid, with live thumbnails (just like the grid view above).
The video player had absolutely no trouble with any of the files we threw at it - starting with .WMV, through .AVI (DivX and XviD) and .MP4 to .MKV (H.264). Resolution wasn't a problem either.