Thumbs wanted
Samsung Galaxy S Relay 4G review: Thumbs wanted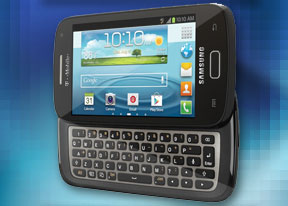 Final words
The Samsung Galaxy S Relay 4G adds a much desired hardware QWERTY keyboard to a package of specifications, which have been long tried and tested though not exactly in this combination. The dual-core Snapdragon S4 chipset is one of the leggiest around, while the TouchWiz-ed Android 4.0.4 Ice Cream Sandwich has proven to be a great combination in the Galaxy S III flagship. We only wished T-Mobile would go easy on the preinstalled software - the application launcher of the Galaxy S Relay 4G had more magenta colored icons than we would like.
The 5MP camera caught us unprepared with its high quality stills. Photos came out with spectacularly low noise levels and were nicely sharp.
The phone's build quality is also good, though the looks could have been a lot better. The addition of the hardware home button is a welcome one, though we don't believe it improves the handset's ageing looks.
The Samsung Galaxy S Relay 4G is priced at $149.99 with a two-year commitment to T-Mobile. This is hardly an affordable price for a smartphone which has some of its main hardware components sourced from 2010's stock.
Thankfully however, there aren't that many competitors to the device around. If you are willing to take a look however, here are some viable alternatives.
The $ 199.99 Motorola Photon Q 4G LTE for Sprint Wireless is the strongest competitor of the Samsung Galaxy S Relay 4G. It features a significantly better 4.3" qHD screen with ColorBoost technology and an 8MP camera unit. The laser cut keyboard of the Moto offers better experience too.
If you are not crazy about having the latest specifications on board, you must also take a look at the Motorola Droid 4 for Verizon Wireless. It will offer the same superb keyboard as the Photon Q, to go with an 8MP camera and Android 4.0 ICS. The Droid 4 is currently priced at $99, but we are confident that more discounts are on the way as it approaches a full year of market availability.
In case you don't feel like spending any money, look no further than the Samsung Captivate Glide for AT&T. The Tegra 2 sporting handset offers better camera and lovely slide-out QWERTY with soft-feel buttons. It was recently updated to Android 4.0 ICS. You can snag one for a penny from AT&T.
Overall, it is hard to call the Samsung Galaxy S Relay 4G the company's finest effort at the QWERTY theme. Given the relative lack of competition, combined with T-Mobile's traditionally large crowd of hardware keyboard lovers, the handset will likely sell well, with its buyers bound to pick one up with their thumbs, not their hearts.