Samsung staked its claim to the smart tracker market in January with the announcement of the SmartTag and SmartTag+ - small Bluetooth-powered trackers that you attach to your belongings so you can quickly locate them when misplaced.
What is it
Today we have the Galaxy SmartTag, the Bluetooth Low Energy-powered tracker, which is the only one on sale at the moment. Samsung will release the more-powerful Ultra-wideband SmartTag+ later this year (it will be compatible with the Galaxy S21 Ultra and Note20 Ultra).
The Samsung Galaxy SmartTag is a small (39.1x39.1x9.9mm) square object that weighs just 13 grams. It works with Samsung Galaxy smartphones and Samsung devices only, and connects through Bluetooth Low Energy 5.0 to Samsung's SmartThings app.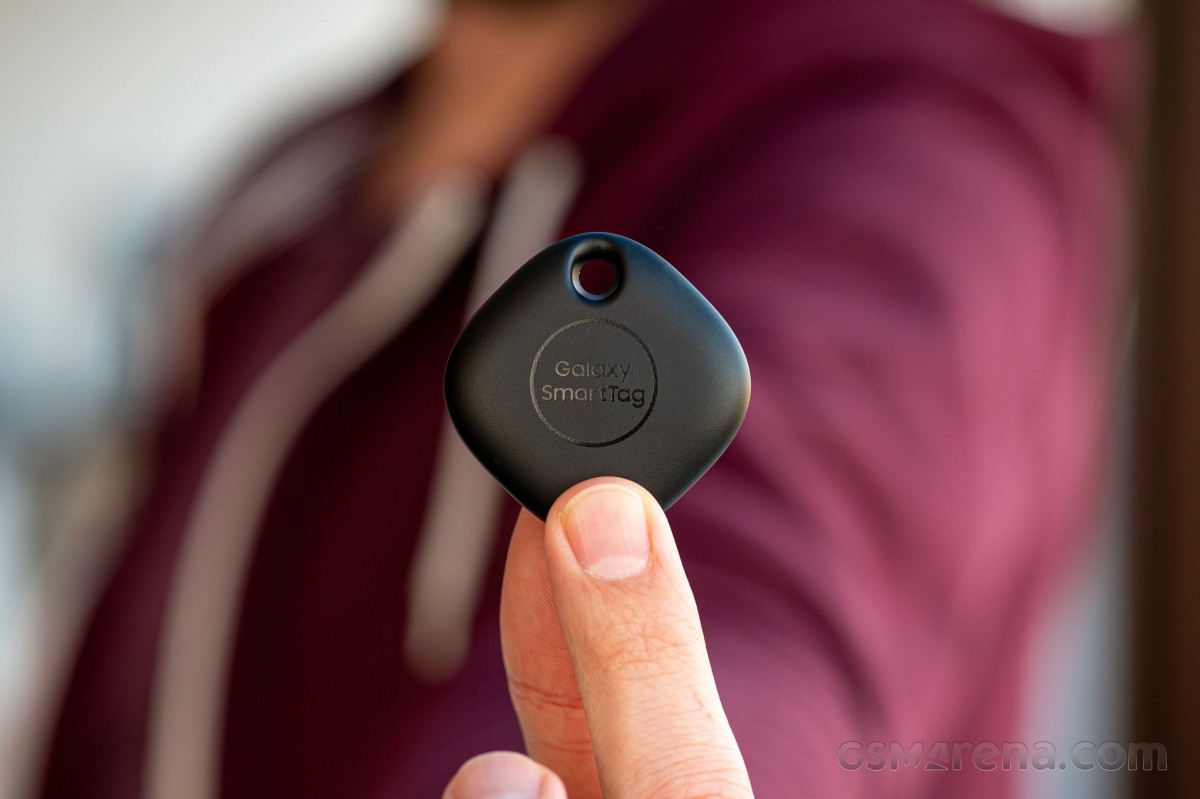 The Galaxy SmartTag has a simple design with a button in the middle and a hole at the top that you can use to attach it to a clip, your key ring, to a backpack, or to a pet's collar.
The tag is bulbous in the middle, making it impractical for storing in a wallet.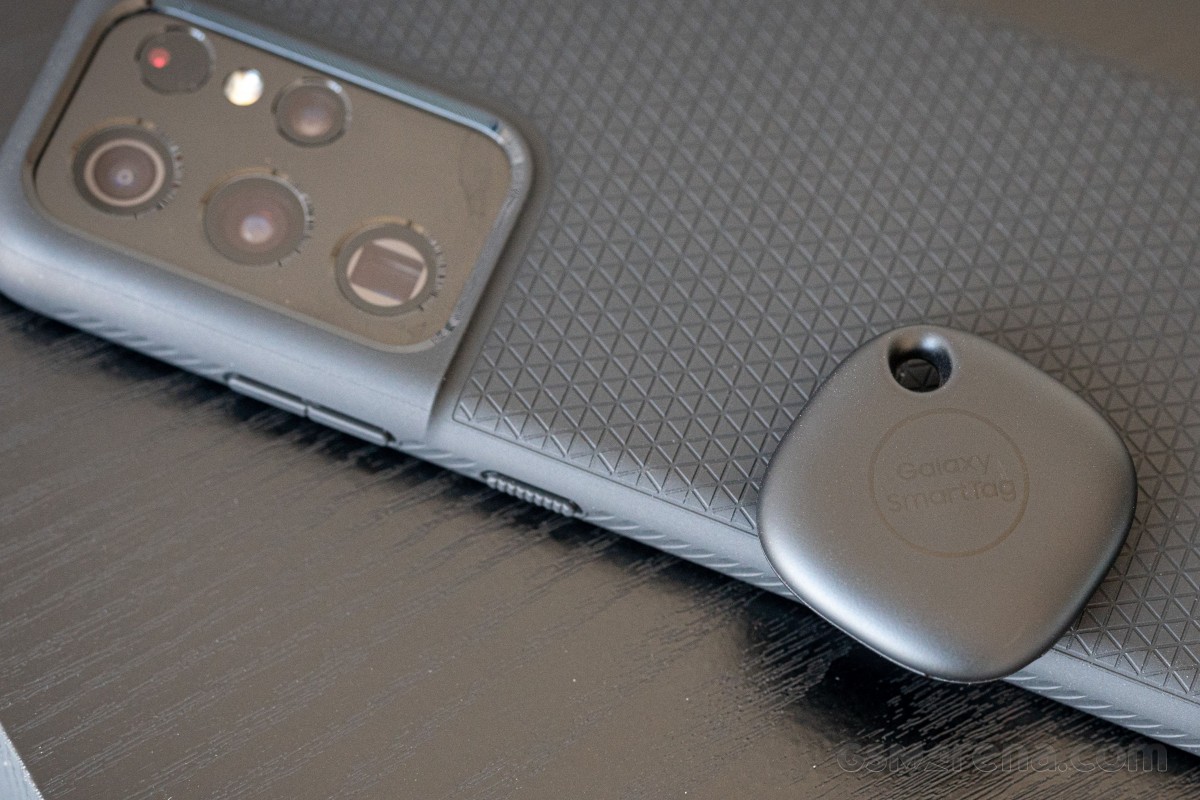 Connecting the Galaxy SmartTag to a Samsung Galaxy smartphone is a simple procedure. You open up the SmartThings app on the phone (or install it from the Galaxy store if you don't have it) and add the Galaxy SmartTag from the menu. Let's look at the app and the Galaxy SmartTag's features.
Smart features, tracking
With Samsung's SmartThings app you can do a few things with the Galaxy SmartTag. You're greeted with its position, in my case I kept it mostly nearby. You can allow the tag to find your phone - a double press on the tag's button will ring your Galaxy smartphone.
You can also use the Galaxy SmartTag to communicate with IoT devices around your home. For instance if you have an Air Conditioner or lights that are supported by Samsung's SmartThings app, you can use the button on the tag to turn them on or off. You can also set the button to notify someone of an automation. You have two customizable options - a press and a press and hold.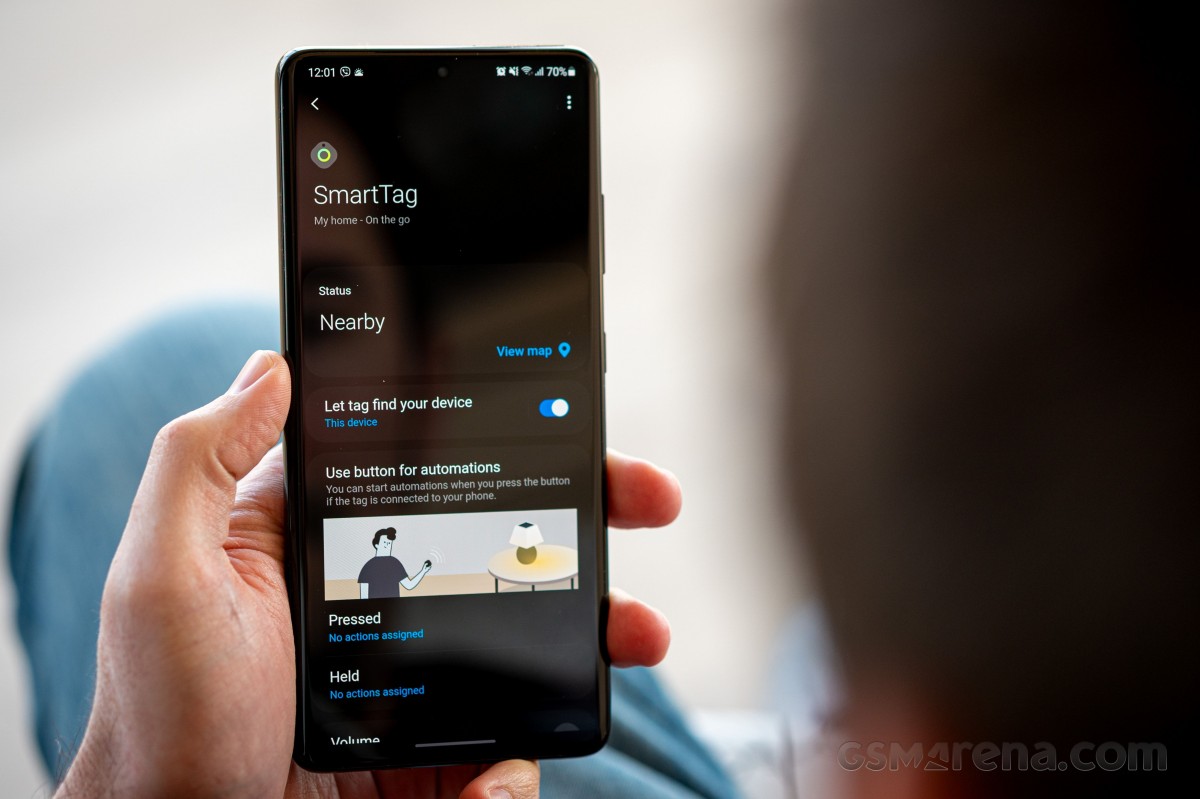 If you want to locate the tag and it's in Bluetooth range, you have three options. You can search for it nearby, which gives you a nifty signal strength meter, which gets stronger as you get nearer to the tag (useful for tracking a dog in a park). You can also navigate to the tag on the map, which has an accuracy at around 20 meters and isn't practical, as both your phone and the tag are in the same place on the map. Finally you can ring the tag.
The Galaxy SmartTag rings very loud - around 100dB when you are next to it. You can have a choice of 10 different ringtones that are strong and reminiscent of the polyphonic ones of yesteryear.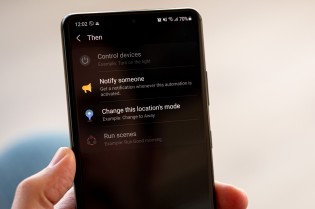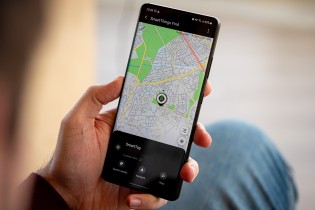 Using the button, tracking the tag
The Galaxy SmartTag is nicely integrated into One UI. There's the SmartThings app, the SmartThings widget and you have a shortcut to the tag in the pull-down shortcut menu on your phone.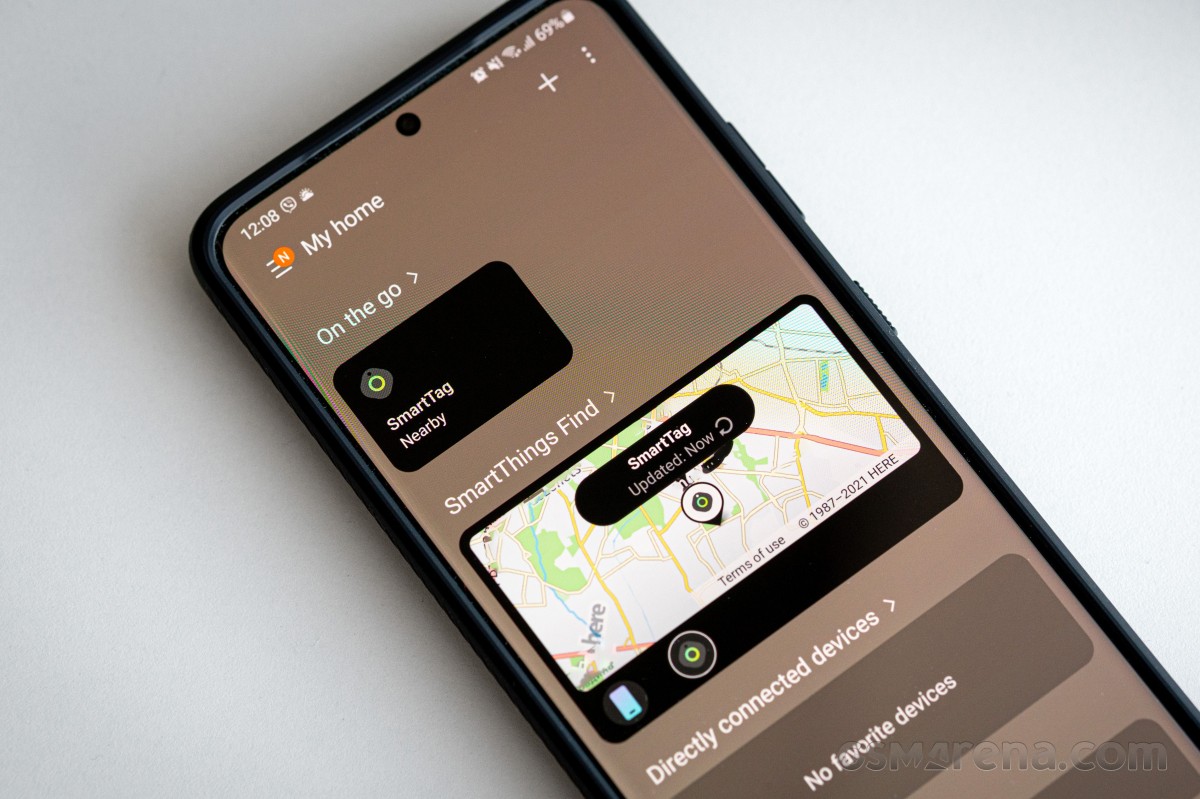 Range and battery
I was able to make the Galaxy SmartTag ring from as far as 30 meters within our office - about as much as you'd ever need for finding stuff around your house, which is the Galaxy SmartTag's main purpose. It's meant to attach to everyday objects you keep in your proximity, not as a security tracker for valuables you fear will get stolen.
I don't envision a case where I've misplaced my phone and have the tag in hand, but if one arises, the Galaxy SmartTag could make my phone ring with a simple double-press of the button and the range was around the same 30 meters. Samsung advertises a maximum 118 meters of range, but I wasn't able to test it.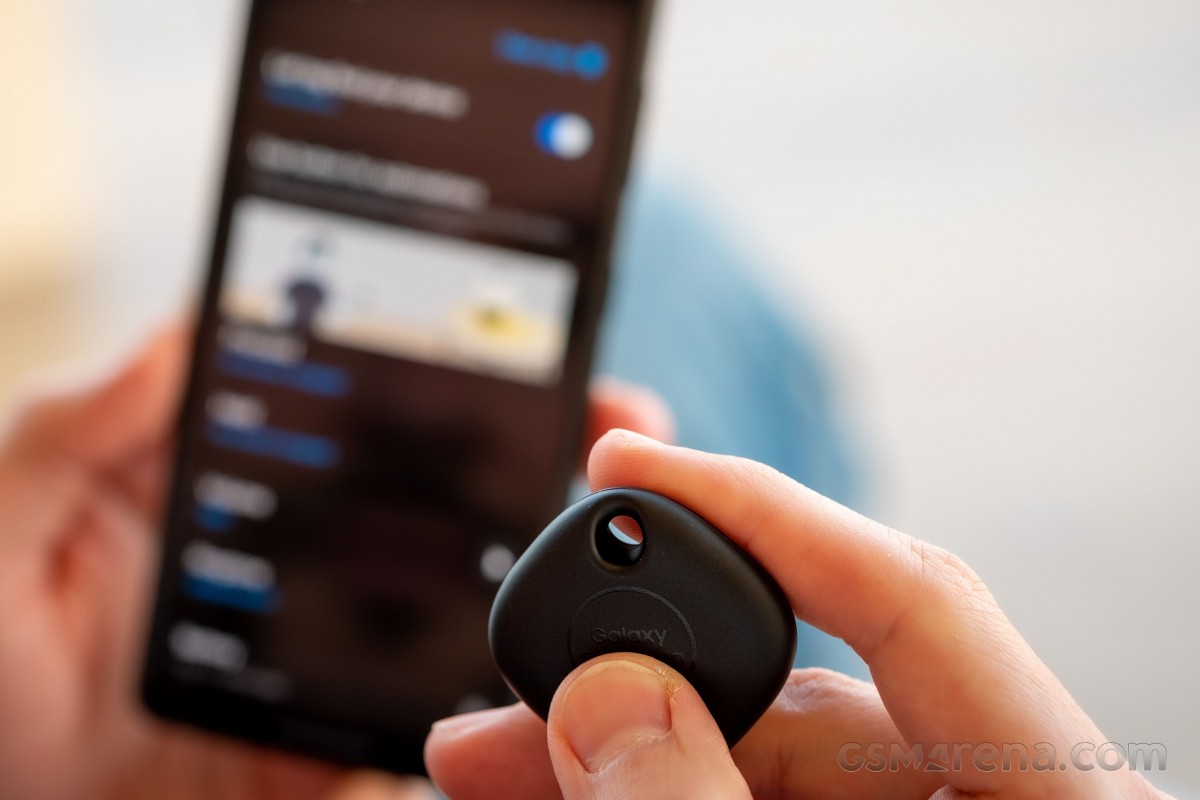 The battery inside the Galaxy SmartTag is a standard CR2032, rated at 220mAh which you can find at any store - a 20 pack of them costs under €10. It should power the tag for about 300 days of use without needing a replacement.
To get to the battery you just use a coin to pry open the tag by inserting it in an opening at its bottom. It's an easy enough thing to do. Should you ever need to reset the Galaxy SmartTag, taking off the battery and then reinserting it by holding the button pressed is the way to do it - you'll only need to do that if you want to pair it with another phone without having the first one at hand.
Is it worth it
Samsung's Galaxy SmartTag is a direct rival to Tile's trackers, but also a preempt ive competitor to Apple's upcoming AirTags. We have very little information about Apple's trackers, outside of the rumors that there will be different sizes. Tile's lineup is very advanced at this point and caters to a much broader crowd.
For starters Tile's offerings support anything with Bluetooth, while Samsung's are Galaxy-only. But if you're heavily invested in Samsung's world of connected services and devices, the Galaxy SmartTag may just be for you. And if you purchased a Galaxy S21 phone you likely got one for free anyway.
At the moment, depending on the market, you can get a single Galaxy SmartTag for $29/INR 2,249/€34.90. European customers also get a bundle of two for €59.9 or four for €84.90. That's not nearly as good value as Tile's pack of four Tile Mate for around €59, which also work with Alexa and Google Home.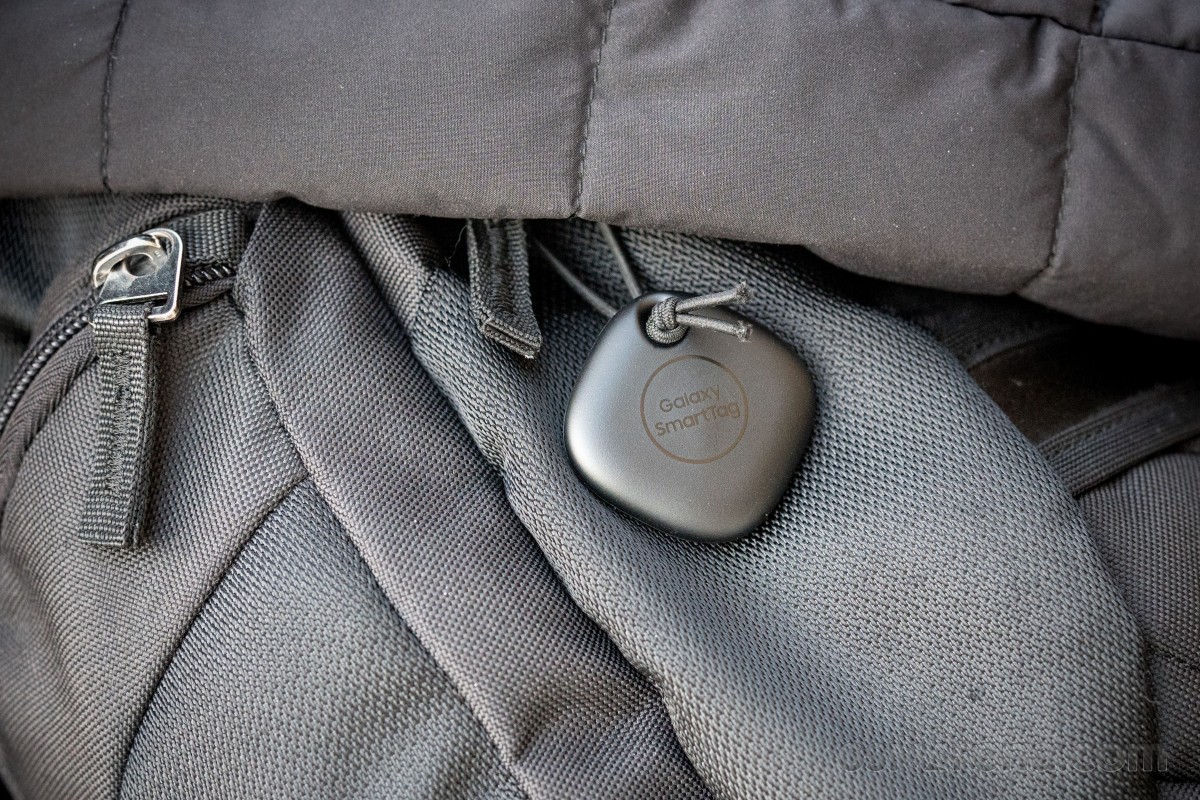 So unless you're deep into Samsung's ecosystem of IoT devices, the Galaxy SmartTag isn't the smartest choice if you want to equip your immediate belongings with Bluetooth trackers. Tile is a better, universal choice.
However if you are deep into Samsung's interface, it might still be better to hold off and wait for Samsung's Galaxy SmartTag+ with UWB technology. Or at least a good deal from one of your local retailers.
?
Absolutely, the crazy amazing functionality that this review nor the comments forgot to mention. Aa well it doesn't require any subscription for that tracking to work. Also unlike a gps tracker this doesn't need constant power/ network/ sub...
w
So I ordered 2 devices to track my cats. Apparently smartthings is supported by any android and lets you install and logon with google account but won't let you register the devices... even though samsung states works with android 8 and later ...
?
Not true about the lost car keys. You can attach new remotes even to a car which has not one..
ADVERTISEMENTS