Droid at large
Samsung Galaxy Tab 10.1 review: Droid at large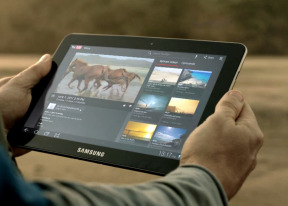 Applications
There are a few apps provided by Samsung for the Galaxy Tab 10.1 worth mentioning - eBook, Memo, My files, Pen memo and Photo editor.
The eBook reader comes with one book for free - The Marvelous Land of Oz. naturally you can add books stores, buy books from them and they will appear on your virtual shelves.
The eBook reader is quite capable - it allows you to highlight or underline text, change the font size and page color, search the book and put bookmarks. There is even text-to-speech feature with settings for speed and pitch.
The Memo is pretty simple notes application with interesting interface - you get your notes as sticky note on a wooden board.
My Files is a familiar app - it's the Samsung powerful file manager.
Pen memo does almost the same as the memos, but in addition to the text it allows you to draw pictures and offers some extra option as colors, background, etc.
Finally, the Photo Editor offers some basic picture edition tools - selections, rotate, resize, crop, color effects and adjustments, etc.
Samsung Hubs
The Social hub combines you email accounts with social networking (Facebook, Twitter, LinkedIn) shows all incoming messages as one list and your social feeds as another. You also get handy shortcuts to reply, mark as favorite and so on.
Thanks to the two-column interface you can easily switch between your accounts, messages and feeds if you don't need all the stuff in one place.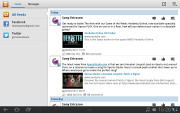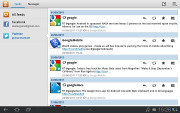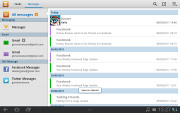 The Social Hub is a true communication nexus
The Music Hub lets you browse music online (with search tools, charts, lists of new releases and so on). You can preview songs (30 seconds each) and buy tracks or whole albums. It is also granted with eye-catching interface.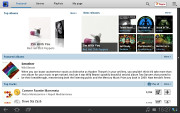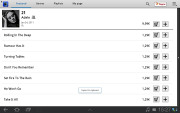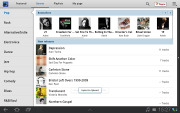 The Music Hub helps you discover and buy new albums and songs