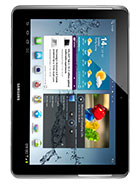 N
Can anybody tell me that the usb connectivity is for data transfer or only for charging. I need usb connectivity for data transfer.
d
CS, 28 Apr 2012NiCe.... BUT Samsung!!! *Dual-core Processor, in 2012... (when entry-level CPU's for Deskt... more1005 agree with you.
H
elf 786, 09 May 2012what is the difference between this and the 10.1 tab????the first different is on the GPU
the second is on Micro SD card slot
and the third is the price!
the 270 Euro price is the main benefit!
C
NiCe.... BUT Samsung!!!

*Dual-core Processor, in 2012... (when entry-level CPU's for Desktops are like Quad-Core and Core i3)

*NO Data Support unless you are at the office connected to WiFi. (Tablets are for BUSY People Constantly on the Move) - So adding the 4G integration, should also be considered

*NO Mini-HDMI???
(Business People need to show presentations, and others want to share their photos especially HD... Speaking of which where is the HD Camera??? General Monitors these days are LED... That means at least HD-Ready)

*32GB internal Storage + 32GB microSD = 64GB Max. How about 64GB internal storage + 2x HOT-Swappable 32GB microSD's!!! Now we starting to get somewhere...

*Already Mentioned, but where is the HD Graphics in this case... (Display)

Come ON SAMSUNG... Release Now, so you can make like Apple and and announce the Galaxy 3 tab... And also release within the same month of announcing. YES, that sounds GOOD.
(Now you might ask why I just don't go with Apple... IOS vs Android is the real question you should be asking - Android is currently the future)

k
Anonymous, 25 Apr 2012when it will be out of the market in the phillippineshi niceee tab
k
we like moro attractive coloors as possible like white and green
T
BIG Plus for Stereo speakers placed like they are !!!! Goood job and keep with them for next Tablets aswell ...
T
sara, 13 Apr 2012only black? we need white tootab in black is better
Total of 155 user reviews and opinions for Samsung Galaxy Tab 2 10.1 P5110.