Contacts are as good as you expect them to be
There is no History tab for every contact like there used to be in the Honeycomb phonebook, instead individual contacts logs are accessed via the settings menu in the upper right corner.
The contact management is fairly straightforward on the Samsung Galaxy Tab 2 7.0. Your contacts get automatically synced with your Google account unless you explicitly disable this and you can also let the Galaxy Tab 2 7.0 sync your social network contacts if you want.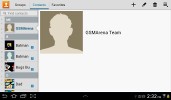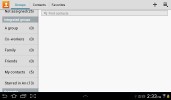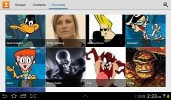 The Galaxy Tab 2 7.0 contact manager
You get your contacts listed by either first or last name in the left part of the screen, while the details of the currently selected contact appear on the right. There is a handy search field on the top left corner, as well as a shortcut for adding a new contact or deleting the selected one at the opposite side.
The advanced menu offers a few more options - edit contact, import/export, join with another contact, send or print a name card, get friends via social services, etc.
Editing a single contact is done via a popup window, where the available fields are displayed, with plus and minus signs on the right that let you remove or duplicate details.
There's also an Add another field button at the bottom that lets you insert a field that hasn't existed so far for the specific contact.
Custom field names aren't available.
Samsung Email and Gmail
The Galaxy Tab 2 7.0 comes with two familiar email applications out of the box - one for your Gmail and a generic one to use with any POP3/IMAP account you want.
They both have a split-screen interface. Initially, your folders are listed on the left and the emails in the currently selected one appear on the right. Upon clicking on a single message, the list of emails moves to the left tab while the body of the selected one pops up on the right.
Bulk actions are supported too, so you will easily manage mailboxes that get tons of messages.
You can set up the automatic email retrieval interval or you can disable that completely and only check your mail manually. There's also a handy setting that makes your client automatically download attachments only when you are connected over Wi-Fi.
It's basically the same treatment you get on Android smartphones with a few further optimizations permitted by the larger screen.
Writing emails is reasonably comfortable with the virtual Samsung QWERTY keyboard occupying about half of the screen. Now, this is no match for a hardware keyboard, but you won't notice any big difference when handling short emails.
In case the keyboard is too big for you, there is a dedicated virtual key on its top left, which will shrink it a bit. The keys become smaller and thinner, making more room for the message body. It's still comfortable enough to type on - this is actually our preferred keyboard size.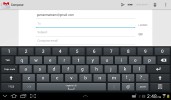 The keyboard does an adequate job
There's auto correction and auto capitalization available, and you can enable sounds on key presses. There's haptic feedback too.