Third time's the charm
Samsung Galaxy Tab 3 10.1 review: Third time's the charm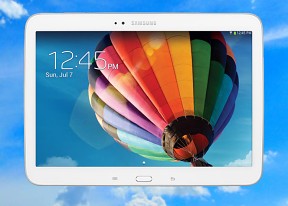 S Voice and Google Now
S Voice is Samsung's answer to Apple's Siri and Google's own Voice Actions - it can be used to initiate or answer a call, dictate text, play music, open an app, change a setting, make a memo (including voice memo), add a reminder, schedule an event, set or snooze an alarm or timer, check the weather, do a search on the internet, take a photo, look for local listings (e.g. nearby restaurants) and even get an answer to a question.
Naturally, being a Jelly Bean smartphone, the Galaxy Tab 3 10.1 also comes with Google Now.
Google Now integrates with your Google account and can access your daily routine, internet searches, email, etc. and give you information relevant to your interests and daily needs.
It provides traffic information to your work or home, knows those scores of sports teams you follow, has the weather forecast for your location and can even tell you who Kevin Spacey is.
With the latest Android update, Google Now also has its own separate widget on the homescreen.
Synthetic benchmarks
The Samsung Galaxy Tab 3 10.1 is powered by a dual-core Intel Atom Z2560 clocked at 1.6GHz, 1GB of RAM and a PowerVR SXG544MP2 GPU. We haven't seen an Atom processor running on an Android-powered Samsung tablet yet, so we were quite eager to see how it performs.
Benchmark Pi tests raw CPU performance regardless of cores, and it's obvious that Intel's architecture just isn't able to stand up to the likes of Exynos and Qualcomm's Snapdragon SoCs, as it comes out last in this test.
Benchmark Pi
Lower is better
Samsung Galaxy S4
132
LG Optimus G Pro
147
HTC One
151
Sony Xperia Tablet Z
262
Sony Xperia ZL
264
Sony Xperia Z
264
HTC Butterfly
266
Oppo Find 5
267
HTC One X+
280
LG Optimus G
285
Samsung Galaxy Note II
305
Google Nexus 10
350
Samsung Galaxy S III
359
Nexus 4
431
Samsung Galaxy Tab 3 10.1
488
In Linpack, the Tab 3 10.1 isn't quite able to jump over the hump into flagship territory, like the higher-spec'd Sony Xperia Tablet Z, but it does outperform the Google Nexus 10. Geekbench 2, however, shows it's significantly behind the pack.
Linpack
Higher is better
Samsung Galaxy S4
788
LG Optimus G Pro
743
HTC One
646
Sony Xperia ZL
631
Sony Xperia Z
630
HTC Butterfly
624
LG Optimus G
608
Oppo Find 5
593
Sony Xperia Tablet Z
588
Samsung Galaxy Tab 3 10.1
222
Samsung Galaxy Note II
214
Nexus 4
213
HTC One X+
177
Samsung Galaxy S III
176
Google Nexus 10
172
Geekbench 2
Higher is better
Samsung Galaxy S4
3227
LG Optimus G Pro
3040
HTC One
2708
Google Nexus 10
2543
Sony Xperia Tablet Z
2200
Sony Xperia Z
2173
HTC Butterfly
2143
Sony Xperia ZL
1995
Samsung Galaxy S III
1845
LG Optimus G
1723
iPhone 5
1601
Samsung Galaxy Tab 3 10.1
1130
AnTuTu and Quadrant measure overall system performance by throwing in GPU, RAM, storage and more into the mix. Results here were markedly better than those, which tested only the CPU, especially in AnTuTu, where the Tab 3 10.1 was only beaten by the Samsung Galaxy S4 flagship smartphone.
AnTuTu
Higher is better
Samsung Galaxy S4
24716
Samsung Galaxy Tab 3 10.1
24236
HTC One
22678
Sony Xperia Z
20794
Sony Xperia ZL
20743
Sony Xperia Tablet Z
20216
LG Optimus G Pro
20056
HTC Butterfly
19513
Samsung Galaxy S III
15547
Oppo Find 5
15167
Google Nexus 10
12695
Quadrant
Higher is better
Samsung Galaxy S4
12376
LG Optimus G Pro
12105
HTC One
11746
Sony Xperia Z
8075
Sony Xperia ZL
7912
HTC One X+
7632
LG Optimus G
7439
Sony Xperia Tablet Z
7215
Oppo Find 5
7111
HTC One X
5952
Samsung Galaxy Note II
5916
Samsung Galaxy Tab 3 10.1
5864
Samsung Galaxy S III
5450
Nexus 4
4567
Google Nexus 10
4385
GLBenchmark 2.5 puts the graphics processor to the test, and the device again falls towards the lower end of the charts when offscreen fps are measured. Epic Citadel, on the other hand, measures the performance of the Galaxy Tab 3 10.1 at its native resolution of 1280 x 800 pixels, and posts some good numbers, beating out the former Galaxy S III flagship.
GLBenchmark 2.5 Egypt (1080p off-screen)
Higher is better
Apple iPad 4
54.4
Google Nexus 10
40
Samsung Galaxy S4
40
HTC One
34
Sony Xperia Tablet Z
32
Asus Padfone 2
31
Oppo Find 5
30
Sony Xperia ZL
29
Sony Xperia Z
29
LG Optimus G
29
HTC Butterfly
27.9
Apple iPhone 5
27
Samsung Galaxy Tab 3 10.1
26
Nexus 4
26
Samsung Galaxy Note II
17
Samsung Galaxy S III
15
HTC One X+
12
HTC One X
9
GLBenchmark 2.7 T-Rex (1080p off-screen)
Higher is better
Samsung Galaxy S4
17.1
Apple iPad 4
16.8
Google Nexus 10
13.9
LG Optimus G
13.9
Sony Xperia Z
13.5
Sony Xperia Tablet Z
13
Sony Xperia ZL
12.8
Samsung Galaxy Tab 3 10.1
7.0
Epic Citadel
Higher is better
Samsung Galaxy S4
57.1
HTC One
56.4
Sony Xperia Tablet Z
56.4
Sony Xperia Z
55.6
Sony Xperia ZL
55.4
LG Optimus G Pro
54.2
Nexus 4
53.9
Asus Padfone 2
53.4
LG Optimus G
52.6
Google Nexus 10
52.1
Samsung Galaxy Tab 3 10.1
43.1
Samsung Galaxy S III
41.3
Oppo Find 5
38.6
When it comes to internet browsing performance, our web browser benchmarks offer mixed results. SunSpider shows decent but not spectacular JavaScript performance, while Browsermark 2, which is dedicated to performing HTML 5 tests, has the Tab 3 10.1 towards the top of the list. Vellamo, which is a combination of both, places the device towards the middle of its chart.
SunSpider
Lower is better
Samsung Galaxy S4
810
Samsung Ativ S
891
Apple iPhone 5
915
Nokia Lumia 920
910
Samsung Galaxy Note II
972
HTC One X+
1001
LG Optimus G Pro
1011
Motorola RAZR i XT890
1059
HTC One
1124
Samsung Galaxy S III
1192
Samsung Galaxy Tab 3 10.1
1233
Sony Xperia ZL
1290
Sony Xperia Z
1336
LG Optimus G
1353
HTC Butterfly
1433
Google Nexus 10
1462
Sony Xperia Tablet Z
1629
Nexus 4
1971
BrowserMark 2
Higher is better
LG Optimus G
2555
Samsung Galaxy S4
2438
Samsung Galaxy Tab 3 10.1
2363
HTC One
2262
Sony Xperia Tablet Z
2170
Sony Xperia ZL
2107
Sony Xperia Z
2093
LG Optimus G Pro
1801
Oppo Find 5
1797
Nexus 4
1794
Nokia Lumia 920
1774
Google Nexus 10
1773
HTC Butterfly
1475
Samsung Galaxy S III
1247
Vellamo
Higher is better
Samsung Galaxy Note II
2418
HTC One
2382
Sony Xperia Tablet Z
2265
Sony Xperia Z
2189
Sony Xperia ZL
2186
HTC One X (Tegra 3)
2078
Samsung Galaxy S4
2060
Google Nexus 10
1929
HTC Butterfly
1866
Samsung Galaxy Tab 3 10.1
1777
Samsung Galaxy S III
1641
LG Optimus G
1522
Nexus 4
1310