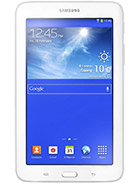 D
Hey,guys.Just buy an ASUS Memopad 7 hd at 150$ and leave Zamsung(samsung) to "sell".Entry level?NO.Overpriced for its specs.65$ construction+40 money for samsung+50$ "Brand"
?
Tab 3 was already LITE, now this is...
GALAXY TAB 3 - ZERO EDITION

Because it has NOTHING.

I guess some of you think about price, don't waste your money.

PEOPLE, do not think cheap is good.
This is completely CRAP, you will waste your money if you going to buy this thing!

Before buying this, please watch Normal Tab 3 7" version, you'll see other one was already weakest tablet in the world, think about THIS.

You can't play games (may be some card only), never watch HD films, it will be just some crappy e-book reader.

Go for ACER or even Chinese models, I assure you their moldels hundreds of billions times better than this looser.

Year 2014, Samsung still produces a tablet with technology about 3-4 years ago, Samsung is considering you ignorant.

DO NOT WASTER YOUR MONEY, DO NOT BECOME VICTIM.
D
that's a samsung tablet... never gone happen. the hardware value 70-100$ + 75%. so...i think the final price for this will be around 150$
Total of 227 user reviews and opinions for Samsung Galaxy Tab 3 Lite 7.0.