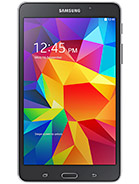 a
I have the Tab 3 7.0. The new Tab 4 has a slightly better screen and a quad core vs dual core processor. Still no flash and the camera has not been upgraded. The Nexus 7 second gen is a better specification but the Galaxy has a micro SD card slot, up to 64Gb, which is a huge advantage IMO. With these specs it is not really worth upgrading from a Tab 3 so I will wait for Tab 5.
S
Please put a Flaaaaaaaaaaaaaaaaaaaaaaaaaaaaaaaaaash ..... come on i was expecting to buy this ... not again...
s
Amir Ali, 02 Apr 2014usb: yes, microusb v2.0oops!!! this is not much more awsome....bt it has very bright features....
?
that home button is annoying to put in the tablet,,its already in thier phone models,dont just think about the profit that you may collect, instead think of your customer,,coz theres a lot of other brand out there that is better than your item!
A
Pinoytech, 01 Apr 2014No USB on the Go? So sad. :(usb: yes, microusb v2.0
Total of 632 user reviews and opinions for Samsung Galaxy Tab 4 7.0.