The Samsung Galaxy Tab series has yet to break into the 64-bit world, but it seems that the Galaxy Tab 4 8.0 will get a Snapdragon 410-based refresh. The company has used this chipset in several of its Galaxy A devices, plus a handful of others. Other than the chipset change, there doesn't seem to be anything else that has changed.
The info comes from GFX Bench, which reports a 1,280 x 800px screen (ignore the 12.8" size, this is probably due to a wrong DPI setting). The tablet still comes with 1.5GB of RAM and 16GB of storage, but it has now moved to quad Cortex A53 and Adreno 306. No Lollipop though, it was running Android 4.4.4 KitKat.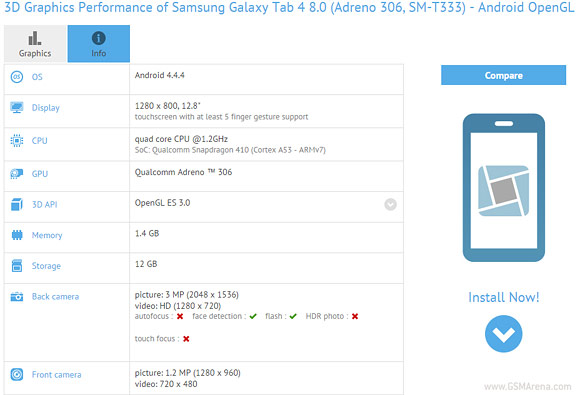 Anyway, the new Samsung Galaxy Tab 4 8.0 packed a 3.15MP camera on the back that manages 720p video capture and a 1.2MP camera on the front that tops out at 480p.
This model lacked NFC and mobile connectivity, though Snapdragon 410 offers the same 150Mbps LTE speeds of its 32-bit predecessor so should Samsung unveil an LTE version we won't see a difference in speed.
n
that is called service and customer satisfaction, having a well piced note4 than handles as well as the note5 for example that costs double.....this is not Crapple where u must upgrade if you wan't better hardware (altough always mediocre and overpri...
D
True Apple did not invent 64-bit hardware but they were the first to build a 64-bit phone and tablet. That is what he was refer too. And I still don't see why they are upgrading the tab 4 to 64-bit as well they should do this is their upcoming tablet...
G
AHAHAHA if the processor were 128-bit you was going to tell "Why samsung put 128-bit when 64(like apple) is enought". Exactly what apple fan boys says about the ram at the moment.