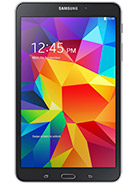 R
Googlefan, 04 Apr 2014Samsung can you tell me why don't you mix 3G+4G together?they mixed it and the 3G version is just the cheaper version
A8
I think it's good that Samsung kept the Tab series as a mid-range tablets, i mean if you want high-end tablets there's Tab Pro series... But i agree Quad Core 1.2 GHz chipset is way to old and slow, atleast Samsung should put Quad core 1.5 GHz or Octa core Quad core 1.2 GHz + Quad core 1.2 GHz... This better be cheap Samsung!
?
Sorry Samsung but apart from the processor this doesn't even upgrade on my Tab 7.7. POOR!
E13551
Looking into its form factor, it's larger than the tab 3 8.0. Camera is worse than the tab 3 8.0. The pluses are just the processor and its very very minimal battery capacity increase. So that means I'll stick with my newly purchased tab 3 8.0, thank you.
s
camera is worse than tab 3 8 why?these are updated versions not a step backwards...
Total of 129 user reviews and opinions for Samsung Galaxy Tab 4 8.0 LTE.