Different magic
Samsung Galaxy Tab 7.7 review: Different magic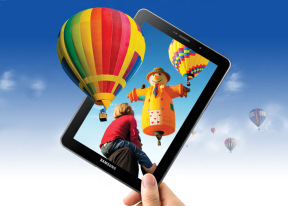 Excellent web-browsing experience
The web browser is another key app as far as tablets are concerned. There is full Flash 11 support and tabbed browsing.
The tabs are kept in a bar on top, much like on a desktop browser. The address bar and search bar are incorporated in a single field - typical Android - which scores another point for the Galaxy Tab 7.7.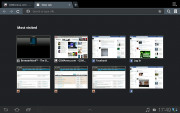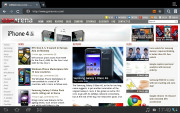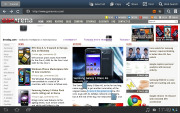 Browsing GSMArena.com on the Samsung Galaxy Tab 7.7
Bookmarks and History have their own screen with a split-screen interface. In History you can check the pages browsed today, yesterday or over the past week. There's also a most visited and today tabs.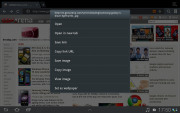 Pressing and holding a link lets you open it in a new tab
Synchronizing the browser with your desktop Google Chrome doesn't need any extra software - you check a box in the settings menu and you are done.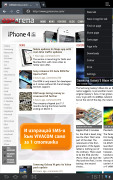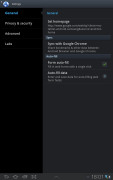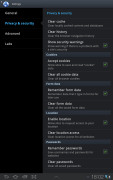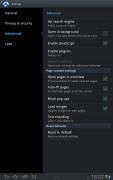 Some of the available browser settings
There's also auto-complete for forms and passwords.
A neat feature allows you to access quick page controls (back, forward, refresh, bookmark etc.) by a swiping gesture performed near the right edge of the screen. You cannot have that and the classical interface though so you have to pick your priorities.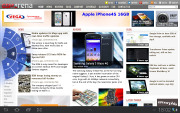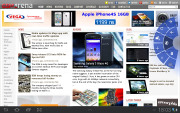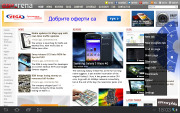 The alternative user interface
Now, for the Flash performance - the Galaxy Tab 7.7 does great at 360p, 480p and 720p videos right in the browser. Flash games go well too.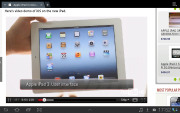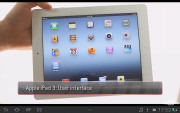 720p Flash videos are now possible
By the way, if you find Flash content to slow down your page load times or cause stutter when panning, you can switch it to on-demand in the settings menu (or even turn it off all together).
Organizer has everything
A good set of organizer apps are available on the Samsung Galaxy Tab 7.7, including the Polaris Office that can both view and edit documents. It has really nice user interface with 3D arcs for the recent docs, internal file browser, intuitive interface, etc. It supports both internal and web storage (via Box.net).
Viewing and editing word documents, spreadsheets and Power Point files is hassle-free. There's a PDF reader in the bundle as well.
Printing options are also available.
When you think of organizer features on a smartphone (or tablet) the first app that comes to mind is the calendar. It has five different types of view: daily, weekly and monthly.
Adding a new event is quite straightforward and you can also set an alarm to serve as a reminder.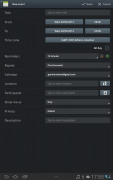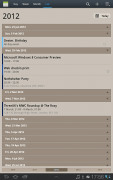 List view • Creating an appointment
The calculator app is nicely touch optimized with huge, easy to hit buttons.
The Alarm app is optimized for big-screen use and is pretty intuitive. You can naturally set as many alarms as you like.
The World Clock app is full of eye-candy. You get an animated globe where you can pick time zones or cities, there are country flags, day and night animations, etc. Once you try it, you'll definitely like it.
Applications
There are a few apps provided by Samsung for the Galaxy Tab 7.7 worth mentioning - eBook, Memo, My files, Pen memo and Photo editor.
The eBook reader is quite capable - it allows you to highlight or underline text, change the font size and page color, search the book and place bookmarks. There is even text-to-speech feature with settings for speed and pitch.
The Memo is pretty simple notes application with interesting interface - you get your notes as sticky note on a wooden board.
My Files is a familiar app - it's the Samsung powerful file manager.
Pen memo does almost the same as the memos, but in addition to the text it allows you to draw pictures and offers some extra options such as colors, background, etc.
Finally, the Photo Editor offers some basic picture edition tools - selections, rotate, resize, crop, color effects and adjustments, etc.
There is a video editor app as well. It covers all the basics - trimming, combining, transitions and effects.