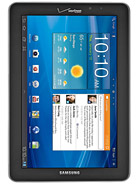 L
Please can someone tell me how long do I have to charge the batery on a brand new Galaxy Tab 7.0 plus
v
PLS Samsung, at least 16-20MP! Why should everyone buy a DSLR when they could just take pictures at events, museums, etc. with a tablet?
P
Alim Pasha Hyd, 11 Jan 2012Awesome when it luanch ?Why???????????????
T
It looks cool! When I looked the specifications of galaxy tab 7.7 LTE 1815, I expect the price of tab will be cheaper than others. I hope it will..
Total of 54 user reviews and opinions for Samsung Galaxy Tab 7.7 LTE I815.