The Samsung Galaxy Tab 8.9 has just arrived in our office and, boy, do we have some news for you. It turns out that the Honeycomb slate takes on from where its 7" predecessor left off, and brings native telephony capabilities to an even larger form factor.
Yeap, we are talking regular GSM network phone calls and even some video-calls if you wish. There's no dialer on board, but you can either get a 3rd party app from the market (as we did), or use your contacts list for initiating calls.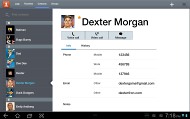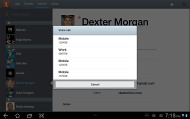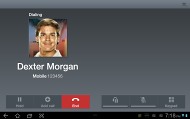 Samsung Galaxy Tab makes calls too
Much like with the 7" Galaxy Tab, you can either use the built-in microphone and speakerphones, a handsfree plugged into the 3.5mm audio jack, or a Bluetooth handsfree for calling. Pretty cool, eh?
But of course telephony is not why people would go for the Galaxy Tab 8.9. The reason why people would probably choose the ultra-slim tablet is the great mix of portability and functionality that it offers. Despite being as powerful as its larger competitors, the Galaxy Tab 8.9 comes in a shell that's way more portable and easier to handle (due to the reduced weight and unbelievably slim waistline).





Samsung Galaxy Tab 8.9 live shots
Anyway we shouldn't be getting ahead of ourselves here. We'll see if the Galaxy Tab 8.9 will manage to live up to the high expectations when the preview is created. In the meantime, feel free to check out how it compares to its larger brother and the iPad 2 on paper.
t
galaxy tab 8.9 good for nothing cant call. i did not know-----i wasted my $$$$$
ADVERTISEMENTS