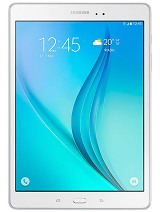 D
the most awful screen I have ever seen.hd for 10" with awful ppi.why sam?and quad1.2 cpu? don't kidding samsung
?
looks like mid range tablet...but worse compared to other samsung tablets...
?
only 5 mp camera, no flash and 132 ppi pixel density.
what is this, tab or joke?
m
A useless product!!! 2015 and these specs ! much better devices are available at this price range. only 5MP camera. it's better to avoid it
w
Don't like the aspect ratio (it's good for viewing photos but not good for viewing videos) and definitely don't like the extremely low pixel density. I can't think of any other modern device that has a pixel density as low as this! So promising with the quad core processor and 2GB of RAM but let down with the screen. I just hope it's extremely cheap otherwise it won't sell.
i
It seems Samsung makes fun of us. With this price we could get a tablet with at least full FHD display, SC 801 (Quad core 2.3 Ghz) chipset and better battery
D
if you want a cheaper tablet and 273 ppi pixel density and better specs,go fo lg g pad 8.3
Total of 371 user reviews and opinions for Samsung Galaxy Tab A 9.7.