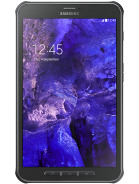 D
If this actually makes phone calls in the USA, it could be just what I am looking for since I have a business where I sometimes get splashed with water or get caught outside in the rain. Also it has PHYSICAL BUTTONS so it can be operated while wearing gloves, which I do a lot of the time.
I have the Galaxy 7.7 GT-P6800 and love the ability of the Primary Camera to take closeup pictures of small things. The Secondary camera on the 7.7 is 2MP and I like that, but 1.2MP should still do well.
This has a quad core while the 7.7 has a dual core.
Screen resolution is the same and I love what I have.
Battery is smaller, but it is removable so it is an improvement.
This is something I will be watching for.
l
i think this tab is made for water protection only, the other specsare way too low,,
D
i think this tablet is waest , no good camera , no good ram all waest .............xxx
g
Omg!! Dis is wat i want for a tab..removable battery and water resistant..how much would be the price for this gem?! I cant wait to have 1 dis xmas season or early nxtyear.. At first i wanna buy galaxy tab s LTE but i tink dis one is much better..im more on the design..not for its specs..hehe
m
watermellon, 06 Sep 20143mp camera is so outdated for a device like this, should of had a 8mp cameraAnd the processor minumum quad 1.9!!!
Total of 31 user reviews and opinions for Samsung Galaxy Tab Active LTE.